As US Launches Airstrikes in Iraq, ISIS Abducts Hundreds of 'Satanist' Yazidi Women; Thousands of Other Yazidis Remain Trapped in Mountains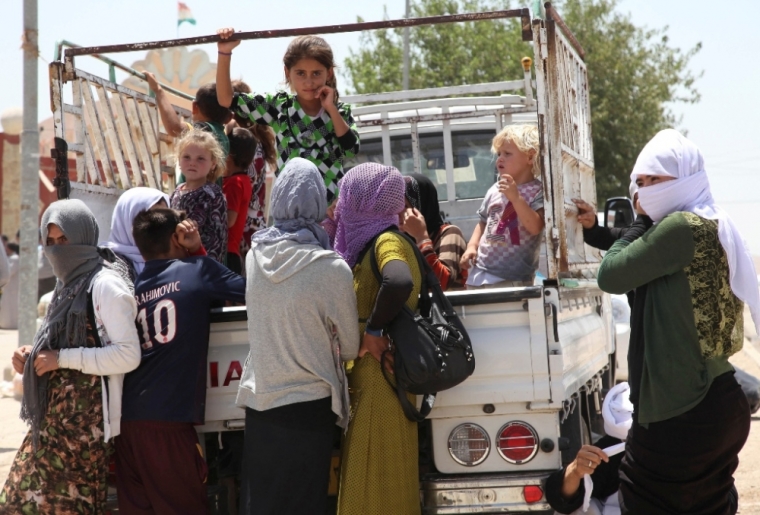 As U.S. warplanes and drones hit ISIS militants in Iraq Friday, hundreds of women from the Yazidi religious minority, which is seen as "Satan worshipers" by the Islamists, were abducted and thousands remained trapped in the Sinjar mountains in the north with little food and water.
Most of the Yazidi women taken captive by militants from ISIS, or the Islamic State of Iraq and Syria, are below the age of 35 and are being held in schools in the city of Mosul, according to The Associated Press.
"We think that the terrorists by now consider them slaves and they have vicious plans for them," Kamil Amin, the spokesman for Iraq's Human Rights Ministry, was quoted as saying. "We think that these women are going to be used in demeaning ways by those terrorists to satisfy their animalistic urges in a way that contradicts all the human and Islamic values."
About 50,000 other Yazidis, about half of them children and who were earlier forced to flee to the north-west region with death threats, remain trapped in the Sinjar mountains. ISIS has cut off the supply of food and water to those hiding in the mountains, and encircled the area.
At least 500 Yazidis, including 40 children, have been killed or face slaughter by ISIS armed militants, according to The Guardian.
ISIS, an al-Qaeda offshoot which is among the major terrorist groups that are fighting government forces in Syria, has made significant military gains in Iraq in recent months.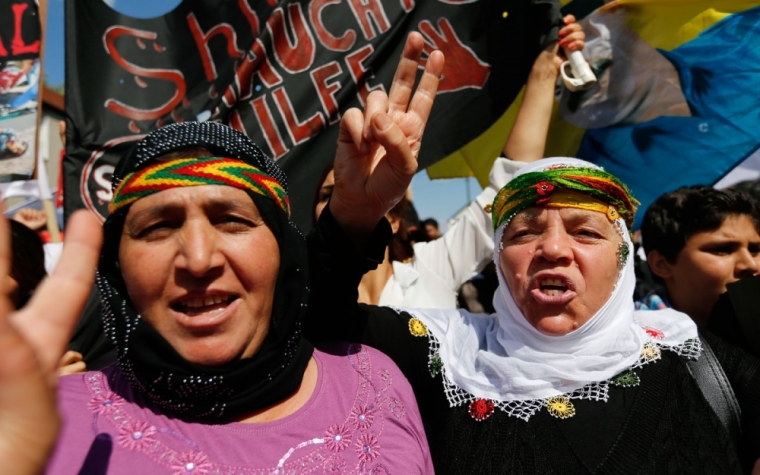 There are about 600,000 Yazidis in Iraq, who consider themselves to be Kurds ethnically and live mostly in north-central Ninevah province and northeastern Iraqi Kurdistan.
Yazidis believe that God governs the world through seven angels with "Malak Tawous," or Peacock Angel, as the leader, who disobeyed God's command to bow down to humanity but was forgiven and made the head angel due to his devotion. Therefore, Yazidis are accused of worshipping the Devil, or Satan, as the leader angel resembles Satan in Abrahamic texts.
Sebastian Maisel, Assistant Professor for Arabic and Middle Eastern Studies at Grand Valley State University in Michigan, says that the accusation against Yazidis is not true. "You might see that there's this resemblance, and if you don't understand that God forgave the angel, then you can say that they worship what we call the devil," Vox Media quotes Maisel as saying. "But they don't even have a hell. There's no concept of heaven and hell."
Yazidis as well as Christians and Turkmen have been bearing the brunt of the ISIS rampage.
The ISIS, which had been aiming at forming an Islamic emirate in the Levant, a region also known as the Eastern Mediterranean, through "jihad," has asked minorities to flee, convert to Islam, or be killed.
Most of the 50,000 Christians in Qaraqosh city south-east of Mosul fled Thursday evening as ISIS convoys passed through the city to eventually reach Arbil. Most members of the minority community of the nearby Christian towns of Tel Askof, Tel Keif and Qaramless have also fled.
The World Evangelical Alliance Friday called on the global Church to pray for Christians and other minorities who are being persecuted in Iraq. "We condemn the awful evil being committed against minority communities in general and Christians in particular by militant Islamists in IS," said Dr. Geoff Tunnicliffe, Secretary General of the WEA. "There can never be any justification whatsoever for this indiscriminate persecution of a community which has lived in the region since long before the arrival of Islam, and which has consistently contributed to the welfare of its neighbors, whatever their religious convictions."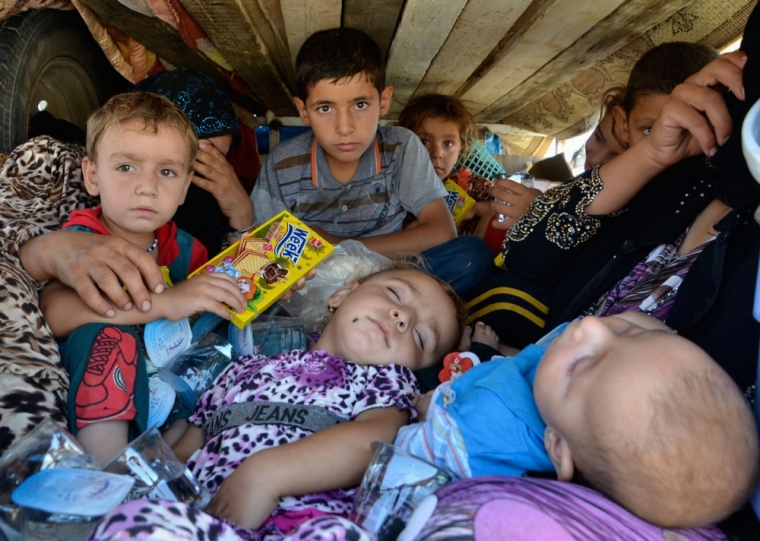 U.S. President Barack Obama announced Thursday night that the U.S. military will engage in targeted airstrikes against terrorist convoys in Iraq if they advance toward the U.S. embassy in Baghdad or the consulate in Arbil.
"We've begun operations to help save Iraqi civilians stranded on the mountain," Obama said at the time of the announcement. "As ISIL (one of the names of the ISIS) has marched across Iraq, it has waged a ruthless campaign against innocent Iraqis. And these terrorists have been especially barbaric toward religious minorities, including Christians and Yazidis."
On Friday, the United States launched airstrikes by two F/A-18 combat jets flying from the aircraft carrier USS George H.W. Bush in the Persian Gulf to drop 500-pound laser-guided bombs in Makhmour, a town southwest of Irbil, The Washington Post quoted Mahmood Haji, an official at the Kurdish Interior Ministry, as saying.
Later on Friday, an MQ-1 Predator drone armed with Hellfire missiles struck an ISIS mortar position, and when fighters returned to the site moments later, "the terrorists were attacked again and successfully eliminated," Pentagon spokesman Rear Adm. John F. Kirby was quoted as saying.
Four more aircraft dropped eight laser-guided bombs on a seven-vehicle convoy and a mortar position nearby Friday.
U.S. military aircraft are also dropping food and water to the Yazidis trapped in Sinjar.
The ISIS exploited the growing tension between Sunni minority and Shia-led government in Iraq earlier this year by capturing the predominantly Sunni city of Fallujah in west Iraq. It also gained control of many parts of the city of Ramadi and has its fighters in many towns near the Turkish and Syrian borders, followed by other cities.
The UN Security Council said Friday that attacks targeting civilian populations based on ethnic, religious or political background may be considered a crime against humanity for which those responsible must be held accountable.