As vigil continues for Jimmy Carter, many celebrate his legacy of faith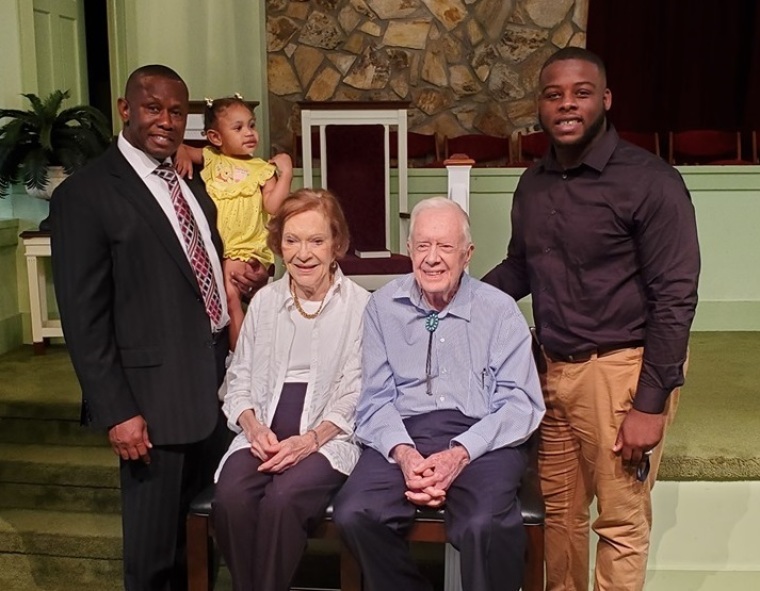 As former President Jimmy Carter entered at-home hospice over the weekend and the nation prepares for the inevitable, many who know him, including his pastor at Maranatha Baptist Church in Plains, Georgia, agree that a big part of his legacy is his exemplary life of faith.
The Rev. Tony Lowden, who became the first black pastor to lead the predominantly white Maranatha Baptist Church in 2019, told Fox 5 that the 98-year-old Carter, who selected him to lead the church, has since become a "father figure" to him.
"America, he became a father figure. He ministered to me more than I ministered to him," Lowden told the news outlet. "So many people around the world are hurting right now because they see hospice as a bad thing, but Mr. Carter will tell you that he's given all that he can give."
Lowden said he visited with the former president shortly after it was announced that he was entering hospice care at his longtime home in Plains, and he found the 39th president surrounded by love.
"We were just celebrating life yesterday at the home and that's what we are going to do and watching him love on his bride," Lowden said. "We've seen the work he's done. We've seen him giving himself at all times and that's something to celebrate."
On Saturday, both the former president's church where he famously taught Sunday school for decades and The Carter Center announced that he would stop further "medical intervention" and enter into hospice care.
"After a series of short hospital stays, former President Jimmy Carter today decided to spend his remaining time at home with his family and receive hospice care instead of additional medical intervention," a statement shared by the church and The Carter Center noted.
Since that time, there has been a national outpouring of praise and prayerful support for Carter, who never stopped teaching his Sunday school class at Maranatha Baptist Church after he was diagnosed with brain cancer in 2015.
Marvin Laster, the former chief executive of the Boys & Girls Club in nearby Albany, who became friends with Carter while working with him at the organization's outpost in Plains, recently told The New York Times that despite his terminal illness, Carter remains "strong in his faith."
"People ask me all the time: 'How is he doing?'" Laster said. "He's good with the spirit and he's strong in his faith, and that's all that matters."
In summarizing the legacy of Carter and his wife, Rosalynn, Laster paraphrased from the Gospel of Matthew when he told the Times, "They were really led by the words of the maker."
"They tried to do everything they could for the least of those," he said.
While Jeff Clements, an owner of the Buffalo Peanut Company, a commercial peanut sheller and seed treater who owns what had once been the Carter family's warehouse in Plains, does not support Carter's politics, he told the Times that he respects him for taking a stand on his faith.
"The fact he was still willing to be a Christian and act in a Christian way and not be afraid to do so in today's time," he said, "that's more so his legacy than anything he did while he was president."