Asbury University revival moving to new sites to accommodate people arriving from around the world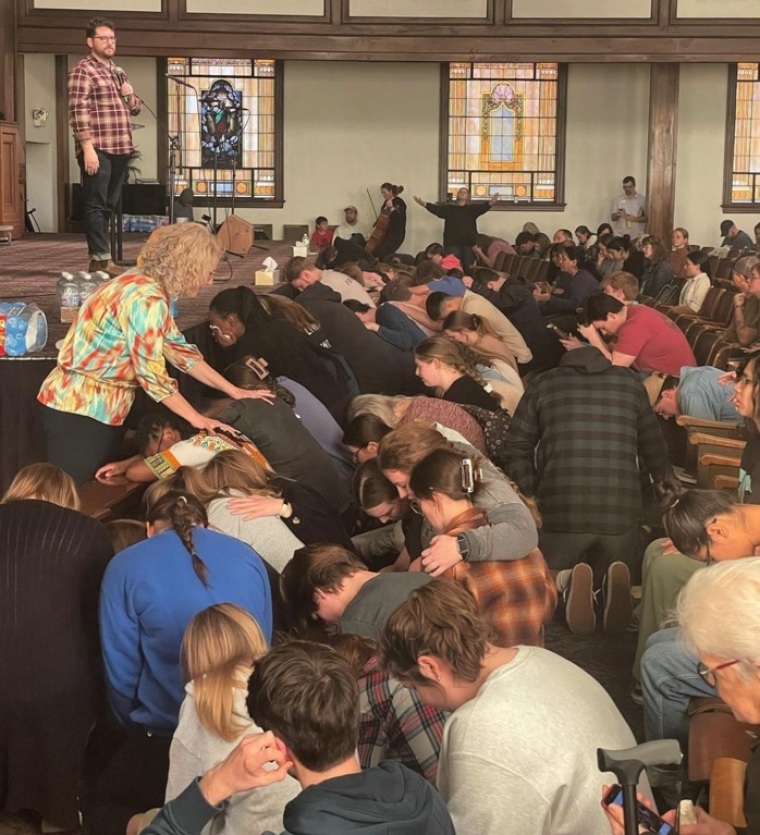 Asbury University, which has been the site of continual worship and prayer on campus for weeks and drawing tens of thousands of people to experience what God is doing, will move its non-stop prayer services off-campus due to concerns about overcrowding in the small town.
What began as part of a scheduled chapel service on the morning of Feb. 8 at Hughes Auditorium at the Christian institution in Wilmore, Kentucky, has since transformed into a constant impromptu gathering.
The revival has generated worldwide interest, resulting in lengthy queues to gain entry.
The university says on its website that the "concluding public worship service of this recent outpouring" will be held on Monday afternoon.
It added that "the university in consultation with local law enforcement and city administration notified incoming visitors that parking and seating had exceeded capacity." Beginning Tuesday, services available to the public will be held at another location in the central Kentucky area. Separately, starting on Friday, students' evening services will be hosted at other locations off campus.
"We just had some people arrive from Finland, from the Netherlands, they have been coming from all over the country," Asbury's Communications Director Abby Laub told WKYT.
The institution needs to balance the needs of students with the overwhelming turnout at the event, Asbury University President Kevin J. Brown said Sunday, according to WDRB.
"We recognize life for the students had to return to normal, they have to go to school, they have midterms next week," Laub was quoted as saying. "They know this is a gift, they have received it as a gift, so we are going to change them with now you take this to your job, your family, your church."
Bobby Singh, who owns a Shell gas station across the street from the Asbury, was pleasantly surprised by an unexpected surge in his business. "I've never met such nice people, people are inside donating to us," Singh told WKYT. "[It's a] blessing in disguise, man, it came out of nowhere."
Canaan Yan, a sophomore at Asbury, told WDRB, "I feel as though maybe we were the candle and now we are just passing that flame on to other churches and other schools."
Days after the revival began, The Christian Post spoke to Alexandra Presta, a senior at the university who is also the executive editor for the campus newspaper The Collegian. She witnessed the revival and reported on it.
After the chapel service concluded on Feb. 8, "roughly 30 students kept going," she told CP. They've been joined by others since then.
The chapel service featured a sermon by speaker Zach Meerkreebs based on Romans 12 and the topic of "love in action," Presta said. "I had left for a few minutes but then felt called to return. Since then, it hasn't stopped. It's been a mix of worship, testimony, prayer, confession, silence," she explained, calling it "a full experience of the Holy Spirit."
In an op-ed for CP, Greg Stier, the founder and president of Dare 2 Share Ministries International, quoted an evangelist Jon Burdette in describing his experience.
"Attending the revival at Asbury was an unforgettable experience. We could literally feel the 'weighty' presence of God as soon as we walked into the building. Sensing God's presence in that way and knowing that this was an unplanned service that had continued since Wednesday (Feb. 8) morning, I got emotional within the first few minutes of being there," Burdette said.
This is not the first time that revival has hit the campus. Asbury was the subject of a major religious gathering in February 1970, which the university celebrated its 50th anniversary of in early 2020.
The 1970 revival spread, impacting various places, including Southwestern Baptist Theological Seminary of Fort Worth, Texas, after three Asbury students spoke about their experiences to the student body.
Were you there? Use #MyRevivalStoryto share your story.