Ashley Judd reveals incredible moment her dog saved a man from committing suicide (exclusive)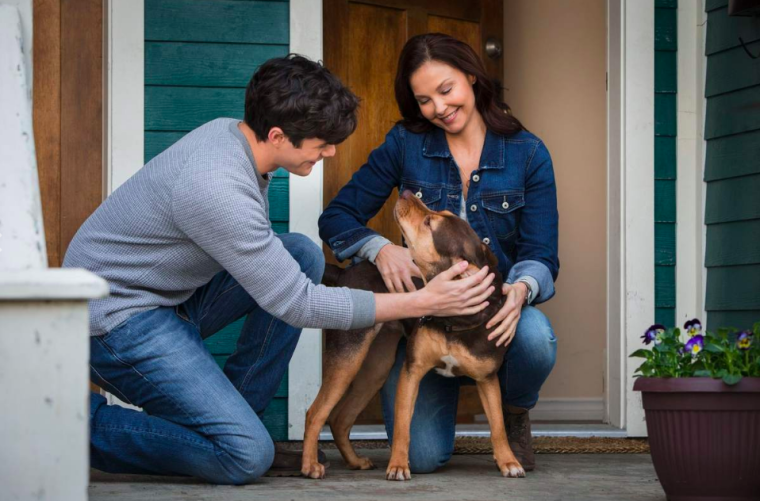 Hollywood actress Ashley Judd shared the incredible moment her dog saved a man from committing suicide, and why she believes God uses animals to demonstrate unconditional love, comfort and compassion to humans.
In an exclusive interview with The Christian Post, Judd revealed that several years ago, her support dog, Shug — who accompanied the actress on every movie set during her lifetime — traveled with her from the Czech Republic to New York. After landing in LaGuardia airport, Judd removed Shug's vest, and the cocker spaniel-poodle mix instantly sprinted across the crowded terminal, stopping to sit beside a man who was writing in a notebook.
"I was like, 'Oh my gosh, what is going on? My dog never behaves this way," Judd recalled. "So I went over to retrieve my dog, and he asked what her name was, and he said, 'Oh, she's cute,' etc, etc, and we briefly chatted before I walked away."
While in a different part of the airport a short time later, Judd felt a shadow fall over her. She looked up and saw the man standing there. He asked: "May I show you what I was writing?"
"I was writing my suicide note," he told her, "when your dog came up and just there with me, just being present and reminding me of my value."
Despite going their separate ways, Judd and the man miraculously ended up on the flight, and the two ended up talking for hours. The next day, he went to treatment for his suicidality.
"Today, he's in recovery and still sends me texts, updating me on his health," she shared. "Shug was a remarkable dog. It's amazing how God works through dogs."
While Shug passed away at the age of 17, Judd said her dog taught her an important lesson: Sometimes, we don't need people to tell us how to feel, act or behave; we simply need someone to be present and love us unconditionally.
"Dogs practice presence," she said. "They love us exactly as we are. Sometimes, that's all we need; just sitting with someone and letting our empathy flow is the greatest helpfulness. Letting go of the need to control others and their emotional arc and offer advice is an act of self-restraint and compassion."
"Dogs," she added, "will rest their chin on your knee and look up at you with undisguised love and adoration. We never outgrow our need for that kind of love."
Judd stars in the film "A Dog's Way Home," based on the best-selling novel by W. Bruce Cameron. The film chronicles the heartwarming adventure of Bella, a dog who embarks on an epic 400-mile journey home after she is separated from her beloved human, Lucas, an aspiring med student and VA hospital volunteer.
On her quest to return home, Bella touches the lives of everyone she meets, from an orphaned mountain lion cub to a homeless veteran down on his luck. Judd plays Terri, a veteran affected by Post Traumatic Stress Disorder (PTSD). She develops a special bond with Bella, discovering that the dog brings joy and comfort when she needs it most.
"We all have really deep needs for connection, safety, and belonging, and this film speaks to that in a very personal and universal way," Judd said. "I understand Bella's journey; my dogs were the loves of my life completely and utterly devoted to me as I was to them. When we're separated from those we love, whoever that may be, we'll do anything to be reconnected with them."
The Tennessee native, who has been open about her own battle with depression, said she hopes the film raises awareness about the prevalence of PTSD and the staggering suicide rates among war veterans.
"I've been around and experienced trauma; I'm familiar with PTSD and the journey and struggles that so many vets have," she shared. "So many veterans are emotionally shattered, and female vets who have higher rates of PTSD than their counterparts. I've seen imaging, where their brains look like shattered glass, they're so fractured. Twenty veterans a day are committing suicide, and there are still homeless veterans out there. One dead veteran is one too many."
"Helping our vets remain gainfully employed and giving them safety networks is something I think is a righteous obligation of us," she continued.
Judd also told CP her morning meditation practice — which includes reading two devotional books and going through the prayer of St. Francis — helps her find healing and comfort amid the busyness and chaos of the world.
"One of my favorite prayers is, 'God, please direct my thoughts and actions and speech,'" she said. "Please give me intuitive thought, a nudge so I know how to handle any situation with grace and kindness.'"
"So much of it is simply about breathing because when you inhale, you have to exhale," she added. "Dogs understand that; they're not ego-driven, ambitious teachers who have the next accomplishment on their minds. They simply want to love and breathe."
A tale of unconditional love and unwavering devotion, "A Dog's Way Home" isn't a "soppy sentimental mess," Judd said, but a "powerful story grounded in real life."
"We have our given family — I like to say God has a sense of humor — but we also have the opportunity to create a chosen family who we love and adore and who create that necessary sense of safety and belonging," Judd said. "Animals have a powerful role in our lives and we need to treat them with the dignity and respect that they treat us with."
"A Dog's Way Home," in theaters Friday, also stars Jonah Hauer-King, Alexandra Shipp, Wes Studi, Edward James Olmos and the voice of Bryce Dallas Howard. The film is directed by Charles Martin Smith and Bishop T.D. Jakes is an executive producer. It is rated PG for thematic elements, some peril and language.