Asia Bibi 24-Hour Prayer Rally to Be Held Day Before Christian Mother of 5 Faces Death Sentence Appeal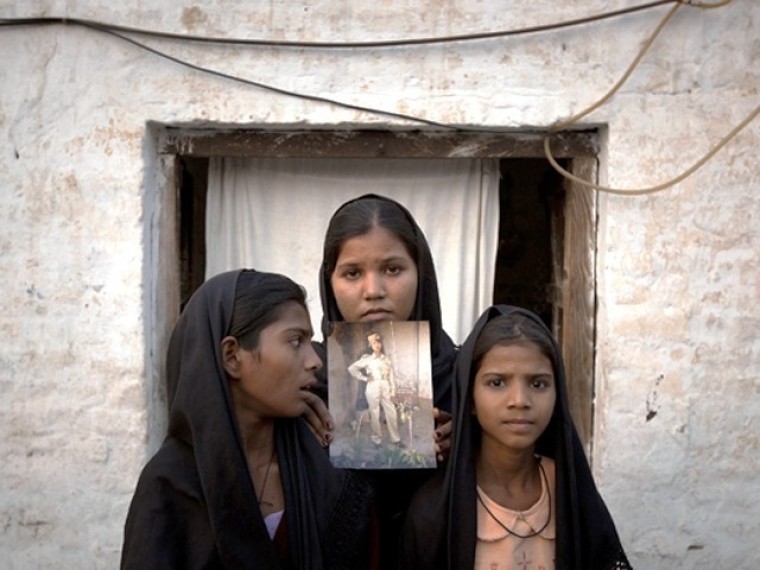 A persecution watchdog group is organizing a 24-hour prayer rally for Asia Bibi, the Christian mother of five who's facing the death penalty in Pakistan for blasphemy, and warns that hard-line Islamists could lash out violently against Christians after next week's hearing.
The Pakistani Supreme court announced on Friday that Bibi's appeal will take place on Thursday, Oct. 13 in Islamabad, which is expected to decide whether the Christian mother will escape the death penalty, or become the first woman in Pakistan to face such an extreme punishment for blasphemy.
Bibi was originally sentenced to death after an argument with Muslim co-workers back in June 2009, in which she was accused of insulting the Islamic prophet Muhammad, though she denies the charge.
Christian Solidarity Worldwide, which has been keeping track of Bibi's case, is calling on Christians to take part in a 24 hour prayer rally for the Christian mother on Wednesday, the day before her appeal is heard.
CSW Senior Press Officer Kiri Kankhwende told The Christian Post in an interview that Christians in Pakistan are facing a possible backlash from radical Islamists regardless of what the Supreme Court decides.
"Unfortunately, when a non-Muslim is accused of blasphemy, their entire community is vulnerable to attack and Asia Bibi's case is no different. Our contacts on the ground have cautioned that there may be some backlash from hard-line Islamist groups, as they have consistently called for Asia Bibi's execution," Kankhwende told CP.
"We hope for an acquittal in her case and we pray that there will be no reprisals against her, her family or the Christian community, but any situation that involves an accusation of blasphemy is highly dangerous for all involved. It's vital that we pray," she added.
Bibi was accused by the Muslim women of saying something along the lines of "My Christ died for me, what did Muhammad do for you?" The Christian mother continues to deny that she offended the Islamic faith, however.
Pakistan's blasphemy laws, intended to protect Muslim sensitivities, have frequently been used to settle personal scores and persecute religious minorities, such as Christians.
Kankhwende suggested that sustained change can come only through repeal or reform of the blasphemy laws, but religious minorities are facing a host of other challenges as well. She added that there have been positive internal shifts in recent times, including the recommendations made by the Supreme Court to the government in 2014 to protect minorities.
"The Chairman of the National Commission on Human Rights, Justice Ali Nawaz Chohan (retired), has proposed procedural amendments to a government committee on human rights, to safeguard against the misuse of blasphemy laws," Kankhwende explained.
"In Mumtaz Qadri's final appeal hearing last year against his death penalty for the murder of former Governor of Punjab Salmaan Taseer, the Supreme Court determined that questioning the blasphemy law does not amount to blasphemy," she added.
"We urge the government to create the space for further debate into changes to the blasphemy laws to see sustained, positive change in the lives of religious minorities and the country as a whole."
AFP noted that some radical voices in Pakistan, such as supporters of Qadri, who assassinated Taseer for advocating for Bibi in 2011, continue to call for her hanging.
Mustafa Qadri, an expert on human rights in South Asia, encouraged the Supreme Court to rule in Bibi's favor, however, as it would "send a powerful message to the world that Pakistan respects the rule of law and not the mob."
Other groups, including the American Center for Law and Justice, have also been urging Christians to speak out for Bibi ahead of the Supreme Court's vital decision.
A petition for Bibi's freedom has been signed by over 450,000 people, while the woman's husband, Ashiq Masih, has met major figures such as Pope Francis, while speaking out about her case.
"We are here in Italy to make sure we can be the voice of an innocent woman who has been suffering in jail for six years," Masih said in April.
"Since the day Asia Bibi was arrested, our family is totally destroyed. The children cannot survive without their mother. Asia Bibi misses her children, the children miss her," he added.
CSW's prayer initiative, which allows people to sign up for designated prayer slots, can be found on the 24-7prayer.com website.