Atheist Group Forces Louisiana Sheriff's Office to Remove Christian Facebook Posts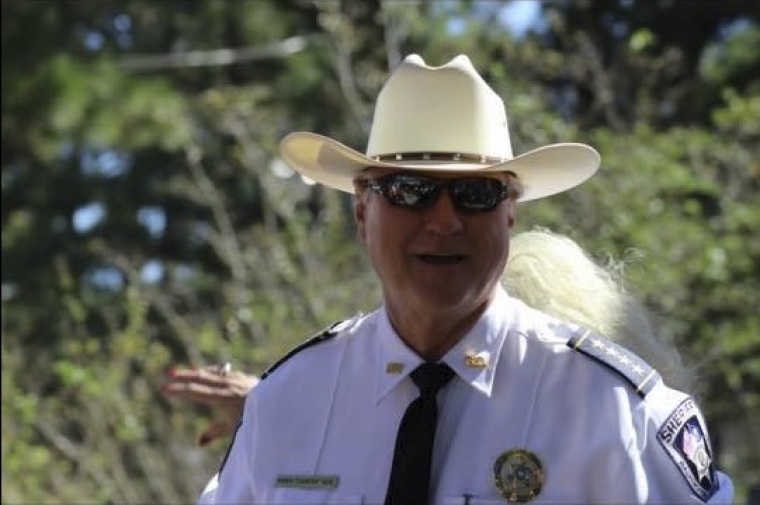 A Louisiana sheriff's office has removed Christian-themed posts that cited biblical passages from its Facebook page after it received a complaint from one of the United States' most prominent atheist legal organizations.
The Washington Parish Sheriff's Office has removed posts that shared scripture and promoted Christian content after it was pressured to do so by the Wisconsin-based Freedom From Religion Foundation, an organization that advocates for a strict separation of church and state, last summer.
FFRF staff attorney Andrew Seidel sent a letter to Sheriff Randy Seal last June that complained about how Seal was quoting Scripture in his official statements and how the office's public Facebook page was promoting Christianity and posting Bible verses.
The FFRF is known for sending letters to school districts and local government offices warning that they might be sued if Christianity or Judaism are perceived as being advocated by administrators, faculty or city officials.
According to the letter, a concerned local resident contacted FFRF about the issue. The letter details a number of instances in which Seal or his office have shared scripture or promoted Christianity through social media.
Last June, the cover photo for sheriff's office Facebook page stated, "Lord when I sit in the chair of leadership, please do not let it be said that the chair is still empty."
The letter also complained about an Easter 2017 Facebook post from the office's account that read, "Around the world today Christians unite to celebrate the sacrifice and resurrection of our Savior Jesus."
Seidel also voiced displeasure with a Christmas post in December 2016 that read: "Many centuries ago, the Jewish Prophet Isaiah said, 'For unto us a child is born, unto us a son is given: and the government shall be upon his shoulder: and his name shall be called Wonderful, Counsellor, The Mighty God, The everlasting Father, the Prince of Peace,' (Isaiah 9:6 KJV). That prophecy was fulfilled hundreds of years later with the birth of Jesus, and it is His birth that we celebrate during this Christmas season."
FFRF was also upset that Seal hosted a prayer event in September 2015 and used the office's Facebook page to promote it with a post that cited Psalms 145:18, Philippians 4:6, and 2 Chronicles 7:14.
Other posts from the Facebook page through the years have cited passages like John 15:13.
Seidel argued in his letter that such posts constitute a promotion of Christianity over other religions and non-religions and constitute a violation of the Establishment Clause of the First Amendment to the U.S. Constitution.
The letter asserts that such actions show non-Christian citizens of the parish that they are not favored members of the political community.
"The Supreme Court has long recognized that the First Amendment 'mandates governmental neutrality between religion and religion, and between religion and nonreligion,'" Seidel wrote.
"The Supreme Court has also held that public officials may not seek to advance or promote religion, specifically stating, 'If there is any fixed star in our constitutional constellation, it is that no official, high or petty, can prescribe what shall be orthodox in politics, nationalism, religion, or other matters of opinion or force citizens to confess by word or act their faith therein,'" Seidel explained. "Your statements, and the posts promoting Christianity on the Washington Parish Sheriff Office's social media page, fail to respect the Constitution's mandate of neutrality."
FFRF called on the sheriff's office to remove all religious posts from their social media pages and to halt its practices of promoting faith.
On Thursday, FFRF announced that the sheriff's office finally acted on the letter.
"The Washington Parish Sheriff's Office read FFRF's message clearly," FFRF reported in a news release. "The department's legal counsel recently informed FFRF that the Bible verses and highly religious posts have been deleted from the official Facebook page."
The Christian Post reached out the Washington Parish Sheriff's Office for more clarification about whether it will cease completely in posting Bible verses and posts promoting Christianity. CP also sought clarification about whether or not Seal will refrain from quoting scriptures in his official statements. A response is pending.
Although FFRF claims to have put an end to the Seal's "sermonizing over the department's official social media" and a "stop this troublingly unconstitutional impulse," it should be noted that Seal posted a lengthy Christmas message on Facebook on Dec. 22.
Although Seal's post did not cite scripture, it labeled Christmas the "most significant holiday experience."
"This is a time not only for giving and receiving gifts, but also for deep reflection on the meaning of Christmas as it pertains to us as individuals and to our families and our nation," the post reads. "Christmas is a time of gifts under the tree, lights in the windows, cards in the mail, stockings hanging in the family room, dinners with family and friends, and greetings of 'Merry Christmas' to those whom we see in our daily lives. Such things bring joy to many."