Atheist Group Forces Removal of 'God's Laws' Plaque from Minnesota Courthouse
Atheist Group Forces Removal of 'God's Laws' Plaque from Minnesota Courthouse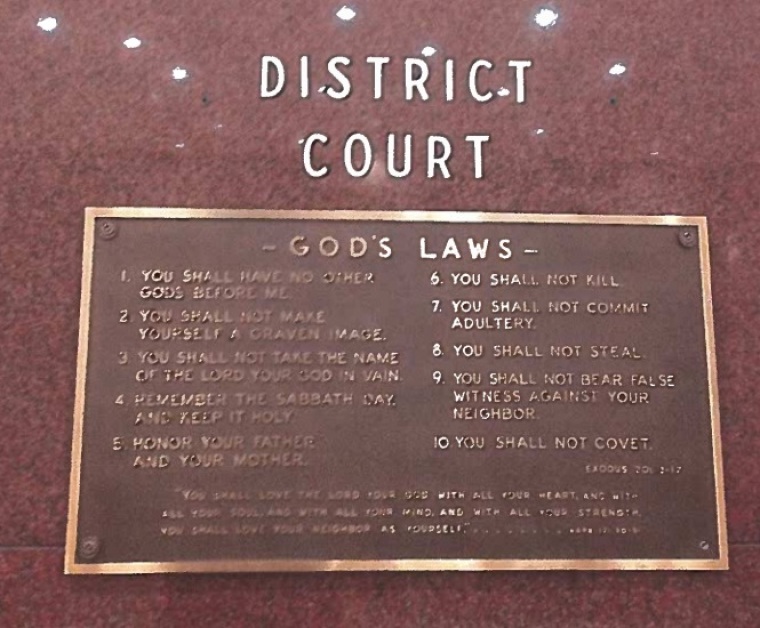 Minnesota's Saint Louis County has removed a long-standing "God's laws" plaque that was prominently displayed in the county courthouse in Hibbing after receiving a complaint from one of the nation's largest secular legal groups.
The plaque in question, which has been embedded into the wall of the courthouse underneath the county seal since it opened over seven decades ago, was removed on Monday to avoid avoid any kind of potential legal battle.
The display not only listed the Ten Commandments, but also quotes Jesus' Greatest Commandment as referenced in Mark 12:30-31: "You shall love the Lord your god with all your heart, all your mind and with all your strength. You shall love your neighbor as yourself."
"After careful consideration, a determination was made to remove the plaque from public display," County Administrator Kevin Gray said in a statement, according to Fox21. "As you might presume, the law and norms have developed considerably since the plaque was initially installed decades ago."
The decision comes after the Wisconsin-based Freedom From Religion Foundation, which advocates for a strict separation of church and state and claims over 600 members in Minnesota, sent a letter to Gray in early February demanding the plaque removal.
In his statement, Gray explained that the decision to remove the plaque was made after the county's attorney's office researched applicable law and related U.S. Supreme Court precedents.
"Removal of the plaque was scheduled during a time that would have the least disruption to courtroom and other courthouse activities," Gray explained.
The FFRF letter to Gray, which was written by senior counsel Patrick Elliott, argued that the plaque constitutes a government endorsement of religion and violates the Establishment Clause of the First Amendment to the United States Constitution.
"Given the content of the display, a reasonable observer would view it as an endorsement of religion," Elliott wrote. "The display directly connects Saint Louis County and the district court with Christianity."
"Ten Commandments displays within or near courtrooms are especially concerning given the religious message they impart," Elliott continued. "They affiliate the justice system with biblical prohibitions, rather than our secular law. They signal that court is not impartial."
Elliott cited the 2005 Supreme Court case of McCreary County v. American Civil Liberties Union, where the court ruled that Ten Commandments monument displays at two Kentucky courthouses were a violation of the Constitution.
The same court also ruled in Van Orden v. Perry that a Ten Commandments statue put on display in a park behind the state capitol building in Austin did not violate the Establishment Clause because it was erected in a park that also featured 17 other monuments and 21 historical markers that together represent the "ideals" of Texas' historical heritage.
"It is grotesque to insinuate that the Ten Commandments are associated with a county government's justice system in any way," FFRF Co-President Annie Laurie Gaylor said in a statement. "Saint Louis County did the right thing."