Atheist Group: Trump's Tweet Supporting Church FEMA Funding Breached Presidential Etiquette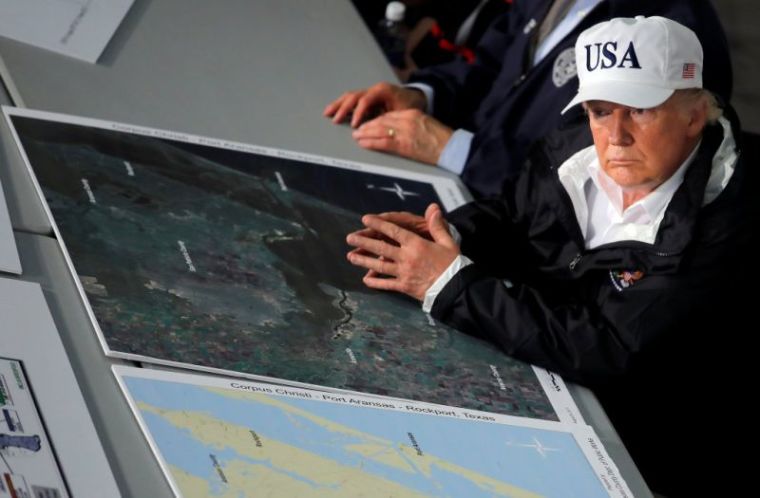 A secular organization that advocates for nontheists says that President Donald Trump has breached presidential "etiquette" by using his Twitter page to argue that Texas churches should be eligible for government reimbursement to repair damage caused by Hurricane Harvey.
The Wisconsin-based Freedom From Religion Foundation said on Monday that Trump exhibited a "gross misunderstanding of the American Experiment."
FFRF, which advocates for a strict adherence to separation of church and state, asserted, "President Trump interjected his erroneous legal opinion about an ongoing federal lawsuit over whether churches should be eligible to receive taxpayer funds to rebuild after natural disasters. The Freedom From Religion Foundation is condemning his move and the lawsuit itself."
Last Friday, Trump tweeted, "Churches in Texas should be entitled to reimbursement from FEMA Relief Funds for helping victims of Hurricane Harvey."
Trump's tweet comes after three Texas churches represented by the Becket Fund filed a lawsuit against the Federal Emergency Management Agency over a policy that prevents houses of worship from receiving government disaster relief aid in the aftermath of devastating hurricanes.
Like thousands of other buildings throughout southeast Texas, several churches have been severely damaged by the severe flooding that occurred as a result of Hurricane Harvey.
"One would think, then, that houses of worship would also get federal government disaster-relief help on an equal basis with other private nonprofit societal institutions such as community centers and zoos," the lawsuit explains. "Yet FEMA policy explicitly denies equal access to FEMA disaster relief grants for houses of worship solely because of their religious status."
However, secularists, such as those at FFRF, have pushed back against the lawsuit's notion that churches should be eligible to receive FEMA grants on the grounds that it would violate the Establishment Clause of the First Amendment to the U.S. Constitution.
"The government can help many individuals and nonprofits rebuild, but not churches. It is a founding principal of our nation that citizens may not be taxed in support of religion and churches," FFRF Co-President Annie Laurie Gaylor said in a statement.
FFRF Co-President Dan Barker added that churches should not get FEMA funding because they "don't pay taxes."
"Why should they get access to taxpayer funds?" Barker asked.
FFRF further claimed that churches also "receive preferential treatment from the IRS."
"They are exempted from providing the annual and onerous Form 990 tax return that every other 501(c)(3) nonprofit must file in order to retain tax exemption," FFRF states. "Therefore churches are financial and informational black holes, with no accountability."
The Supreme Court ruled earlier this year in Trinity Lutheran Church of Columbia, Inc. v. Comer that a Missouri state government program was unconstitutional for denying grant funding to a church that would have been used only for secular purposes. The program in question provided grants to fund the resurfacing of playgrounds.
The Trinity Lutheran case was the first case cited in the Texas churches' lawsuit.
"Under the Free Exercise Clause of the First Amendment — particularly as interpreted by the Supreme Court decision in Trinity Lutheran Church — government may not discriminate against a church, or a synagogue, or a mosque simply because of its status as a place of religious teaching and worship," the lawsuit states.
FFRF lawyer Andrew Seidel argues that the Trinity Lutheran decision "should not help the Texas churches' lawsuit."
"Here, the money would be used to rebuild churches themselves, not to prevent children from getting scraped knees; direct funding of churches has never been permitted under our Constitution," Seidel wrote.
FFRF further argued that Trump was wrong to "interject an opinion" into an ongoing lawsuit.
"This unfortunate use of a presidential podium may encourage Florida or Puerto Rican churches to file similar claims in the wake of Hurricane Irma," FFRF asserted.
New York Divinity School President Paul de Vries previously wrote in an op-ed published by The Christian Post that it seems a bit unfair that FEMA's policy helps for-profit New York City nightclubs but not churches.
"There are rowdy beer halls, sleazy nightclubs, and smutty 'adult' stores, even witchy botánica businesses — all open and thriving again because of generous grants from the tax-payers' pockets; American money conveniently channeled by the IRS and FEMA for the restoration of thousands of homes and businesses, including godless establishments," de Vries wrote of the situation in New York following Hurricane Sandy.
"The church buildings suffering the same damage are still 'disqualified' from these grants because churches lead people to God," he added. "Ironically, it was the God-centered churches who were the first to help others immediately after Superstorm Sandy — with generous physical, emotional and spiritual help many days or weeks before aid from any other sources, government or private."