Atheist Kicked Out of Florida City Meeting for Refusing to Stand for Pledge of Allegiance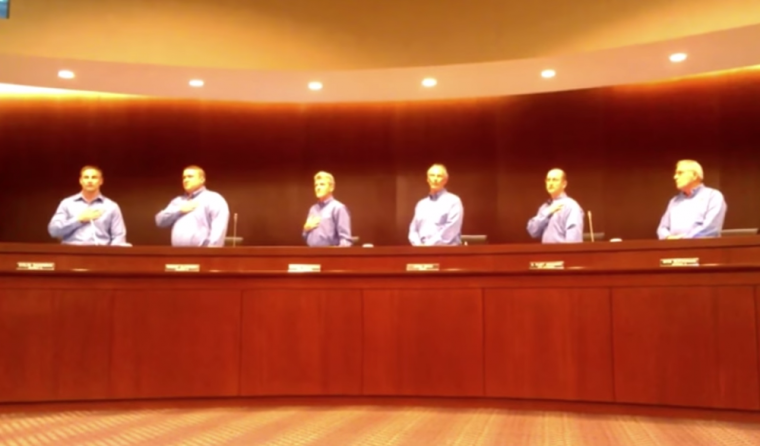 An atheist was escorted out of a Florida city public meeting for refusing to stand for the Pledge of Allegiance, prompting outcry from secular organizations.
John Thoreau remained seated for both the opening invocation and Pledge during a meeting of the Winter Garden City Commissioners last week.
Winter Garden City Mayor John Rees said Thoreau had to either stand for the pledge or leave the meeting, according to video Thoreau took of the event.
Thoreau is a member of the secular organization the Central Florida Freethought Community, which is based in Oviedo.
David Williamson, founder of CFFC, told The Christian Post that Mayor Rees' actions were "outrageous" and "violated the law when he asked citizens to stand for the invocation."
"Seventy one years ago the Supreme Court affirmed that public school students do not have to stand for the pledge, and I am aware of no time in our history when standing was ever mandatory for adults," said Williamson.
"Our hope is that this will be an opportunity to educate the mayor, the commission, as well as elected officials and citizens across the country."
Williamson also told CP that he and his organization "plan to attend the next meeting" of the Winter Garden City Commissioners, with CFFC members remaining seated for the pledge.
"Recitation of the pledge is no measure of anyone's patriotism any more than a U.S. flag lapel pin. Patriotism is demonstrated in how we respect the law of the land and the rights of our fellow citizens," said Williamson.
"In this case, a citizen was already working with the city manager to update the invocation practices and ensure compliance with the recent decision in Town of Greece v. Galloway. They had met on more than one occasion, and our member had attended and recorded several meetings while remaining seated."
In response to the mayor's action, the Madison, Wisconsin-based Freedom From Religion Foundation has stepped in, sending a letter of protest last week.
Andrew L. Seidel, staff attorney for FFRF who authored the letter, told CP that he is hoping a lawsuit against Winter Garden City will not be necessary.
"Litigation is costly and time-consuming for all parties, and the city's actions were such a clear violation of the law that we think we can avoid a court battle," said Seidel.
"That's why we've asked the mayor and chief to make public statements at the next meeting, repudiating their behavior and recognizing the rights of citizens to remain seated for prayers and pledges that falsely claim we are 'one nation under God.'"
According to the video, Rees demanded that Thoreau stand for the pledge out of respect for the country and for troops serving overseas.