Atheists Raise $17K for Former Pastor Living Year 'Without God'
Atheists have rallied together to offer support for a former pastor embarking on a "year without God" after he lost the jobs he held at Christian institutions.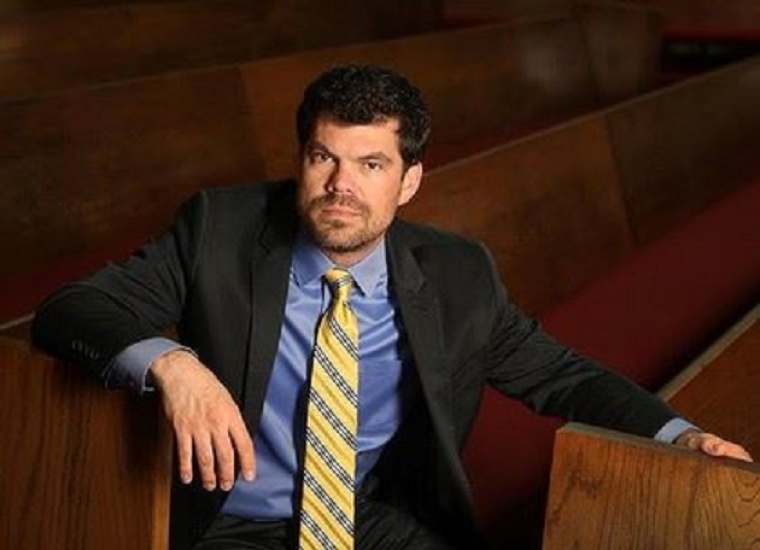 Ryan Bell, a former Seventh Day Adventist pastor, announced via the Huffington Post on New Year's Day that he would spend 2014 "[trying] on atheism," meaning he would "live as if there is no God."
"I will not pray, read the Bible for inspiration, refer to God as the cause of things or hope that God might intervene and change my own or someone else's circumstances," Bell wrote.
His decision to challenge his Christian beliefs came mainly after he was asked to resign from his position as pastor of the Hollywood Seventh-day Adventist Church back in March after questioning church teaching on homosexuality and the role of women, among other things.
Since he announced his new spiritual journey on New Year's Day, Bell has reportedly lost his two jobs, both related to Christian institutions requiring their employees to be committed Christians. As Bell writes in a blog post from Jan. 4, the first job he lost was working at Azusa Pacific University (APU) teaching intercultural communication to undergraduate students, and Fuller Theological Seminary as a coach to doctoral candidates composing their dissertation proposals.
"So I find myself, on Day 4, without any employment. My savings will run out in about two weeks and I'm scrambling to find immediate work doing, well…anything-manual labor, waiting tables, other teaching and consulting, or whatever I can find," Bell writes on his blog. The former pastor later clarified that he was not "fired" from his teaching jobs, but rather he was "a contract instructor," and therefore each term he teaches is a separate contract.
"In that sense I was never an employee, per se, of Fuller Seminary or Azusa Pacific University. In both cases I had a very enjoyable and fruitful conversation with the administration and we came to an understanding that I could not do those contract jobs while on this my year-long journey. Both institutions are interested in my journey and want to discuss my teaching again depending on where I'm at at the end of the year."
Hoping to lend a helping hand to Bell's financial plight, Hemant Mehta, a teacher from Naperville, Illinois and writer behind the well-known blog "Friendly Atheist," set up a donation page on GoFundMe to help Bell with some of his financial troubles. So far, Mehta has raised over $17,000 out of a goal of only $5,000. Mehta writes on the donation page's description that although he has criticized Bell's approach to "trying on atheism," he still feels sympathetic towards his cause.
"[…] I still admire the fact that [Bell is] putting his beliefs under scrutiny. Places of higher learning -- including Christian ones -- ought to encourage these sorts of experiments, not run away from them," Mehta wrote. "As an atheist, I want Bell to know that we appreciate what he's trying to do and that we'll support him even if his Christian community will not and [more importantly] even if he decides atheism isn't for him when the year is over."
Mehta had previously criticized Bell's methodology, saying that until Bell actually changes his mind and decides he no longer believes in the existence of God, he is not truly experiencing atheism. "He's just a Christian doing what all people should do and exposing himself to an alternative perspective. That's a very good thing, no doubt, but scrutinizing your own beliefs isn't a substitute for being godless."
Mehta has initiated other donation drives in the past, including raising $3,000 for the Morton Grove Parks Department after it lost funding from a veterans' organization because one of its city commissioners refused to stand for the Pledge of Allegiance. The department ultimately turned down Mehta' donation, saying it didn't want to become embroiled in a First Amendment debate.
Bell took to his blog on Tuesday to thank Mehta and other atheists for their support and generous donations, and to also clarify that there is no ill feelings between himself and Azusa Pacific or Fuller Theological Seminary, or any of his Christian friends. Rather, all parties involved have been supportive of his journey, and both Fuller and Azusa Pacific have said they'd like to re-assess his teaching contract depending on where he's at in his journey at the end of the year.
"I am shocked and overwhelmed a the outpouring of support that I have received after Hemant Mehta (aka Friendly Atheist) asked people to support me financially. I am grateful. But just as I am leaving behind the fear and sometimes hate-inspired religion of my past, I am deeply uncomfortable about raising support by casting my friends in the Christian community in a negative light–especially one which is not true," Bell writes.
"I would like to treat all parties involved in this dialogue the way I would like to be treated. Perhaps if atheists and theists of various types practice the golden rule, which exists in every major religion and no-religion, we might assume the best of each other. Thank you to all who have contributed to my journey and I look forward to engaging with you in the coming days and weeks," he added.