Atheists Want Painting That Suggests 'Real American Children Pray' Removed From School's Office But District Refuses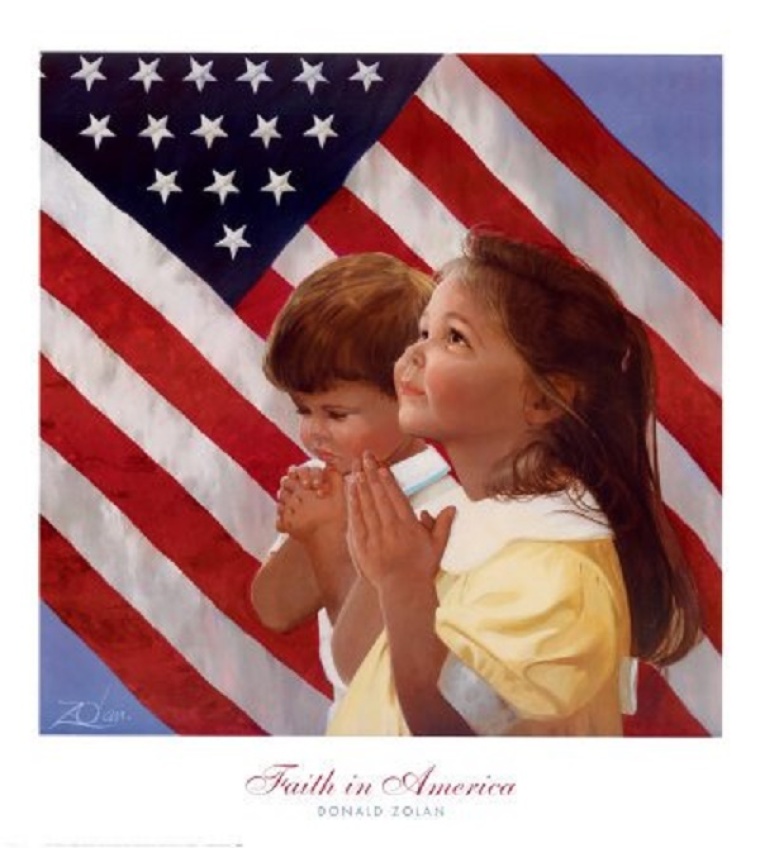 The Freedom From Religion Foundation in Madison, Wisconsin, is now lobbying an Oklahoma School District to remove a painting by artist Donald Zolan because it suggests that "real American children pray." The district, however, has refused to comply with the secular group's request.
"It is our information and understanding that in the Kenneth Cooper Middle School office hangs a religious poster with an image entitled, 'Faith in America' by Donald Zolan. The image features two children with their hands clasped in prayer, with an American Flag background. The meaning could not be more clear, real American children pray," noted staff attorney Andrew L. Seidel in an Oct. 2 letter to Fred Rhodes, superintendent of Putnam County Schools in Oklahoma City.
The letter further claims that even if the children in the painting aren't really praying and just clasping their hands, it would be in violation of the First Amendment and requested that the painting be removed.
Last Thursday an attorney for the school district responded and defended the painting which has been in the schoo for 18 years.
"The poster complained of has hung in the school office for 18 years without a complaint, prior to your letter. To date, the district has not received any complaint from any resident, student or patron of the district who believes that the image conveys an improper religious message. We cannot agree that the poster displayed in the office is a per se violation of the Establishment Clause of the United States Constitution," wrote attorney Anthony T. Childers in his response to FFRF on behalf of the school district.
"Though, as you've pointed out, the title given to the artwork by the original artist is labeled 'Faith in America', there is no text displayed with the poster which imputes the artist's intent, theme, or title," he continued.
"We believe that a neutral viewer of the poster would not find that the image attempts to proselytize or promote any particular faith, and does not create coercive pressure on students who may see the image," he added just before rejecting the FFRF's request.
"…At this time, we do not believe that the image violates the Establishment Clause and the District will not agree to remove the image from its office," Childers added.