Atlanta Megachurch's Singles Descend on Target to Get Their Hands on Men's Underwear — For a Good Cause; 'We Are Finding Some Drawers for Tonight,' One Determined Woman Declares
Andy Stanley's North Point Ministries Buckhead Members Scoop Up Men's Underwear to Help Homeless Shelter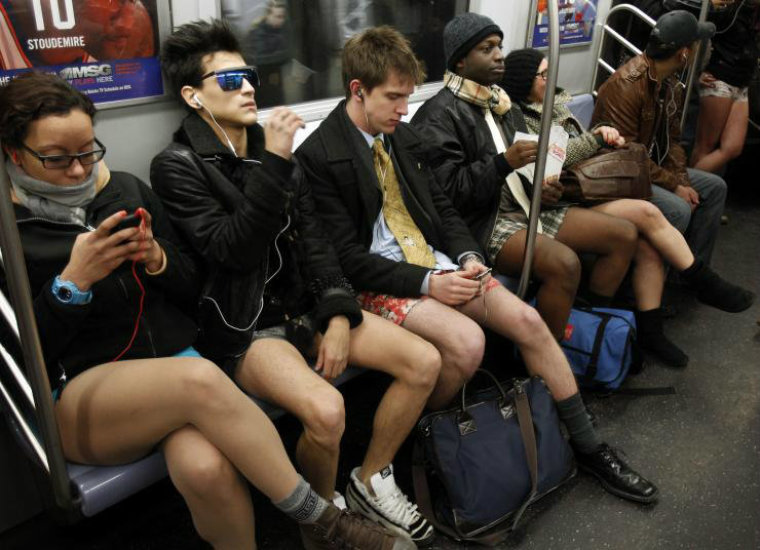 It was a simple enough request: drop off your drawers. That was the tongue-in-cheek promo a Buckhead, Atlanta, church used to encourage members attending its special "Single Series" to purchase packages of men's briefs to donate to a local shelter. Based on photos shared online, members of the North Point Ministries church, founded by pastor Andy Stanley, went above and beyond with their donations.
"This series, as part of our do.justice initiative, we are partnering with Atlanta Mission to supply them with fresh clean underwear for their clients. On night 2 and night 3 we are asking all of our singles to bring BRAND NEW Men's briefs, size L and up," reads the online instructions for those attending the "Singles Series" at Buckhead Church.
The church explains that the yearly "Singles Series" gatherings, most recently held on May 19 and 26 and on June 2, are a way for unattached adults from all six North Point Ministries campuses to get together for worship and teaching, and of course, to mingle.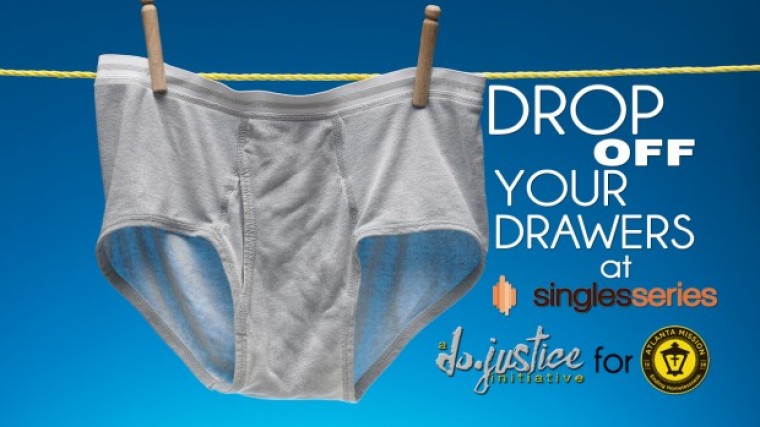 As asked, members hit up stores to make sure they did not show up empty handed at the event this week. Their store of choice, based on photos published online, was Target — and the rush to scoop up packages of whitey tighties for a good cause left some members in a bind.
One user of the popular social network and news site Reddit posted a photo illustrating what happened when he or she (or perhaps someone else) tried to find a Target location to purchase a pack of extra-large men's briefs on a smartphone.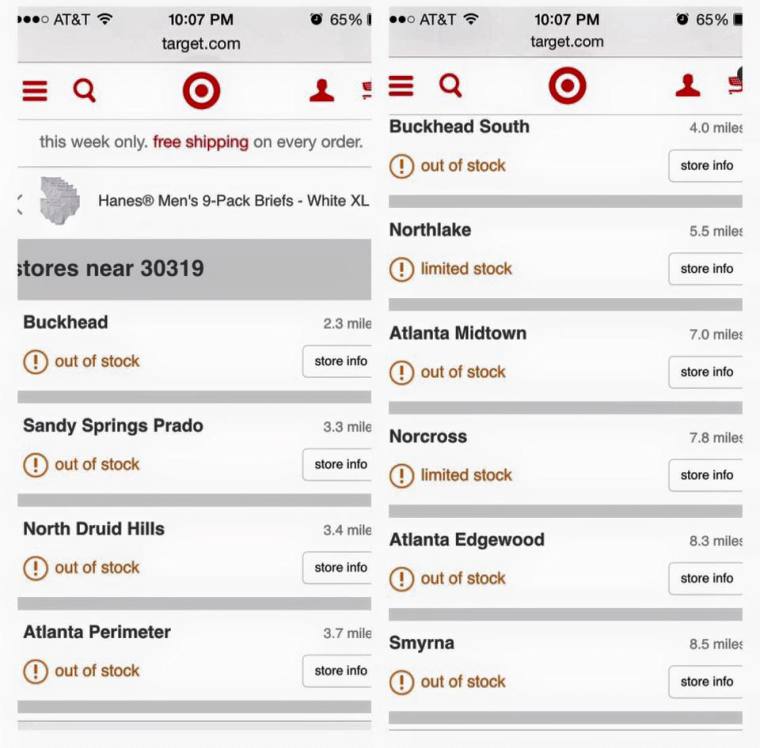 One "Singles Series" attendee, Recha Reid, shared Tuesday with the Buckhead Singles Facebook page that she was having trouble finding just one package of men's underwear. But she would not be deterred.
"Yep. Officially out of drawers!! Running around town trying to find drawers for tonight. I think Buckhead Singles lovelies have bought out the lot! I will not be beat," Reid wrote, before tagging two female friends with the message: "we are finding some drawers for tonight."
The Buckhead Church Facebook moderator shared Reid's photo on the page with the caption on Tuesday: "Singles ... looks like you're on a roll — Target is running low on drawers, but don't let that stop you! Let's fill up those bins tonight and overload Atlanta Mission with so much underwear they don't know what to do!"
The Christian Post contacted Buckhead Church for comment but did not speak with a representative by press time. The Buckhead Singles ministry reported on Twitter, however, that it had collected 3,300 pairs of men's underwear.
CP also contacted a member of Target's public relations team to get confirmation on any Atlanta-area stores that might have experienced a jump in sales of men's underwear this week, but did not receive the requested information by press time. As of Wednesday afternoon, several Atlanta-area Target stores were still showing "out of stock" or "limited quantities" for certain packages of men's underwear.
North Point Ministries' do justice initiative is described by the church as "an opportunity for the singles of Atlanta to come together and be a part of a hands-on serving experience that brings change to our city in a real and tangible way." Every year for one day, church members partner with Atlanta's "most strategic non-profit organizations" to do good works around the city.
Pastor Stanley's Buckhead Church is one of six North Point Ministries churches located in the Metro Atlanta area. The multi-campus megachurch, whose main location is in Alpharetta, Georgia, is home to more than 30,000 members and was named the largest church in America in 2014 by Outreach Magazine. Stanley, son of the elder Atlanta pastor Charles Stanley, founded North Point Ministries in 1995.