Author Who Lived in Orphanage for 14 Years: God Sees You in Your Pain
Author Who Lived in Orphanage for 14 Years: God Sees You in Your Pain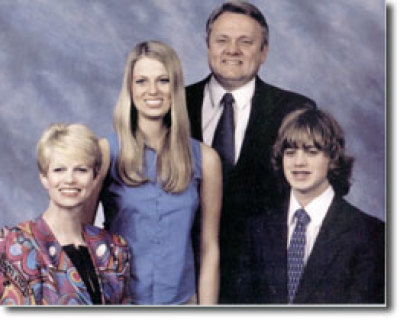 Abandoned at a young age, Rob Mitchell said growing up in an orphanage made him feel lonely and inferior, but as a Christian he knows that God sees and hears him.
"As a kid who spent 14 years in an orphanage, I understand being invisible," he said in a recent Focus on the Family broadcast. "The great message of Jesus Christ was God knows who you are. You are not invisible to God."
Now a celebrated financial consultant, motivational speaker and the author of Castaway Kid: One Man's Search for Hope and Home, Mitchell wants those facing adversity to know, "You are not invisible to God in your pain, in your sorrow, in your struggle with psychological, emotional affliction, in your struggle with someone you love who's got [multiple sclerosis] or [cerebral palsy] or cancer."
In a recent interview with Focus on the Family President Jim Daly, Mitchell shared how he was sent to an orphanage at age 3. His mother, whom he described as unstable, took him to the Covenant Children's Home in Illinois and left without any warning.
"She takes me in this great big strange building and takes me and sits me in front of a strange boy and says, 'Play with the blocks' and I reach for a block and he steals it, and I reach for a block and he steals it, and I turned to my mother for help and she's gone. She didn't say, 'I love you.' She didn't say, 'I'm sick.' She's just gone," recalled Mitchell.
His father, who attempted suicide, was living as "a walking vegetable in a mental hospital." His grandmother, though she visited nearly every Saturday, never adopted him. So Mitchell spent most of his childhood in the orphanage. Though he was surrounded by 60 other children, he recalled feeling very lonely.
"It was a Christian orphanage, children's home and people think, how can you be with 60 kids and staff and be alone? But you can be desperately alone in life. You can be in a marriage and be desperately alone. Kids are egocentric. You know, we think that whatever happens to us in life is our fault," explained Mitchell.
Eventually loneliness gave way to anger. "From sixth grade to ninth grade, I got beat on every day of my life. It wasn't optional; it was just a matter of who and so the anger just kept developing."
By his junior year of high school, Mitchell was constantly getting into fights and abusing alcohol and marijuana.
Mitchell was working as a lifeguard at a Christian camp when a girl challenged his beliefs. "For kids like us, we don't buy this loving heavenly Father image. It does not fit our reality because if God is so loving and if God cares, then how come He left me in an orphanage for 14 years," He said of his previous mindset.
Still Mitchell read the Bible in the hopes of impressing the girl.
"What really got my attention was [Jesus] got betrayed by people He should've been able to trust," he said.
After agonizing over the Bible for three months, Mitchell said, "I prayed a very unconventional prayer. I said, 'Jesus, if You're real and You'll come into my nightmare and change me and I know it, then I'm Yours. And if You don't, You're a fraud."
Afterwards "I didn't hear angels sing and I didn't roll on the floor in spiritual ecstasy, but that was the fall of my senior year in high school and I absolutely knew in that moment that the holy God of the universe had reached out of Heaven to the heart of an angry bitter punk in an American orphanage."
Slowly Mitchell began to change. He walked away from fights even when he really wanted to "smash his face in." He put aside drinking and smoking. He even stopped cursing.
The hardest change, however, was forgiving his parents and grandmother. "I was a junior in college when God called me to forgive and I fought hard, because they don't deserve it and what difference does it make," he reasoned.
Ultimately, Mitchell said the decision to forgive set him free.
Although Mitchell is now the successful senior vice president of investments for a major national brokerage firm and married with two children, he still faces hardships. He struggled when his son, Luke, was diagnosed with Leukemia. But thanks to his faith, Mitchell said "never have I felt alone."