Avril Lavigne Releases Video for New Worship Song; Artist Adorned With Cross Sings of Near-Death Experience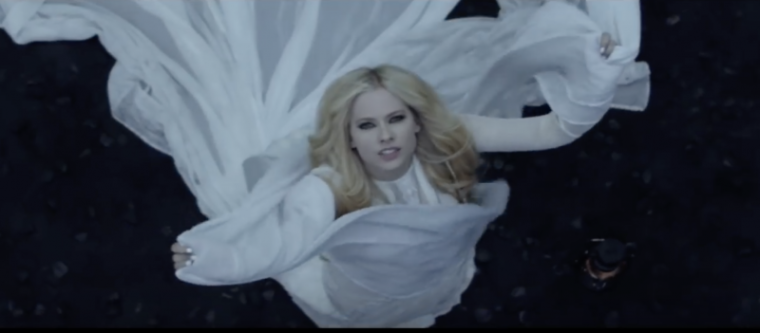 Pop-rocker Avril Lavigne re-emerged after a five-year hiatus with a new powerful single "Head Above Water," and now her music video is giving fans a glimpse into what she visualized her cry to God looked like while almost experiencing a near-death experience.
In the new music video for her song, Lavigne is seen adorned in a white gown, sporting a crystal cross. The singer holds a lantern, appearing angelic near a gloomy ocean while singing the powerful words to her new tune.
"God keep my head above water / Don't let me drown / It gets harder / I'll meet you there at the altar / As I fall down to my knees / Don't let me drown / Don't let me drown," she sings in the song's chorus.
Throughout the video, a dove is seen flying to and fro, not revealing what its presence means. In the Bible, a dove is linked to the Holy Spirit.
Eventually, the singer falls in the water and is in a battle to swim up to the surface as light surrounds her.
Lavigne has been battling Lyme disease since 2014, and the new song and video is a depiction of how difficult that fight has been.
"It makes my heart so unbelievably full to premiere the #HeadAboveWater music video for you all today, on my birthday," she wrote on social media the day of its premiere. "From the very first day I started writing this song, I have been inspired and gathering visuals and imagining what the music video could look like."
"Head Above Water" hit No. 1 on iTunes chart after its release last month. In an Instagram open letter, she said that "writing the music that I shared with you today helped me heal."
In Septemeber, the 34-year-old released a statement, sharing the inspiration for "Head Above Water." In the announcement, she also revealed that she turned to God when she thought her life was reaching its end.
"One night, I thought I was dying, and I had accepted that I was going to die. My mom laid with me in bed and held me. I felt like I was drowning. Under my breath, I prayed, 'God, please help to keep my head above the water.' In that moment, the songwriting of this album began," Lavigne said.
"Head Above Water" is the singer's first release since her song "Fly" in 2015. Lavigne has been in the music industry for nearly two decades and although she started her career as a rebel skater girl, her new worship song shows her growth as an artist.
As previously published by The Christian Post, Lavigne was "born into a devout Christian household and before her bad-girl image brought her mainstream success she sang in church choirs, local festivals and county fairs.