Ayesha Curry on the women who'll 'always be lurking' over husband Steph: 'Devil is a liar'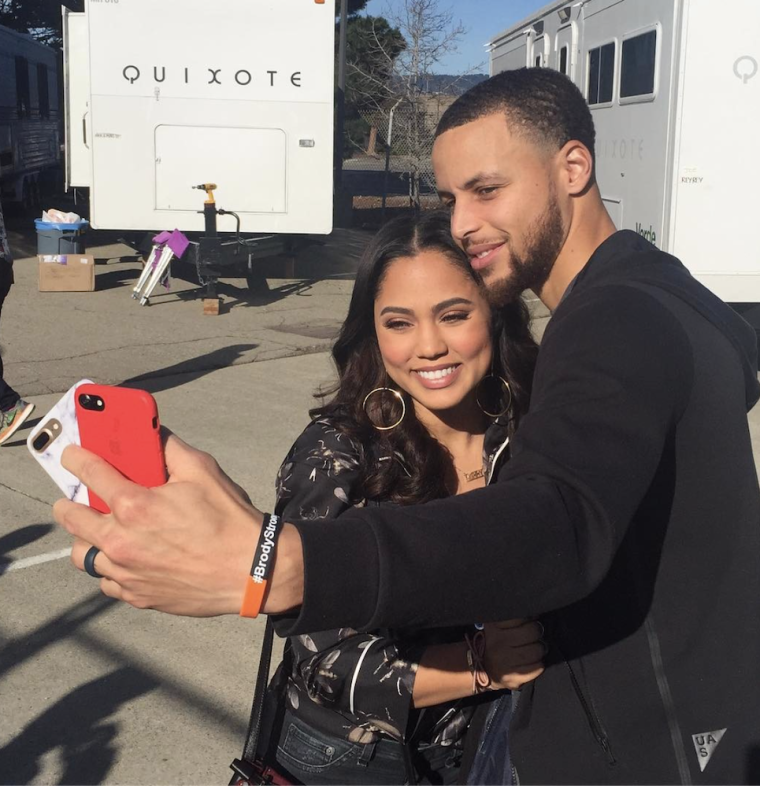 TV personality and celebrity cook Ayesha Curry got candid about how she deals with groupies who target her husband, NBA star Steph Curry.
Curry, joined by her mother-in-law and two sisters-in-law, were guests on Jada Pinkett Smith's latest episode of "Red Table Talk," which went live on Facebook watch Monday. They were asked how they deal with groupies, being NBA wives. Curry admitted that her husband, while always very respectful, is extremely "nice by nature" and "very talkative," so they've had to have a "few conversations" about it.
"Everything's always very friendly and sometimes to the point where it's like, okay, I'm a grown woman, so I'll just insert myself and be like, 'Hello, how are you doing?" The Seasoned Life author shared. "I'm okay with it now."
The 30-year-old admitted feeling uncomfortable with women who push up on her husband.
"Obviously, you know the devil is a liar and the ladies will always be lurking, hoping for their moment and waiting. You need to be aware of that. But for me, I honestly hate it. I don't like when I feel leveled off with someone. It just irks my nerves," Curry confessed.
"So we had the conversation about it, and he tries really really hard to make sure that if we're going somewhere, I'm being introduced. I don't like to have to introduce myself. It irks my nerves. So I try and make that known," she continued, confessing there "have been a couple of times where I've wanted to punch somebody in the face for sure."
The supportive wife made sure to clarify that her Golden State Warriors point guard husband is not to blame for the way females behaved around him. She knows he is kind to everyone and does not always discern what is going on.
"It's never him, it's always the other person. And he doesn't necessarily know how to deal with that because he's just a generally nice human being and he can't see it coming. I see it from a mile away," she maintained.
During the "Red Table Talk" interview, Curry was also honest about her own personal battle with insecurities.
"Something that really bothers me and honestly has given me a little bit of a sense of insecurity is the fact that there are all these women throwing themselves [at him], but me, the past 10 years, I don't have any of that," the young mother of three said.
"I have zero — this sounds weird. So then I begin to internalize it and I'm like, 'Is something wrong with me?'" she questioned. "I don't want it, but it would be nice to know that, like, someone's looking."
Curry's comments caused a stir by some online because her husband is currently playing in the NBA playoff games. However, Pickett's show is one where people are always invited to speak openly and honestly about their life.
The Currys first met at a North Carolina church youth camp.
"I wasn't allowed to date in high school," she told Parents magazine in a past interview. "We always laugh that we were both focused on God."
They reconnected in college before getting married at age 23 and will celebrate their eighth anniversary in July. The cooking show host credited their faith as a key ingredient to their marriage's success.
The Golden State Warriors play again Friday night against the Houston Rockets. They hold a 3-2 lead in that series.