Baltimore Bred Celebrities, Athletes Carmelo Anthony, Mo'Nique, Tamar Braxton, Penn Bagdley, Lil' Mo Pray, Speak Up Amid Baltimore Riots Sparked by Freddie Gray Death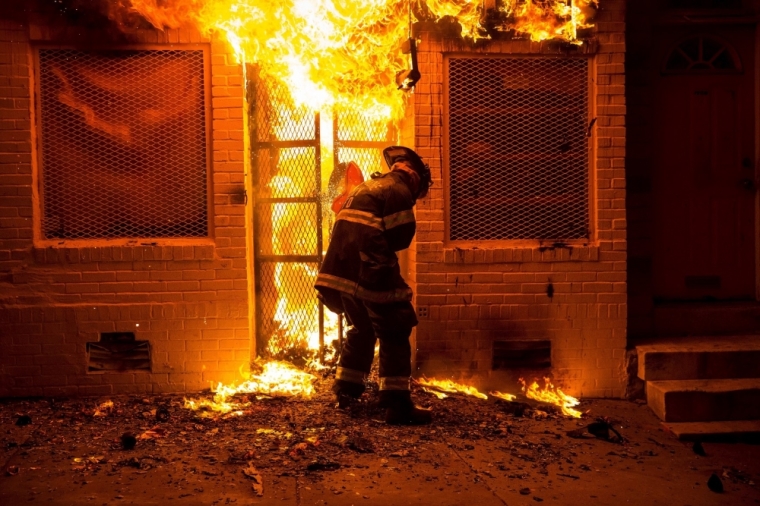 The question of how and why Freddie Gray died with severe spinal cord injuries while in police custody has yet to be answered, but entertainers and athletes with ties to Baltimore are speaking up after their beloved city has been declared a State of Emergency following days of civil unrest.
NBA player and New York Knicks forward Carmelo Anthony was raised in Baltimore and expressed his sympathies for the Gray family. He took to Instagram to express his shock about Baltimore being called into a State of Emergency and called for people not to destroy it in the midst of their anger.
"I know my community is fed up. I'm all about fighting for what we believe in. The anger, the resentment, the neglect that our community feels right now, will not change overnight," he wrote. "Continue, fighting for what you believe in. But remember, it takes no time to destroy something. But, it can take forever to build it back up."
Singer Lil' Mo, born Cynthia Loving, calls Baltimore her hometown and stressed the importance of praying for the city while bringing her perspective to the events taking place in the city.
"I'm really sitting in bed in tears, can't stop crying. I really never thought I'd see the last and evil days the older folks talked about," Lil 'Mo wrote on Instagram. "Heart is heavy and I really have to pray for my city. Please pray for Baltimore asap."
She made sure to call attention to the young kids who are on the front lines of the situation.
"I know they are cold and hungry and most have no way home. This is how WE react to pain," she wrote. "We have to find another way."
Schools are closed, hundreds of people have been arrested, over 100 fires have ravished vehicles, 500 National Guard members have been deployed and 5,000 police officers are on duty in the city of Baltimore in an attempt to restore order, according to CNN reports. People are outraged and rioting after 25-year-old Gray died April 19, following an April 12 arrest for possession of a switchblade.
While the Maryland Department of Justice maintains public records that Gray has a history of over one dozen arrests related to drug possession, many are outraged that he died in police custody during his most recent arrest. Numerous people are questioning why Gray was inflicted with wounds that he would later die from, and the result of his untimely passing has angered Baltimore citizens who are protesting and rioting.
The Christian Post reached out to the Baltimore Police Department for a comment, but the department did not respond by press time.
Tamar Braxton, the singer and "The Real" talk show co-host born less than 30 minutes from Baltimore in Severn, Maryland, said that she is also praying for her city.
"I'm PRAYING for my city! It sooo SAD and TERRIBLE," she wrote. "My heart BREAKS ...I have absolutely NO words about all that's going on...."
Penn Badgley, the actor made famous in the series "Gossip Girl", was born in Baltimore and expressed his feelings on the matter by posting an image of the late civil rights leader Martin Luther King Jr. with a quote that says "a riot is the language of the unheard."
Badgley tweeted "#blacklivesmatter" while raising questions about the state of affairs surrounding Gray's death.
"Do we know why Freddie Gray was arrested? Do we know why he was killed," he questioned on Twitter. "Do we know why we won't get answers? We do. #BlackLivesMatter."
Actress Jada Pinkett Smith had some questions of her own by tweeting, "What happened to Freddie Gray????"
Comedian, actress and producer Mo'Nique Hicks is a Baltimore native who had a special message for the people in her city.
"To all my Baltimore family. Let's think about tomorrow. It's coming," she wrote on Twitter. "Let's think about what we're leaving our babies. Prayers for all."
Baltimore Police Department Deputy Commissioner Jerry Rodriguez previously stated that his investigators will hand their findings of an internal investigation on the handling of Freddie Gray while in police custody during his recent arrest to the office of State Attorney Marilyn Mosby by May 1, according to Associated Press reports.
However, Rev. Al Sharpton said on Monday he was "saddened and disappointed that there now may not be a report released on May 1," in a CBS Baltimore report.