Baylor men's basketball wins 1st national championship with culture of 'Jesus, Others, Yourself'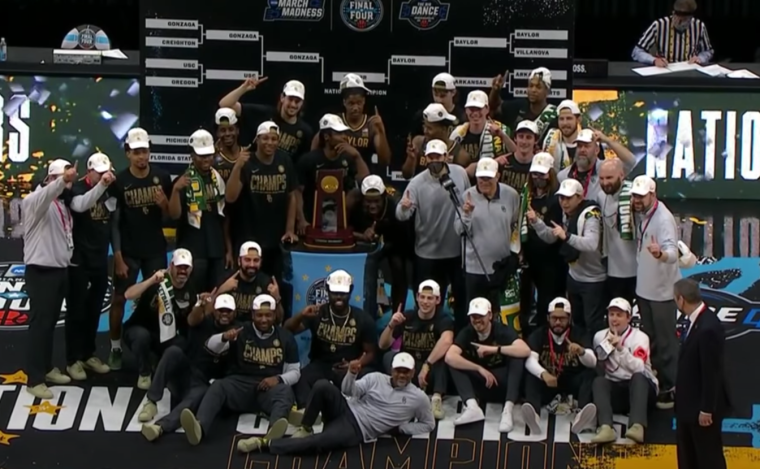 Baylor jumped out to a 9-0 lead over Gonzaga on Monday night — and never looked back. By the time one of the most dominating performances in NCAA title game history was over, the Bears had an 86-70 victory for the first men's basketball championship in school history.
>> Subscribe to Sports Spectrum Magazine for more stories where sports and faith connect <<
En route to the title, Baylor knocked off one of the greatest teams in NCAA history. The Bulldogs entered the championship game 31-0, looking to become the first unbeaten national champion since Indiana in 1976. They were the first undefeated team since 1979 to even reach the final game.
But when Baylor plays like it did Monday night, no team would have a chance. The Bears hit 10 3-pointers while the Zags only hit five. Baylor out-rebounded Gonzaga 38-22, and it forced 14 turnovers.
Junior guard Jared Butler lead the Bears in scoring with 22 points, four 3-pointers and seven assists. The strong performance came after he tallied 17 points and four threes in Baylor's dominating 78-59 win over Houston in the national semifinals. The first-team All-American was named the Final Four Most Outstanding Player.
READ ALSO: Baylor star Jared Butler leads team in scoring, teaches Sunday School in free time
Senior MaCio Teague added 19 points with two threes, and senior Mark Vital led Baylor with 11 rebounds.
Within moments of securing the championship, Baylor's entire team stopped to gather into a circle on the court. They gave God thanks in prayer.
Moments later, the team was presented with the 2021 national championship trophy. When answering questions from Jim Nantz of CBS, head coach Scott Drew talked about the team's culture.
"We play with a culture of J.O.Y.," he said. "That's Jesus, Others then Yourself."
Coach Drew elaborated in his postgame press conference. He began the session by saying, "First and foremost, I want to thank God for blessing us with this opportunity tonight. I know the guys have worked really hard, so happy they get a chance to celebrate now."
He was later asked more about that culture.
"A lot of joy in the locker room for sure," he said. "But our joy is Jesus, Others, Yourself. It's so tough to put other people in front of you and teams that do that are obviously more successful. Our guys, their love for each other [is] because they spend so much time working on their craft together, and they put in the time.
"Credit our assistant coaches for doing an incredible job bringing in high-character kids that want to be great teammates and want to work hard and want to improve. They deserve all that they're getting."
That culture of J.O.Y. is something the Bears have talked about all year, and it's even posted in the team's official Twitter bio.
Butler, who spoke to Sports Spectrum earlier this season about that culture, reiterated the team's Christ-centered focus when it was his turn to speak with the media Monday night. He was asked what it's like to have a national championship and Most Outstanding Player now on his list of achievements.
"Man, I'm not trying to preach a prosperity gospel, but our Lord and Savior, I say it all the time: He gets us through everything," Butler said. "Jesus Christ, man, He's the truth. He was with us tonight, He was with us all season, He's with us wherever we go. He just sustained us. He brought us together. He brought this team together — transfers, people from overseas. It's just tremendous how it just comes and it comes all full circle."
This team is quite different than the group that Coach Drew inherited in 2003, when he took over a program that was rocked by scandal and major NCAA violations. But he led the Bears to the NCAA Tournament in his fifth year, and that 2008 appearance was Baylor's first in the big dance since 1988.
A week ago, after leading Baylor to its first Final Four since 1950, Drew was asked to think back to 2003 and if he was skeptical of taking the job.
"No, I prayed about it. I felt led to come here," Drew said that night. "I really believed in the vision of the school, from the president and the administrators during that time and what they wanted Baylor to continue to grow and become."
Baylor has earned a berth in the NCAA tourney nine times under Drew, and twice advanced to the Elite Eight before losing to the eventual national champion (Duke in 2010; Kentucky in 2012).  
They got past that hump last Monday and into the Final Four, where the best team in program history dominated a team vying to make its own history.
Baylor and its culture of J.O.Y. prevailed.
This article was originally published on SportsSpectrum.com. Visit Sports Spectrum for daily sports and faith content, including magazines, podcasts, devotionals, videos and more.