Ben Carson: Apocalyptic Beliefs Plus Nuclear Weapons Could Mean End Times Are Near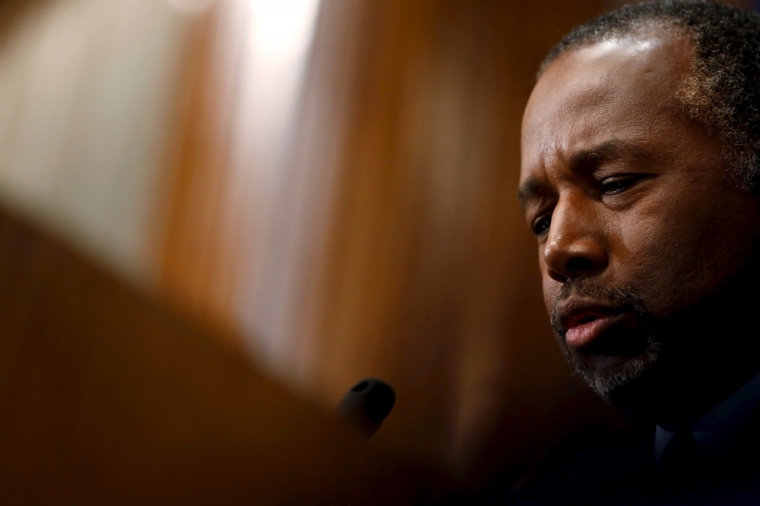 The end times could be near, and people with an apocalyptic worldview could cause the end times if they came into possession of nuclear weapons, Republican presidential candidate Ben Carson said.
In a Sunday interview with Sharyl Attkisson, Ben Carson said events around the globe allows for one to speculate that we are closer to the end times.
"What's your view on what's happening around the globe and here in the U.S. in terms of what's in the Bible? Do you think we're at the end of days?" Ms. Attkisson asked Carson on her Full Measure program.
"You could guess that we are getting closer to that," replied Carson. "You do have people who have a belief system that sees this apocalyptic phenomenon occurring, and they're a part of it, and who would not hesitate to use nuclear weapons if they gain possession of them."
Carson said there is a chance to change this course and "ameliorate the situation," adding that he would do "everything to seek peace" and not take "a fatalistic view of things."
Carson spoke about a number of issues with Attkisson which included the Democrat candidates, guns, religion, and the refugee crisis in the Middle East.
In discussing the president, Carson noted that "Obama serves the interest of the progressive movement," stating his belief that those are not policies the American people want. Carson declared that President Obama has been successful at foisting progressivism on the country.
Carson expressed the differences between the two parties as "those who want a government to control things, those would be Democrats and socialists, Republicans want individual to be in control of their life with government there just to facilitate."
The retired neurosurgeon also mentioned his Christian faith and membership in the 7th Day Adventist Church.
Carson said he believes strongly "in godly principles of loving your fellow man, caring about your neighbor, developing God-given talents to the utmost so that you become valuable to the people around you."
He reiterated his position that elements of Islam such as Sharia Law are incompatible with the American Constitution because it "subjugates women in a pretty substantial way" and punishes by death acts of "adultery and homosexuality."
Attkisson asked Carson about the fact that more Muslim refugees in Syria have been granted Visas compared to Christians in Syria. Catholic News Agency reported that over 900 Muslims from Syria have been granted asylum compared to about 20 Christians, she said.
"I don't think our policies make a whole lot of sense," declared Carson. "Why would you bring them into a country that they are dedicated to destroy?"
The United States could use some of its expertise and financial resources to help solve the problem and settle them within their own region, he added.
On the issue of separation of church and state, Carson said "there should be a line drawn" while also noting "there shouldn't be a Constitutional reason why a person can't live a public life of faith."
When asked about firearms, Carson said he has been awarded several awards for his marksmen skills, is a member of the NRA, and owner of "mostly shotguns."
When was asked by Attkisson about the strengths and weaknesses of the major Democrat candidates for the presidency, he called former Secretary of State Hillary Clinton somebody who has "tenacity," but added her weakness was "dishonesty, lack of integrity."
He said Vermont Sen. Bernie Sanders weakness was "socialist" policies and his strength was "being a populist." Vice President Joe Biden, who has not declared his candidacy, is somebody who is known for being amicable, Carson added, but he has wholeheartedly embraced "Obama's policies."
Carson continued to criticize the politically correct culture and people who are easily offended by displays, such as a Christmas crèche in the public square.
Sharyl Attkisson is a former investigative reporter for CBS News who has expressed frustration with what she said was a liberal bias at the network. She resigned from CBS in 2014. Last week Attkisson interviewed GOP frontrunner Donald Trump in what was the debut of the Full Measure Program, which is part of the Sinclair Broadcast Group.