Ben Carson Appeals for 'True Tolerance' After SPLC Labels Him 'Extremist' for Gay Marriage View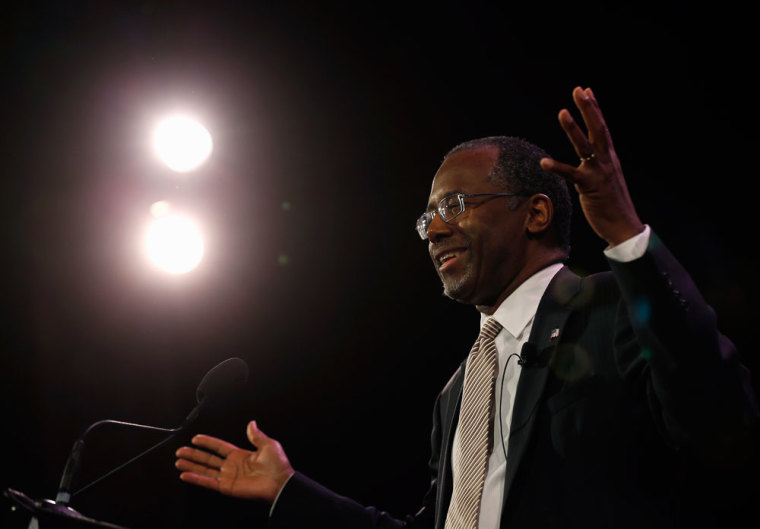 Accomplished neurosurgeon and possible Republican presidential candidate Dr. Ben Carson has called for "true tolerance" after the Southern Poverty Law Center labeled him an "extremist" over his views on gay marriage.
In a statement released Monday, Carson remarked that it "is important for us to once again advocate true tolerance."
"When embracing traditional Christian values is equated to hatred, we are approaching the stage where wrong is called right and right is called wrong," said Carson.
"That means being respectful of those with whom we disagree and allowing people to live according to their values without harassment. It is nothing but projectionism when some groups label those who disagree with them as haters."
An author and accomplished surgeon, Carson gained much attention for his controversial keynote speech delivered at the 2013 National Prayer Breakfast.
A growing conservative movement to get the Detroit native to run in the Republican Party's 2016 presidential primary was launched soon after.
Last October, the Montgomery, Alabama-based civil rights organization the SPLC opted to list Carson in their "Extremist Files" section.
According to their website, SPLC database for extremists covers a multitude of viewpoints, including "white nationalists, anti-gay zealots, black separatists, racist skinheads, neo-Confederates and more."
"The Extremist Files database contains profiles of various prominent extremists and extremist organizations," continued the SPLC.
"It also examines the histories and core beliefs – or ideologies – of the most common types of extremist movements. In addition, it illustrates connections between individuals, groups and extremist ideologies."
Known for labeling various conservative Christian organizations as "hate groups" for their criticism of homosexuality, the SPLC placed Carson in their database due to his criticism of gay marriage.
"Our criticism of him was based in large part on his very extreme rhetoric about the evils of gay people," explained SPLC spokesman Mark Potok to the publication Talking Points Memo.
"He says that any criticism he makes is always kind and never meant to destroy the person, but then he says that gay marriage will lead to the destruction of America much in the same way the Roman Empire collapsed."
Over the past several days conservative websites and blogs have taken issue with Carson being listed as an extremist, arguing that such a classification was politically biased.
William A. Jacobson of legalinsurrection.com argued in an online piece last week that this was the latest example of how the SPLC "ceased long ago to be a neutral source of information."
"If you read through the SPLC explanation, it boils down to Carson strongly supporting traditional marriage, and speaking in front of other groups that SPLC does not approve of," wrote Jacobson.
"Is Carson really such an extremist that he deserves to be on the same list as David Duke and neo-Nazi leaders?"