Ben Carson at Church: America Has 'Schizophrenia' Toward God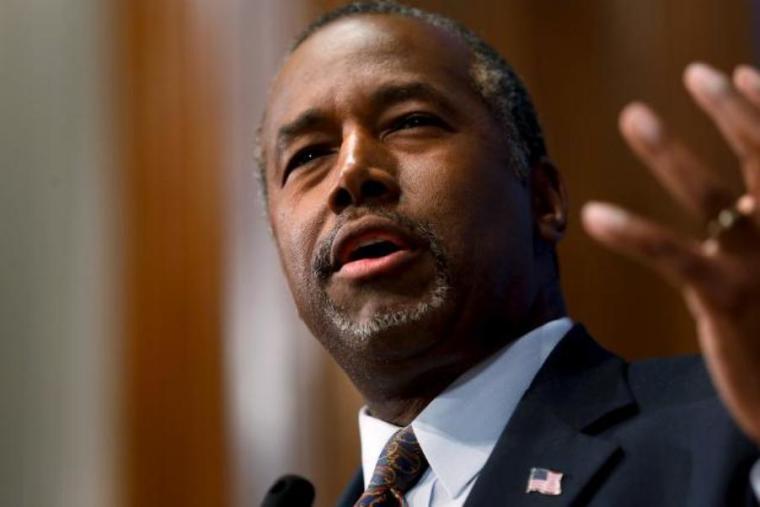 America has "schizophrenia" toward God, Republican presidential candidate Ben Carson said in a Sunday speech at Cornerstone Family Church in Des Moines, Iowa.
"If it's in our founding document, it's in our pledge, it's in our courts and it's on our money, but we're not supposed to talk about it, what in the world is that? That is what is called schizophrenia," Carson said as part of his 10-minute speech, The Des Moines Register reported.
Carson argued that public expressions about God in America are often limited, in a similar speech he also made back in October at Free Chapel megachurch in Gainesville, Georgia.
"So if it's in our founding documents, it's in our pledges, in our courts and it's on our money, but we're not supposed to talk about it, what in the world is that? In medicine it's called schizophrenia. And I, for one, am simply not willing to kick God to the curb," Carson added in his October speech.
The retired neurosurgeon, who is a Seventh Day Adventist, has been outspoken about his faith, and in November said that he does not believe in the rapture or in Hell as a physical place.
"With the rapture, people are just like lifted away and taken to heaven and I don't see any evidence for that in the Bible," Carson said in his interview with The Washington Post.
"I don't believe there is a physical place where people go and are tormented, no I don't believe that," he added about Hell, but said that he does believe that Heaven is a physical place.
Dr. Richard Land, president of the Southern Evangelical Seminary, who also serves as executive editor of The Christian Post, said that some Evangelicals have a problem supporting a candidate with such views, which go against mainstream evangelical thought, but suggested that Carson's lack of national security experience and his quiet demeanor might be his bigger problems.
In his speech on Sunday, Carson defended his calm tone, however.
"People mistake that for softness. But what it really is, is confidence in the Lord," Carson said. "If God be for you, who can be against you? It really doesn't matter what the issue is."
The Republican candidate also said that he believes God has been present throughout his life.
"We have been truly blessed to be here," Carson added, according to KCCI 8. "Our favorite place to be is always in a church. The Lord has been so powerful in my life, and I think about all the things that happened from the very beginning."
Some congregant members reacted positively to the speech, reports noted.
"As a Christian, you want someone we can identify with who has the same values who believes what we believe," said church-goer Juanita Wilson-Young.