Ben Carson: HUD Homeless Shelter Transgender Policy Must Not 'Impede' Privacy Rights of Others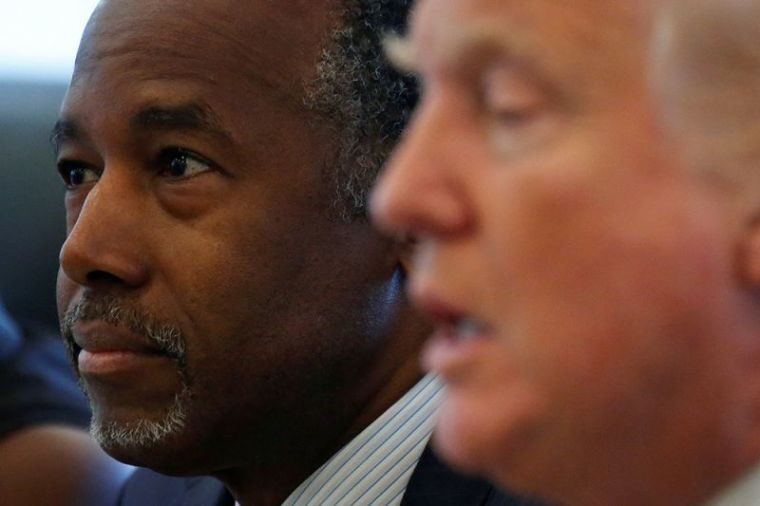 Housing and Urban Development Secretary Ben Carson said Tuesday that his agency is looking to ensure that protections for transgender people in homeless shelters won't trample the privacy rights of other homeless men and women.
Carson, a Seventh-day Adventist and a former Republican presidential candidate who holds conservative beliefs on LGBT issues, appeared before a House of Representatives subcommittee in Washington on Tuesday and was asked about HUD's removal of training materials to prevent LGBT discrimination in homeless shelters.
Carson stated that his agency is taking a cautious approach in implementing protections for transgender people in homeless shelters because some women have said that they are uncomfortable sharing showers and other private areas with members of the opposite biological sex.
"Remember it is complex," Carson said in response to the question from Democrat Rep. Mike Quigley of Illinois. "We obviously believe in equal rights for everybody, including the LGBT community. But we also believe in equal rights for the women in the shelters, and shelters where there are men, and their equal rights."
In 2016 under the Obama administration, HUD finalized a regulation to allow transgender people to use federally funded homeless shelters in accordance with their gender identity.
Carson, a 66-year-old retired pediatric neurosurgeon, added in the congressional hearing that the agency under the Donald Trump administration wants to make sure it provides protections for everybody but "doesn't impede the rights of one for the sake of the other."
Carson was asked by Quigley how protections for transgender individuals would infringe on the rights of others.
"There are some women who said they were not comfortable with the idea of being in a shelter, being in a shower [with] somebody who had a very different anatomy," Carson explained.
Carson further explained that the department's general counsel will be involved in negotiating the protections for transgender individuals.
LGBT groups were quick to slam Carson's comments.
Although numerous women and even feminists have voiced their concern with transgender bathroom ordinances across the country that would force them to share bathrooms and locker rooms with biological men, the LGBT group GLAAD refused to believe that there are homeless women in the U.S. who expressed discomfort with the idea of sharing showers with biological men.
GLAAD President and CEO Sarah Kate Ellis called Carson's excuse a "derogatory myth."
"It is because of derogatory myths like this, which have been debunked time and time again, that the transgender community faces disproportionate levels of discrimination and homelessness," Ellis said in a statement.
Carson's hearing comes after a lawsuit was filed against HUD and the Department of Justice in early March by the far-left lobbying group People for the American Way to demand the release of documents concerning federal LGBT policy.
The lawsuit was filed after the group filed a Freedom of Information Act request last year for documents on "reported actions removing mentions of LGBTQ people from federal programs."
In following through with the desires of evangelicals and conservatives, the Trump administration took steps to draw back Obama-era LGBT policies throughout his first year in office.
Last year, the Trump administration rescinded an Obama-era guidance calling on schools to allow transgender students to use bathrooms and locker rooms consistent with their gender identity.
Additionally, the Trump administration last year tried to rescind an Obama-era policy allowing transgender individuals to openly serve in the U.S. military. However, the move was struck down in court.