Ben Carson, Kirk Cameron Urge Christians to Vote: 'When You Don't Vote, You're Voting'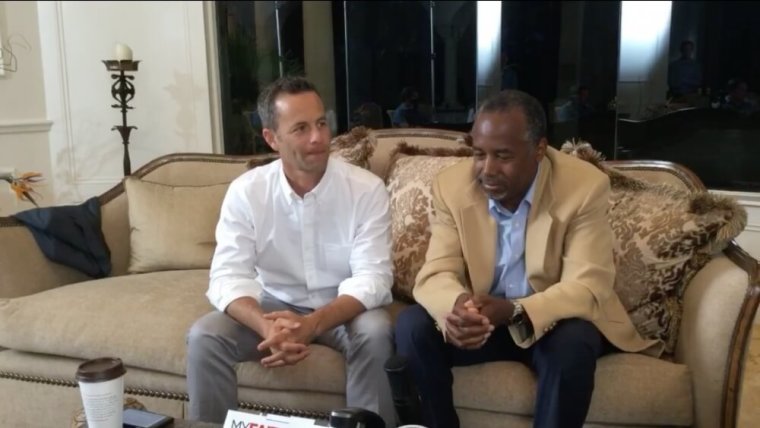 In a live, interactive event on Tuesday, former Republican presidential candidate Dr. Ben Carson and television and film actor and producer Kirk Cameron urged Christians to exercise their right to vote, warning that "when you don't vote, you're voting."
Many Americans feel we are on the wrong track as a nation, and that we are giving away our values and principles, the retired neurosurgeon said at the beginning of the tele-forum event, live from Carson's living room.
About 25 million people of faith didn't vote last time who could have voted, Carson said. "Our future is in our own hands," and also that of our children and grandchildren. "We have to stand up for what we believe."
The secular, progressive movement is trying to eradicate all vestiges of faith, but "Judeo-Christian principles were right there as our country was founded," Carson said.
Asked how Christians should pray for the election, Carson said the prayer should be that "the eyes of the people will open and they'll recognize that there was a reason God gave them a tremendous reasoning ability, so that we can analyze things for ourselves."
"When you don't vote, you're voting," he stressed. If God didn't want us to get involved in politics, then He wouldn't have given us the brain or the reasoning ability, he said.
Many American think they can't vote one of the two lesser evils, Carson acknowledged. We might not agree with a candidate 100 percent, but the election is not just about Democratic presidential nominee Hillary Clinton or Republican nominee Donald Trump; it's about the direction of our nation, he underlined. It's not just going to be for four or eight years, but for generations because of the way the court systems would be changed, he added.
Cameron quoted Chuck Colson, who was an evangelical Christian leader and founder of Prison Fellowship and BreakPoint, as saying that our hope is in the power of God who works in the hearts of people. America is great because of the faith of the common people of the country, he added.
On whether Christians should care for politics, Cameron said someone's values are going to determine what is right and what's wrong, and that the Bible tells us that when the righteous rules the people are happy, and when the wicked rules people perish.
Carson also talked about marriage. Apparently alluding to the Obama administration, he said it's not right to change the definition of marriage just because it suits someone's political agenda.
The live event was organized by My Faith Votes, which describes itself as "a non-partisan movement inspiring Christians to vote."
Carson announced on Wednesday in a Facebook post that he plans "to get us back on track as a nation. It's a plan that mobilizes conservatives throughout this country and it's launching soon," he wrote.
His website describes the Carson Ideas Forum as "a community of conservative thought leaders from all across America coming together to discuss ideas, solutions and ways that we can get our country back on track."