Ben Carson Says Adults Must Teach Inner-City Youth to Respect Authority; Recounts His Own Run-In With Police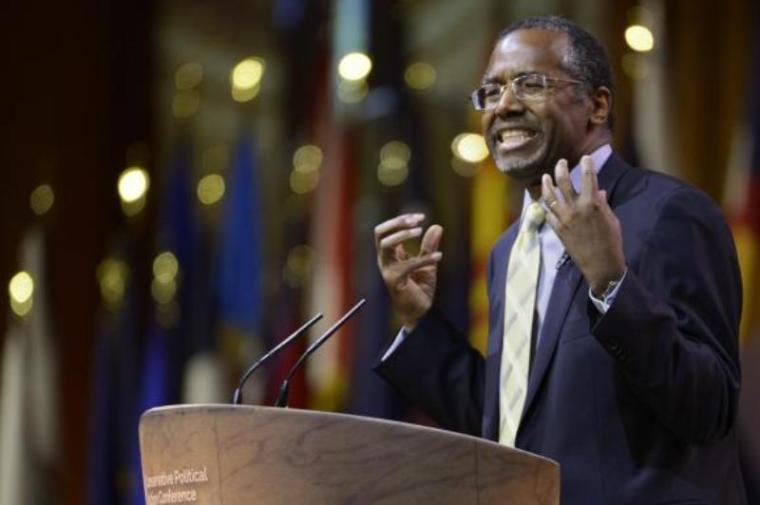 In the wake this week's grand jury decision not to indict the Ferguson, Missouri, cop who shot and killed an unarmed African-American teenager, potential Republican presidential candidate Ben Carson claims that young males living in inner cities need to be taught how to respond better to authority.
In an interview with Bloomberg Politics Monday night, the 63-year-old retired neurosurgeon and rising conservative star was asked to recount his own childhood experience with his run-ins with inner city Detroit law enforcement.
Although Carson said that as a kid there was the possibility for many run-ins with police officers, he said he was largely able to avoid harsh police confrontations because he was taught at a young age to be "polite" and how to "appropriately" react to interactions with law enforcement and other types of authority.
"There were potential run-ins with law enforcement. But, I was taught as a young person how to respond appropriately to authority," Carson said. "Therefore, it never really escalated into anything serious."
Just because Carson said he learned at an early age to respect authority, that still didn't prevent him from having some run-ins with law enforcement as a kid.
Carson recounted one instance when he was stopped by an officer even though he said he hadn't done anything wrong. However, his well-mannered nature helped prevent the situation from escalating any further.
"Rather than being confrontational about it, I just said, 'officer, what am I doing wrong? What would you suggest?'" Carson added. "Actually, I think [the officer] was put off by the fact that I was so polite and that was pretty much the end of that situation."
Carson continued by saying that a major problem that faces many young males living in inner cities, who grow up without fathers or other authority figures in their homes, is that they don't learn the right way to respond when confronted by law enforcement.
"What we need to do though, in situations like Ferguson, there are a lot of young males, Michael Brown wasn't one of them, but a lot of young males in inner cities who grew up in homes with no father figure. They never really learn how to relate to authority in the proper way and eventually they run into it and aren't sure how to react," Carson said.
Although Michael Brown had a father present in his life, it's alleged by Ferguson officer Darren Wilson that Brown had initiated the physical confrontation that later led to his death.
Carson further added that youth who grow up in the inner cities without father figures are also not taught how to respond when they run into a peer that might be "badder than they are."
"It turns out to be a disaster. That's why there are dozens of such young people killed today in America, and yesterday, and tomorrow," Carson said. "Perhaps we should be thinking about why that is occurring and maybe we can come up with some solutions."
In response to the violent protests that erupted as a result of the grand jury's decision not to indict Wilson over Brown's death, Carson was critical of those who engaged in the Ferguson riots, and further noted that only 12 percent of the city's residents voted in the last statewide election.
Carson further asserted that some people are relying on violence to promote the change they desire instead of going through the civil process.
"That's not exercising your power in the appropriate way," Carson said. "Allowing oneself to be manipulated into violence, which then leads to militarization of the police, which then leads more of the people in your neighborhood getting hurt or killed, perhaps is not the smartest way to go about it. There are better ways to remedy an ill in society."
Although some are claiming that tensions over the Ferguson shooting bring to life an underlying racial issues in America, Carson said during an appearance on "Fox News Sunday" in August that the Ferguson shooting "has nothing to do with race."
"If you take race out of the issue altogether and you take a group of young men and you raise them with no respect for authority, not learning to take on personal responsibility, having easy access to drugs and alcohol, they are very likely to end up as victims of violence and incarceration," Carson asserted.