Ben Carson Speaks on Violence in Charlottesville, Says Home Was Vandalized With Racist Messages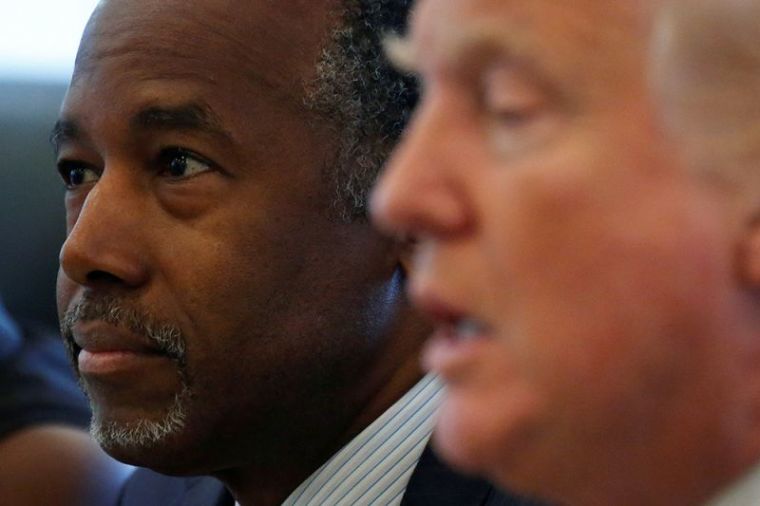 HUD Sescretary Dr. Ben Carson's Virginia home was vandalized by people who left racist message earlier this week, something the former neurosurgeon revealed as part of his response to the violence and racial tensions in Charlottesville, Virginia last weekend.
Writing on his Facebook page Wednesday, Carson recounted two stories, one where he bought a farm in rural Maryland some years ago and how one of his neighbors responded by displaying a Confederate flag soon after the purchase. This confused an African-American three-star general when he came to visit the Carson's, causing him to turn around and leave the area. But the other neighbors summarily displayed American flags, shaming the neighbor who had put up the Confederate one, and he eventually took down that flag.
"More recently our home in Virginia, along with that of a neighbor, was vandalized by people who also wrote hateful rhetoric about President Trump," Carson wrote.
"We were out of town, but other kind, embarrassed neighbors cleaned up most of the mess before we returned," he said, noting how in both cases the unkind actions were met "by people taking the high road."
He further added that Americans can learn from such examples.
"Hatred and bigotry unfortunately still exists in our country and we must all continue to fight it, but let's use the right tools."
The neighbor who originally displayed the Confederate flag in rural Maryland ended up becoming friendly, he added. "That is the likely outcome if we just learn to be neighborly and get to know each other."
The HUD secretary's words come on the heels of weekend protests that started on the University of Virginia campus Friday night led by white supremacist Richard Spencer where other followers of the alt-right movement were seen carrying citronella-fueled tiki-torches to protest the removal of a statute of Confederate Gen. Robert E. Lee and chanting "Jews will not replace us" and "white lives matter" as counter protesters chanted "black lives matter."
On Saturday, James Alex Fields Jr. of Ohio — an alleged Nazi sympathizer who was seen at the rally earlier in the day alongside a group called Vanguard America, a self-proclaimed anti-Semitic national socialist group — drove his car into a crowd of counter-protesters, killing 32-year-old Heather Heyer, a paralegal from the city, and injuring 19 others.
Carson said Sunday on Facebook that he thought it was "sad" to see political pundits argue about whether the president sufficiently condemned those who started the violence in Charlottesville.
Americans are "falling into the trap of fighting ourselves when we have a much bigger enemy who is reveling in the state of confusion and discord that exist in our country," he said.
While touring flood-ravaged communities in Louisiana on Monday, Carson further explained that "when [Trump] talks about the fact that hatred and bigotry and these things are unacceptable... he's talking about everybody," The Washington Post reported on Wednesday.
"You'd think he was saying that hatred and bigotry are unacceptable except by neo-Nazis. We really have got to begin to think more logically and stop trying to stir up controversy and start concentrating on the issues that threaten us and threaten our children," Carson said.