New 'Ben-Hur' Movie Trailer Features Jesus Appearance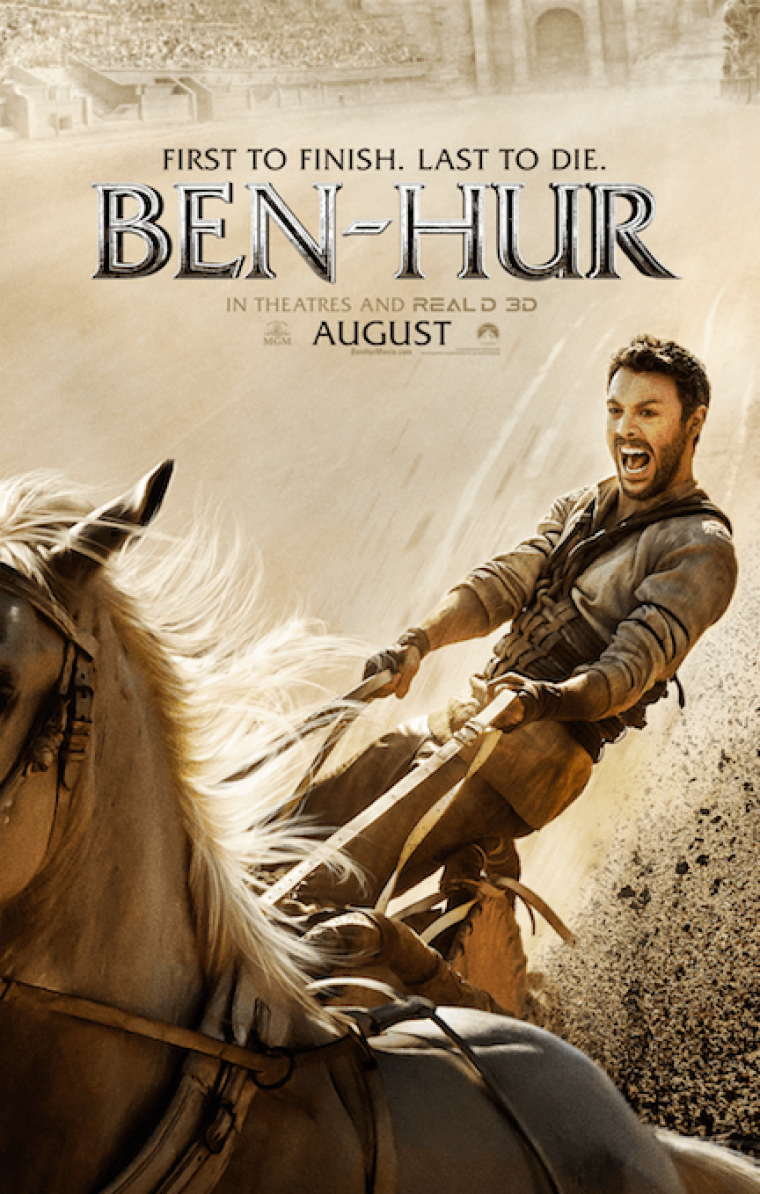 The first trailer of the major Paramount Pictures/MGM motion picture remake of "Ben-Hur" was released this Wednesday. Along with exciting scenes of rivalry and competition, the studio included a glimpse of Jesus Christ on the cross.
The trailer journeys from Ben-Hur's days of slavery, to his shipwreck, to the epic race between the rival brothers. In the midst of the violent action-packed compilation, Jesus Christ is seen on the cross.
View the full trailer below:
Hitting theaters nationwide on August 12, "Ben-Hur" is set to include a new and improved chariot race for the ages. With Christian themes of justice, liberty and radical forgiveness, it tells the classic story of Judah Ben–Hur.
Played by Jack Huston, Ben-Hur is a prince who was falsely accused of treason by his adopted brother Messala (Toby Kebbell), an officer in the Roman army. As a result he was stripped of his title and separated from his family and the woman he loves (Nazanin Boniadi). He was eventually forced into slavery and after a year at sea he re-emerges.
The two brothers decide to settle their differences with a chariot race and actor Morgan Freeman steps in as Ben-Hur's mentor, who sponsors and trains him for the monumental race.
The story takes a breathtaking turn of events when Ben-Hur's journey back to his homeland to seek revenge leads him to a chance encounter with Jesus of Nazareth (Rodrigo Santoro). The meeting transforms his life and leads him to discover grace, mercy and ultimately, redemption.
"Ben-Hur" is based on the 1880 novel Ben-Hur: A Tale of Christ by Lee Wallace. The most familiar telling of the story was the classic flick starring Charlton Heston as Ben-Hur in the William Wyler movie. The 1959 film won a record-breaking 11 Oscars, including Best Picture.
Mark Burnett and Roma Downey, a husband-wife duo who have had great success in bringing biblical content to television and film, teamed up for the remake.
"Ben-Hur (2016)" was filmed in Matera, Italy — the same vicinity that Gibson used for his 2004 massive hit "The Passion of the Christ."
Downey revealed at a private event that The Christian Post attended in New York City last year that even though the film is a complete revamp, the strong message of faith would still be delivered as it was in the original.
The "Touched By an Angel" actress said Ben-Hur's encounters with Jesus Christ completely turned his life upside down.
"Ultimately [Judah Ben-Hur] brings a hardened heart until the end of the movie where he's angry and has a desire for revenge. And through an encounter with Jesus he ultimately lays this down and it's an extraordinary moment in the film," said Downey.
As the story goes, Ben-Hur gives Jesus water while he's being taken to be crucified. Ben-Hur is left in a state of shock after his brief encounter with Jesus because he hears Jesus from the cross say the infamous scripture "Father forgive them, they know not what they do."
Downey described that Ben-Hur's moment of transformation was where he finally understands that "the only way forward is forgiveness. And he has this moment of conversion and he drops to his knees."
"Ben-Hur" hits theaters August 12.