Ben Watson Quotes Romans 8:28 After Torn Achilles Tendon Ends Season With Baltimore Ravens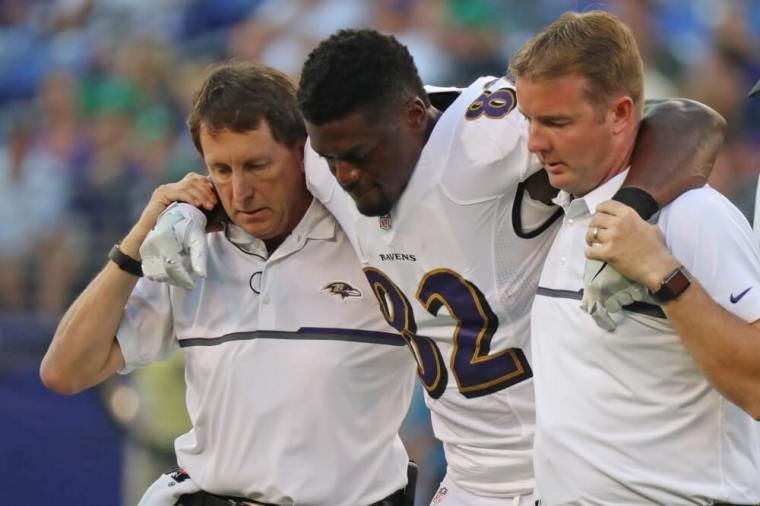 Baltimore Ravens tight end Ben Watson was sidelined for the 2016 season with a torn right Achilles tendon. The NFL star, however, turned the injury into an opportunity to give glory to God.
Watson, despite the painful news, remained optimistic about his condition, taking to Twitter on Saturday to express his thanks for the encouragement of friends, followers and well-wishers, writing: "Thank you all for the outpouring of love encouragement and prayer tonight. In a sad heartbreaking time it has truly lifted my spirits. Rom 8:28." He later added, "When we don't understand His plan, we must trust His heart.
Romans 8:28 reads: "And we know that all things work together for good to them that love God, to them who are the called according to His purpose."
During the first play of the Ravens' Saturday preseason game against the Detroit Lions, Watson sustained the debilitating injury after he seemingly tripped himself while trying to create a path, the NFL reported.
Following his season-ending injury, the sports figure was deluged with prayers and positive messages like this one from retired NFL coach Tony Dungy who wrote: "Praying for my friend @BenjaminSWatson tonight. So sorry to hear about his torn Achilles, but he's strong enough to handle that adversity."
Dungy followed up the message with, "We know Romans 8:28 is still true. I'm not sure how but God is going to use this for His glory and our good!"
Former Broncos quarterback Joel Dressen expressed his admiration for Watson. "Bummed to hear of ur injury @BenjaminSWatson always enjoy watching u play and got lots of respect for u."
Actress and TV personality Holly Robinson Peete, whose husband, Rodney Peete, is a former quarterback for the Carolina Panthers, shared some love for the injured tight end. "Ugggghhhh!! Heartbroken for my buddy @BenjaminSWatson I hate preseason! #sorrynotsorry."
Adding insult to injury, Ravens rookie running back Kenneth Dixon was also injured during the preseason game, sustaining MCL damage to his left knee in a second quarter collision between Dixon and Lions' defensive tackle and former Raven Haloti Ngata during a second quarter goal-line carry, according to The Baltimore Sun.
While Dixon won't need surgery, he is expected to be out for approximately four weeks.