NFL's Benjamin Watson: Choose Between Praying for Paris or Shunning Public Prayer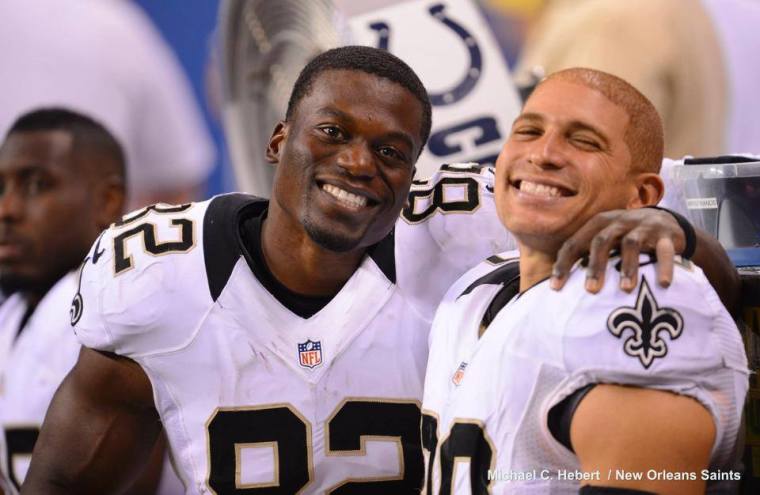 NFL tight end Benjamin Watson has a problem with Americans who chastise individuals for praying publicly, but take to social media to encourage prayer amid international disasters — and he's speaking up about it.
After at least 129 Parisians were killed in terrorist attacks on the French capital on Nov. 13, countless Americans took to various social media platforms to express their condolences with hashtags like "#prayforparis." However Watson, the 34-year-old New Orleans Saints TE, saw irony in the well-meaning gestures.
"As a nation we have collectively prayed for Paris this week. Yet as a nation we suspend a football coach for praying after a game…," Watson wrote on Facebook. "We must choose."
The coach that Watson alluded to is Joe Kennedy of Bremerton High School in Washington state. The assistant football coach was suspended for continuing to conduct post-game prayers on the 50-yard line after the district had asked him to stop.
Although he first agreed to stop praying in the middle of the football field after games, Kennedy later came to believe that it was within his rights to do so. During his midfield prayer on Oct. 16, students joined their assistant coach.
While the First Amendment's Establishment Clause prohibits the Seattle, Washington area school district from engaging students in prayer, Kennedy insisted he never asked students to join him. Now that his job is on the line, Liberty Institute attorneys are filing a complaint with the Equal Employment Opportunity Commission on behalf of the assistant coach.
"He started to pray to just thank God for his players. Players began to join him, but it was totally voluntary," Jeremy Dys, one of the attorneys representing Kennedy, told CNS News about the incident that put the coach's job in jeopardy. "The players wanted to join him. They asked his permission, and he said, 'It's a free country.' The school district is saying that any time a person of faith is approached by students they all have to run away screaming. This would mean that a Jewish person could not wear a yarmulke, and a Muslim could not wear a hijab."
However, an official statement from the school district revealed that Kennedy may be too close to breaking federal law.
"While the district appreciates Kennedy's many positive contributions to the BHS football program ... Kennedy's conduct poses a genuine risk that the district will be liable for violating the federal and state constitutional rights of students or others," the statement reads.
Aaron Leavell, superintendent of the Bremerton school district, insisted that no one is attempting to take away Kennedy's expression of faith.
"The district is in no way taking away an athletic coach's freedom of expression," Leavell said in a statement. "What we are doing is what every state-funded agency and school district must do: abide by the laws that govern us."
Regardless of what happens, it seems Kennedy is prepared to do all he can to stand up for his beliefs.
"Whatever happens happens, you know," Kennedy told Bremerton Patriot newspaper, according to CNN. "But I'm going to be bold in my faith and I'm going to fight the good fight, and I want to set that example for every one of the kids if you believe in something."
Watson's decision to highlight Kennedy's story may not come as a surprise to many who have witnessed the NFL player constantly express his faith. He previously spoke to The Christian Post about the struggle of finding an identity in God.
"I would say that one of the hardest things for an athlete, and really anybody of any profession, is that we create our identity in what we do," Watson said. "It's been a constant struggle with my athletic career to identify myself as a child of God and understand that His love is unconditional for us; it's not conditional like fans, or coaches, or even myself. Whatever you do, do it wholeheartedly for the Lord and not for man because our true identity is in Him. "