Benjamin Watson Slams Mike Huckabee Over NFL Anthem Protest Comment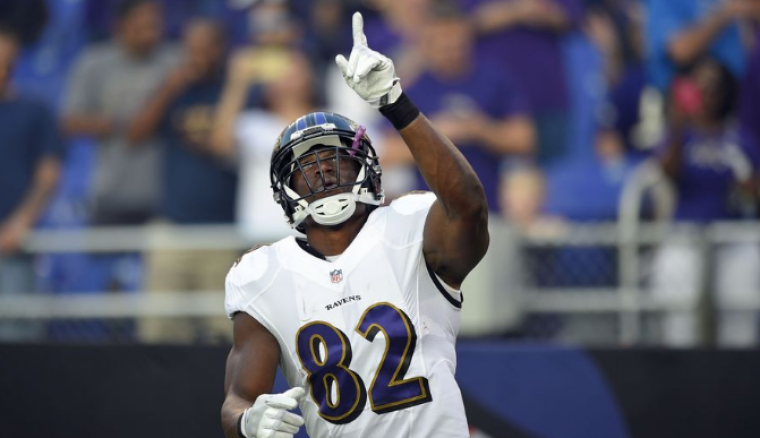 Baltimore Ravens tight end Benjamin Watson, a devout Christian and author, has criticized former Republican presidential candidate and television personality Mike Huckabee for suggesting that NFL players should quit their jobs and run for office instead of kneeling in protest during the national anthem.
The 36-year-old Watson, who regularly voices his opinions on matters of race and faith and is also the author of the 2015 book Under Our Skin, took to Twitter on Wednesday to speak out against the the 62-year-old former governor of Arkansas. On Fox News this week, Huckabee criticized NFL players who protest police violence against African-Americans by kneeling or sitting during the national anthem before games.
"Is that the proper place for politics? Let's face it, Martha, there is a time and a place for everything," Huckabee said in an interview with anchor Martha MacCallum. "And if they are really that interested in making political statements, I got a real good suggestion for them: give up their multimillion-dollar-a-year salaries, get on the ballot, run for office, get elected and affect the change that you are passionate about."
"I guarantee that you will not make that much money," Huckabee added. "But by golly, that is how you really change things."
Huckabee's comments did not sit well with Watson, who is playing in his 13th season in the NFL and personally chooses to stand for the national anthem.
"The only Americans that are allowed to care about politics are those who quit their jobs and run for office?" Watson asked. "Stop @GovMikeHuckabee. Just stop."
Although the national anthem protests started in 2016 with former San Francisco 49ers quarterback Colin Kaepernick sitting and then kneeling, the protests spread like a wildfire across the league after President Donald Trump said in September that NFL owners should fire players that protest.
Watson previously asserted that he and the other NFL players felt that Trump's comments were a "direct attack on our brotherhood."
"Even to imply that we don't have a right to express ourselves in any way, whether you agree or not, is something that we really took to heart," Watson said on ABC's "Good Morning America" on Sept. 25.
NFL hall-of-famer and former Indianapolis Colts head coach Tony Dungy, an African-American who is known for his devout Christian faith, has called on Trump to invite NFL players who protest the anthem to the White House to discuss their "concerns."
"As the leader of our country I think the president ought to invite some of these young men to the White House to hear their concerns," Dungy wrote in a tweet Wednesday morning in response to Trump's comment this week that the NFL is showing "total disrespect for our great country" by not requiring its players to stand for the national anthem.
"Leaders don't just complain they look for solutions," Dungy added.
Dungy took some heat from commenters on Twitter who argued that NFL players should invite veterans and military servicemembers to hear their thoughts on the anthem protest. Dungy pointed out that some of the NFL anthem kneelers have already done that.
Dungy also responded to social media critics who claim that players wouldn't go to the White House to discuss the issue if they were invited because a number of players on the New England Patriots showed that they weren't willing to go the White House after winning the Super Bowl.
"Not talking about inviting them to accept congrats. Inviting them to have a [dialogue about] their concerns," Dungy clarified. "Many would go to do that."