Bernie Sanders: Trump 'Worst and Most Dangerous' President in History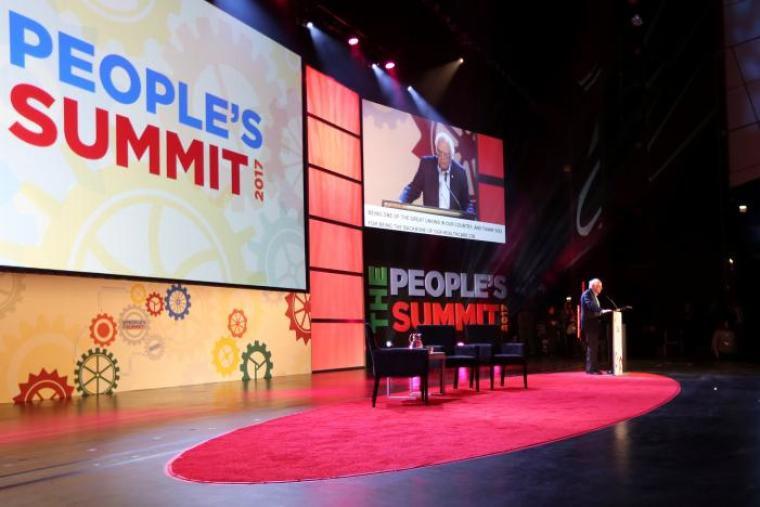 Vermont Senator Bernie Sanders said at a summit in Chicago over the weekend that President Donald Trump is perhaps the "worst and most dangerous president in the history of our country."
"Today in the White House we have perhaps the worst and most dangerous president in the history of our country," Sanders, a former Democratic presidential candidate, said at the "People's Summit" in Chicago Saturday, according to Reuters. "And we also have … not to be forgotten … extreme right-wing leadership in the U.S. House and the U.S. Senate."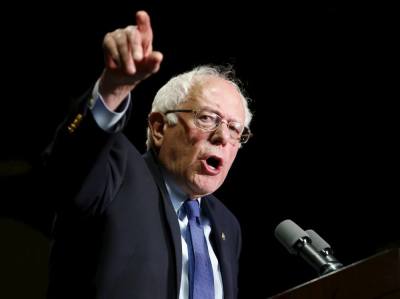 Sanders continued, "Now what I find particularly disgraceful about Trump is not just his reactionary economic, environmental and social policies, or the fact that he lies all the time. What I find beyond belief is his incredible hypocrisy. This is a man who ran for president telling the people of this country that he was going to stand up for the working-class. That he was going to stand up to the political and economic establishment, and then, once he got elected, and without a second's hesitation, he brings more billionaires into his administration than any president in history."
Four months within his administration, Sanders added, Trump has pushed "some of the most destructive pieces of legislation in the modern history of our country."
"Mr. Trump, do not tell us that you are a friend of the working class when you propose to throw 23 million Americans off of health care," Sanders said.
Sanders also criticized his own party during his speech. "The current model and the current strategy of the Democratic Party is an absolute failure," he said, according to The New York Times. "The Democratic Party must finally understand which side it is on," he added, alluding to infighting.
Rep. Emanuel Cleaver, a Missouri Democrat and former chairman of the Congressional Black Caucus, was quoted as saying, "We are going to lose every possible winnable seat, in a year where there are many winnable seats, if we come across as inflexible left-wingers. I respect Bernie — I just don't think we can become the party of Bernie."
Meanwhile, on Friday, New York Sen. Kirsten Gillibrand, a Democrat, also blasted President Trump, claiming he has not kept his promises to improve health care and the tax system for working families, according to Fox News.
Gillibrand used the "f" word several times during a speech at an event held at New York University. "Has he kept any of his promises? No. F*** no." She added, "If we are not helping people, we should go the f*** home."
Sanders recently attacked Russell Vought, Trump's nominee for deputy director of the White House Office of Management and Budget, because he wrote a blog post expressing his belief that salvation can come only through Jesus Christ.
"In the piece that I referred to that you wrote for the publication called Resurgent. You wrote, 'Muslims do not simply have a deficient theology. They do not know God because they have rejected Jesus Christ, His Son, and they stand condemned.' Do you believe that that statement is Islamophobic?" Sanders asked during a Senate Budget Committee nomination hearing on Wednesday.
Vought responded, saying, "As a Christian, I believe that all individuals are made in the image of God and are worthy of dignity and respect regardless of their religious beliefs."
Former Obama Administration official Michael Wear wasn't happy with Sanders' criticism of Vought. "This is why Democrats lost in 2016. It's why we didn't deserve to win on our own merits in 2016," he wrote on Facebook. "And it's why we're on track to lose again in 2018. I remember when Democratic leadership used to speak out against using religion as a weapon."
Russell Moore, president of the Ethics & Religious Liberty Commission of the Southern Baptist Convention, called Sanders' line of questioning "shockingly ignorant."
"Even if one were to excuse Senator Sanders for not realizing that all Christians of every age have insisted that faith in Jesus Christ is the only pathway to salvation, it is inconceivable that Senator Sanders would cite religious beliefs as disqualifying an individual for public office in defiance of the United States Constitution," stated Moore.