Beth Moore: Jesus Is No Misogynist, See the Bible for How He Treated Women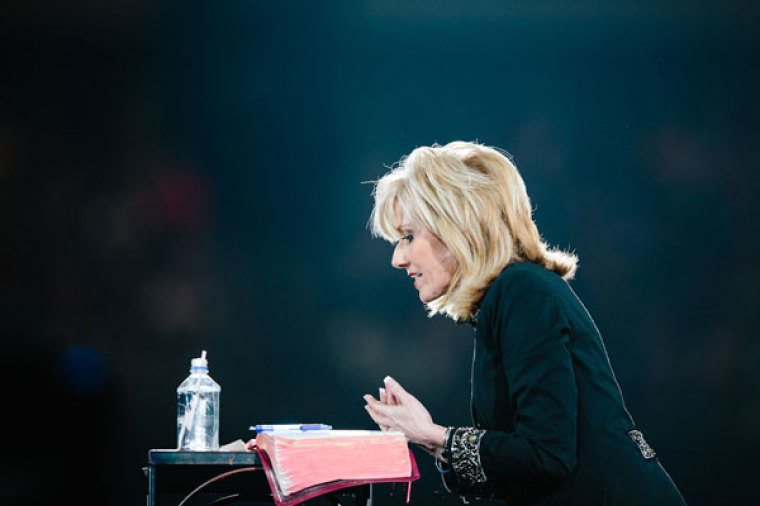 Author and evangelist Beth Moore has insisted that Jesus Christ is not a misogynist, encouraging people to read the Bible to see how He treated women.
"If you want to know how Jesus felt about women & treated women, read the Gospels. Anything & anyone that does not reflect what you see in Jesus in black and white on those pages may wear a Christian label but never confuse that with Christlike," Moore, the founder of Living Proof Ministries, wrote on Twitter Tuesday.
"Jesus is no misogynist. Read & see," she added.
Moore has in recent weeks been speaking out strongly against anyone seeking to misuse the Bible and evangelicalism for politics.
"It's been a harrowing trip to Oz for many evangelicals this year, the curtain pulled back on the wizards of cause," she wrote last week.
"We found a Bible all right, seemingly used instead of applied, leveraged instead of obeyed, cut and pasted piecemeal into a pledge of allegiance to serve the served."
The author added in a follow-up post that if evangelicalism "has any hope and any future of actually evangelizing the lost and discipling the found, we desperately need Jesus to save us from ourselves. He's merciful and He will if we will let Him."
Moore's comments come in the wake of the ongoing scandal around embattled Republican Senate candidate Roy Moore.
Evangelicals have expressed various opinions regarding the allegations that Moore sexually assaulted teenage girls in the past, with many denouncing the harassment of women.
But one Alabama pastor suggested he would continue supporting him even if the claims are true.
Pastor Earl Wise, formerly of Highland Gardens Baptist Church in Montgomery, told the Boston Globe that the women accusing Roy Moore could be getting paid.
"There ought to be a statute of limitations on this stuff," Wise also said. "How these gals came up with this, I don't know. They must have had some sweet dreams somewhere down the line."
"Plus, there are some 14-year-olds, who, the way they look, could pass for 20," he added.
Beth Moore, who is not related to Roy Moore, has said that the church should not excuse sin.
"This idea that God puts up with secret sins from His servants for the greater good is a total crock. He waits, warns, waits, warns then comes for us with a blazing bulldozer," she wrote in an earlier Twitter post.
"I know because Scripture says. I know because I've experienced it. God will not be mocked."
The evangelist was asked if she was speaking about Roy Moore, and she responded: "I am referring to the colossal compromise of values in the church in America. It's taking so many forms so quickly that mentioning names just makes it yesterday's news."
Back in October, Moore shared her story of sexual abuse under the #MeToo hashtag.
"A well meaning mentor told me at 25 that people couldn't handle hearing about sexual abuse and it would sink my ministry. It didn't," she wrote, encouraging victims to speak out and call out wrongdoing.
"#WeToo get to stand on solid ground and be counted. We too get to help other girls stand. We too get to say, 'I understand. I believe you,'" she wrote.
"#WeToo have dignity. We too have courage. We too can heal. We too have community. We too can be unashamed. We too can see to change.
"#WeToo are loved by God/defended by Christ/upending the darkness/bringing to light/devoted to love."