Beth Moore on Paige Patterson Controversy: 'Broken System' Will Not Mend If Men Refuse to Listen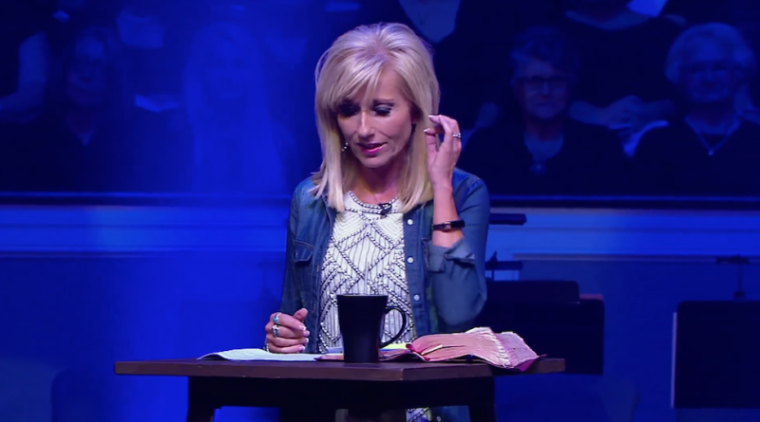 Prominent evangelist Beth Moore, founder of Living Proof Ministries, has responded to the resignation of Paige Patterson as Southwestern Baptist Theological Seminary president, by telling men that the "broken system" will not change if they keep refusing to listen to what women have to say.
In comments posted on Twitter Thursday, as part of a conversation with Kyle J. Howard, a biblical counselor and Southern Baptist Theological Seminary student, Moore said she agrees and is "grateful" for the first steps taken by the seminary to replace Patterson. She added that the safety of women and girls should be the "top priority and urgency" in the entire process.
At the same time, she warned that "this broken system will not mend if men are simply and well-meaningly trained to view women as damsels in distress" that they must protect.
"This ideology still produces Supermen. Not healthy brothers," she warned.
Moore said that protecting and defending is good, but what is needed for a healthy relationship in a family is "mutual respect."
"Don't save us, then refuse to listen to what we have to say. Don't deliver us, then dismiss us. Don't show us the way, then shoo us away. Work with us. Serve with us. See what value we have."
The SWBTS Board of Trustees announced on Wednesday that Patterson would step down as president and be appointed as president emeritus with compensation. The announcement came amid several controversies over past comments Patterson made about whether abused wives should remain in their marriage and about the looks of a young woman. 
The Baptist Blogger posted audio of an interview Patterson did in 2000 in which he commented on whether wives should submit to their husbands, even in the case of abuse, to which he said:
"It depends on the level of abuse to some degree. I have never in my ministry counseled that anybody seek a divorce, and I do think that's always wrong counsel.
"There have been, however, an occasion or two when the level of the abuse was serious enough, dangerous enough, immoral enough that I have counseled temporary separation and the seeking of help. I would urge you to understand that that should happen only in the most serious of cases."
Patterson offered as an example one situation decades ago where he discouraged a woman from leaving her abusive husband and instructed her to pray for him, which apparently led the husband to ask for forgiveness.
His response drew backlash from some Southern Baptist leaders as well as thousands of women. 
Patterson also came under fire for what he said in a January 2014 sermon where he illustrated how he expressed approval of a young boy's comments about an attractive 16-year-old girl being "built." 
And just ahead of the Board of Trustees meeting, The Washington Post reported on Tuesday a woman's story in which she alleged that Patterson discouraged her from going to the police after she was raped by a man she was dating in 2003. The alleged rape occurred while she was a student at Southeastern Baptist Theological Seminary in Wake Forest, N.C., when Patterson was president. 
The unnamed woman said that while she has forgiven the man who raped her, she had not forgiven Patterson.
Patterson has stated in previous statements that he has "never counseled or condoned abuse of any kind" and that "any physical or sexual abuse of anyone should be reported immediately to the appropriate authorities, as I have always done." 
In his latest statement on Wednesday, Patterson said in an email to SWBTS students that he and his wife, Dorothy, are "hurt" by the ongoing controversy.
"But we did not compromise and we still have our voice to witness. That we will attempt faithfully to do," he wrote.
Beth Moore has, meanwhile, been outspoken in her criticism of misogynistic attitudes in evangelical churches.
In an open letter to Christian brothers, she wrote that while she had chosen to accept "the peculiarities accompanying female leadership in a conservative Christian world," feeling that "they were rooted in deep convictions based on passages from 1 Timothy 2 and 1 Corinthians 14," she later realized amid attitudes that "smacked of misogyny" and "objectification" that "Scripture was not the reason for the colossal disregard and disrespect of women among many of these men."
"It was only the excuse. Sin was the reason. Ungodliness," she contended. 
She has also spoken out against what she called a Christian church culture that "demonizes" divorce as the worst sin, even in abusive marriages.
"I'm pro marriage. Nearly 40 years of ups and downs to back that up. But when we as a church culture demonize divorce as the worst possible outcome — the sin of all sins — we truly have no clue on this ever loving earth what some people are enduring. We do not submit to abuse. NO," Moore declared at the time.
She added that she has "dealt with sexism in my church culture for 60 years," and warned that some men are "powerful manipulators" that only pretend to change after committing abuse.