Bethel worship leaders Brian and Jenn Johnson discuss loss, God's presence and new music (part 2)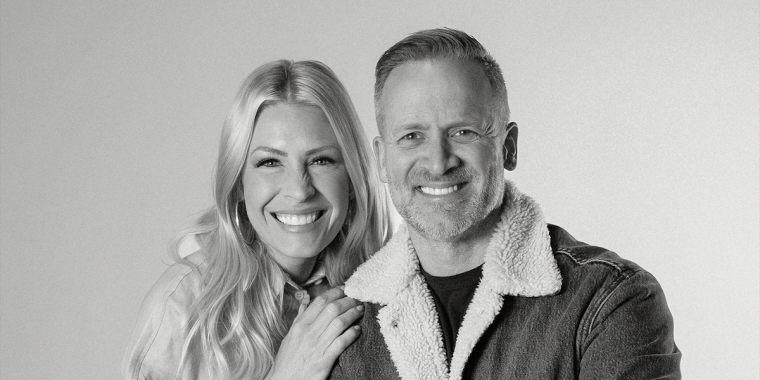 Brian and Jenn Johnson from the worship group Bethel Music are gearing up for the release of their upcoming album, Come Up Here, a collection of songs inspired by what they believe will be sung in Heaven. 
The album title was taken from Revelation 4 and features 11 songs recorded and filmed in Northern California on land owned by Jenn's family. Brian and Jenn, who co-founded the group and Bethel Music Worship School in Redding, want the music to serve as a testament to the majesty of God's creation on Earth.
The live recording is the first album released following the death of the Johnson family's matriarch, Beni Johnson, who died from cancer last July.
Despite their family's loss, they remain hopeful because they know she's in Heaven. However, Brian added, it's an adjustment going to his parents' house and seeing his father, Bethel Senior Pastor Bill Johnson, alone in the home. 
"We're doing good," Brian told The Christian Post in a recent video interview. "If we didn't believe in Heaven, and believe what we're here for, it would be obviously much worse."
"It's still very tough ... going over to my dad's house and he's alone; it's hard," he added. "I feel like everyone's handling it kind of as good as they can."
The video performances for Come Up Here were filmed over three days on property owned by Jenn's family where she grew up as a young girl. Her family works in the logging industry and has hundreds of acres of land which Jenn said made the perfect location to record the latest album surrounded by God's creation.
"When we started to do the album, Revelation 4 kept coming up. Revelation 4 says, 'Come up here, and I will show you what's next' or 'what's to happen next.' It really was God speaking to me in a time of 2020 with so much division and opinion being thrown around like wildfire and COVID. It was just really a lot of chaos with opinion, and hard to find facts," Jenn told CP.
"The Lord just spoke to me so clearly, 'I don't want your opinion. I want my opinion,'" she said. "Many times, throughout the Bible, we see these mountaintop experiences where people go up to a mountain and they encounter God and they come back."
The worship leader said going up to that property in the mountains of the forest felt symbolic as they were "in nature worshiping God."
"Singing these songs like in awe and wonder and reverence when you are in nature looking up at the stars surrounded by these trees where you feel small, and not insignificant small, but just that God is so much bigger than anything going on in our lives," she continued. "It was an incredible project to be a part of. The songs are so strong and beautiful for the church. Songs that are themed about what we would sing in Heaven in a big way."
The praise leaders said God met them in the forest as they united and lifted their voices in thanksgiving.
"The other cool thing about Redwoods is that the root system of the trees underneath the ground interlock, and it's how they weather the storms and it's a really profound picture of community which is a huge part of not just writing great songs or leading worship, but we really care about our people and our team and our global worship community, even at large," Jenn said.
Bethel Music has released 17 worship albums leading up to this new record, which will be available to stream everywhere on March 17. The team has been a very tight nit church family and is regularly seen online supporting and praying for each other.
Brian added that often people in ministry "try on for size every heart posture, and then you get to the point where you realize none of that works. The only thing that works is turning everything in life, whether good or bad or whatever, into that heart posture of trust and praise." 
"I feel like our group has been through so much. I think the world has been through so much, and [it's] returning to the songs that are just vertical," he explained. "Jenn sings a song 'Holy Forever' where the pre-chorus is: 'All thrones and dominions, all powers and positions, your name stands above them all.' The rightful place of who He is, whether in political climate, cultural climate, the craziness that's going on in the world, His name stands above it all!"
The music minister at Bethel Church, which has 11,000 members, encouraged people to spend more time praising God and reading His Word. 
Bethel Church, which has 11,000 members, is a charismatic ministry that encourages its members to experience God's tangible presence. When asked how they advise others to enter God's presence, the couple said it all comes down to worship.
"We really view worship as a lifestyle and not even that it's connected to music. ... When you think of worship, most people think of music. But we have a saying with our group that worship is a lifestyle. It's every part of our life. It's how we love our spouse, and our children, and how we love the church, and how we go about our day. It's our attitude," Jenn explained. 
It has to do with one's everyday life and making room to experience Him, she added. "It really is a heart posture of worship. As far as entering in corporate worship, or in private, for that matter, I think the Bible is super clear about entering the gates with thanksgiving. Just telling God what you're thankful for, it's that simple." 
"'How do I start to worship? How do I pray?' What do you think before? Start there! It's a launchpad into the presence of God and telling God who He is and being honest with God. God is our Father. He is loving; He wants to be connected to us and He wants to know what's going on in your day. And just talking to Him normally, thanking Him, telling Him who He is, reading the Word, staying connected to the Bible, being plugged into a local church that you're sowing into and receiving from. But really, it's about your lifestyle, your whole life before God, as the Message Bible says, 'You're going and coming,' all that."
Brian added that the presence of God often descends upon people when they tarry.
"A friend of ours, Don Potter, ... he had a season in life where he calls it 'facing the wall.' It's that David season with the sheep and his harp, just practicing and whatever that looks like [of] getting alone with God," he explained. "I do think God chooses individuals who have an anointing, and have a special gift to play, like David played over Saul. And it says evil spirits were driven from him just by him playing. [But] Don Potter came out of that season facing the wall a different person. 
"I'm not saying to go face the wall for four years, but there's something about [that], I think, God looks at that and goes, 'This guy's trusting me. This is crazy faith. This is amazing,'" said Brain, referencing passages in the Bible where God honors people's faith.
"Your presence above all else, what does that look like in worship? Well, maybe it looks like digging into your setlist. Maybe it looks like the selah moments where you're like, 'OK, the song's coming down, I'm just going to hold that one chord, just turn this moment ... to sing your own song. Whatever's going on in your life, just like David did, sing it to God.' he explained.
"I think in those moments when you go into like the Selah prophetic moments where people are actually singing their heart to God, those are the moments where all the stuff starts to kind of happen. We push cruise control a lot of times when we're just going through the motions, and it's not bad but it doesn't leave a lot of room sometimes for the real honest heart songs to be sung." 
Jenn concluded the interview by saying that when people put in the work to focus and center themselves around hearing God's Word, they are better off for it. 
"I would encourage everybody to make that devotional time a priority in your life. If it's getting up or if it's going to bed at night or putting your phone down, really just be intense and protect your joy and your peace and your connection to the Lord," the "Holy Forever" singer added. 
Come Up Hereis now available to pre-save. For more information about this album and Bethel Music, click here.