Beware of 'Gender Ideologues' Who Want Doctors to Query Children's Gender, Pediatrician Says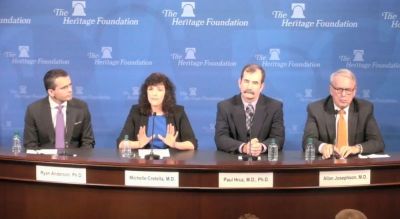 Amid reports citing medical experts encouraging doctors to ask adolescents and teenagers about their gender identity during office visits, a leading pediatrician is warning people to be aware of gender propaganda.
In an article published in the Journal of Adolescent Health last month, a group of researchers contend that discussions about gender could help doctors know whether young people might benefit from psychosocial and medical support to help them change their gender.
Lead author of the study Dr. Carly Guss of Boston Children's Hospital told Reuters this week that "[a]sking all patients their gender identity and pronouns creates a gender-affirming environment," and that there is no way for medical providers to know to offer such services if they do not know if their patients are transgender. The impetus, then, is upon providers to ask the questions. Guss asserts that an estimated 150,000 adolescents in the U.S. identify as transgender today.
Dr. Michelle Cretella, executive director of the American College of Pediatricians, explained to the The Christian Post in a Wednesday interview that such inquiries are manipulative tactics that amount to transgender propaganda.
"Gender ideologues, who profit handsomely from what has become an industry, occupy positions of authority in academics, medicine and psychiatry," she told CP.
"Therefore, graduate students, physicians and therapists are being 'educated' to ask open ended questions about gender of all of their pediatric patients. Even parents are being encouraged to do so."
One such gender ideologue, Diane Ehrensaft, urges parents to teach their two to three-year-old children that having a penis does not make someone a boy and instead encourages them to tell their pre-school children that people know they are a boy or a girl "when their brain tells them what they are," she continued.
Guss and her fellow researchers surveyed seven adolescent health education programs in seven states that receive funding from the Maternal and Child Health Bureau to provide interdisciplinary leadership training on these issues, covering 43 primary care and specialty clinics in total. They asked whether and how the programs ask patients for information about gender identity and what hurdles they face when documenting it.
Thirty-one clinics reportedly employed a standardized questionnaire template for patients to enter information into the electronic health record. Of those 31 clinics, 22 had a standardized question with the intention of identifying youth who believe they are "transgender" or "gender expansive."
Dr. Ilana Sherer, a founder of the Child and Adolescent Gender Center at Benioff Children's Hospital in Oakland, California, teaches doctors how to speak about transgender and gender identity concerns. While not involved in Guss' research, she said in an email to Reuters that she suspects that "there is an attitude that transgender is uncommon and unusual and not something providers would need to know as much about, but we can't even know unless we ask, and so many providers don't know how to ask."
Reuters reported that the "general consensus" is that U.S. youth are able to answer questions of this nature by themselves by the time they are 11 years old, according to another researcher they interviewed, who was also not involved in the study.
Cretella maintains such questions are inappropriate for any medical professionals to be asking whatsoever.
Doctors should indeed screen for psychiatric concerns that commonly affect all groups of adolescents, like anxiety, depression, and self-harm; yet "physicians should not be propagandists for a scientifically baseless ideology that has already led many pre-teens down a path of sterility, other irreversible changes and health risks," she said.