'Beyond the Mask' Hits Theaters Today; Special Effects Packed Faith-Based Film Wows Critics
'Beyond the Mask' Hits Theaters Today; Special Effects Packed Faith-Based Film Wows Critics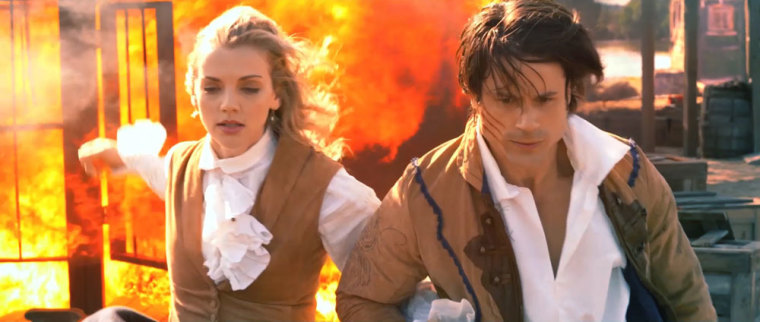 The record-breaking new film "Beyond the Mask" is hitting theaters across the nation today, boasting stunning special effects and a stirring experience for the entire family.
With a star-studded cast including John Rhys-Davies, "Beyond the Mask" is already garnering rave reviews. Moreover, the film broke the record for debuting on the most screens in the history of on-demand theatrical distribution.
"We're thrilled the advance excitement we've seen has turned into action in the form of screens reserved to show 'Beyond the Mask,'" said producer Aaron Burns. "Now we want fans of action films to appropriate for the whole family to buy tickets and fill theaters."
"Beyond the Mask" follows a British East India Trading Company assassin searching for redemption by thwarting a plot against a young nation's hope for freedom. The film, which was written by Paul McCusker with help from "Courageous" scriptwriter Stephen Kendrick, celebrates grace, liberty, and true freedom that can only be found in Christ.
Furthermore, the action-packed story brings history to life with a talented cast, powerful script and high quality special effects. Kendrick, who co-wrote "Fireproof" along with his brother Alex Kendrick, went on to praise "Beyond the Mask" for ushering in a new era for faith-based films.
"It's unlike just about any movie I've ever seen," said the Christian filmmaker in a press release. "This movie has more green screen shots and CG effects than any other live action Christian film in history," Kendrick explained. "The real adventure has been their creative climb of that digital Everest."
Rhys-Davis, who plays the wicked Charles Kemp, in "Behind the Mask," described the film as a "good, rollicking good yarn."
"Kemp is a really rather interesting villain," the actor continued during a taped interview. "He could pass for Wall Street. He is a villain of the first order - dangerous, manipulative, schemer, and with no moral compass whatsoever – perfect for an actor."
"Beyond the Mask" hits theaters on April 6. For a full list of theaters, visit the website here.
The trailer for the film is below.