Bible Epic 'Risen' Linked to Mel Gibson's 'The Passion of the Christ' Faces Questions of Anti-Semitism Months Before Release
AFFIRM Films SVP Put on Spot for Portrayal of Jewish Characters in Movie About Hunt for Christ's Crucified Body
"And from a Christian, theological standpoint, I'm responsible for the crucifixion of Jesus Christ. I mean, we all, broken mankind. ... Jesus was crucified as a sacrifice to redeem us. So, too often in history there's just been blame put against the Jews for the crucifixion of Christ and so we were just very sensitive to that throughout the entire process. My boss happens to be Jewish and he and I have lots of conversations because he sees things through a lens and I see things through my lens. He would say, 'This scene is problematic' and I'd be like, 'I don't know what you're talking about.' It's just a lens. We really worked through that and we were careful about it."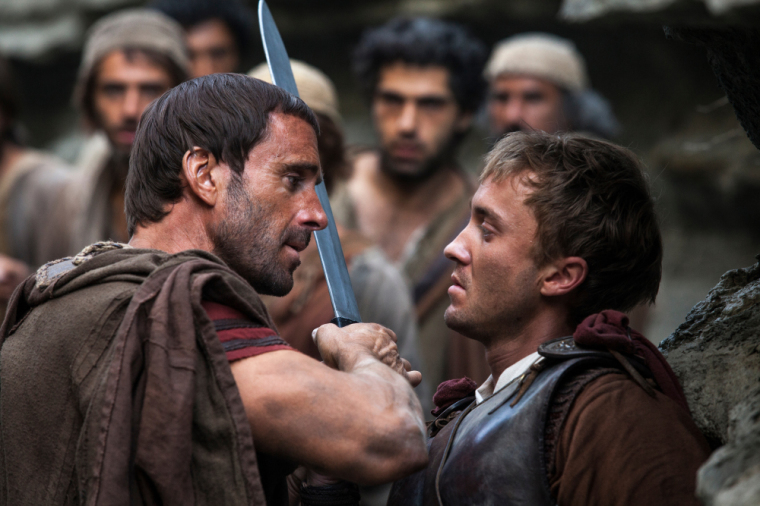 Peluso's theological claim that all of mankind is responsible for Jesus' death was not reflected in any of the clips shown, a reporter from the Religion News Service noted.
"Multiple times you've mentioned that among the things that are unique about this film is that it's presented as a manhunt and you also spoke as a person of faith how from a Christian perspective, all humanity's responsible for Christ's crucifixion. But the clips that you brought, the clips that you chose to show us tonight, don't show any of that," the RNS reporter said.
"They don't show the manhunt, which is something so fresh and different about your movie. They show a very graphic crucifixion but they don't show any sense that anyone other than creepy Jews howling for his blood are responsible.
"I don't know where the rabbis are, who they are that said this was OK, but I think this is an incredibly offensive set of clips. I don't think it was as sensitively edited. I think you might have done yourself a better turn had you brought us a clip that showed a manhunt or that showed something recognizing that he (unintelligible) was responsible wasn't the creepy oddly-costumed Jewish guy," she added.
Peluso defended "Risen," and described aspects of the film that were not necessarily shown to reporters that night, as the RNS correspondent candidly observed.
"Well there's lots of manhunt, lots of digging up for [the] body, lots of questioning witnesses. Miriam, Joseph of Arimathea, Mary Magdalene, Cleopas, Bartholomew. We recognize we have a limited amount of time," Peluso said before being cut off.
The reporter interjected: "But I think had you not shown this. If you had you shown us that, that would have been more intriguing to us and we would not have immediately put up the obstacles of saying 'here we go again, (unintelligible) the Jews, crucify Christ.' You didn't present us clips that showed us that this is a fresh and different movie."
The AFFIRM Films senior vice president said he "understood" the reporter's viewpoint but "respectfully disagree(d)."
"What we will do and what we want to do is that we want to make sure that anyone in the media that wants to get a look at this film gets a look at this film. We're not about trying to hide it, we're about trying to show it. The first time we start showing it, the full film, you know, finished and edited, is gonna be Sept. 9 on the Sony lot to a small group of people we're bringing in, and then we're gonna start rolling this film out. If people have problems with it or disagree with it, that's fine. Every movie has detractors. We honestly believe that this is a powerful film that is a fresh take on the story," Peluso said.
The RNS reporter would not relent.
"I just wish you had shown us the clips that had shown that," she said.
"I guarantee you will see the clips, all of them, once you see the movie," Peluso quipped, eliciting a few laughs despite the obvious tension in the room.
The Sony executive did manage to end the discussion with reporters on a positive note when he was asked what he wanted to be the takeaway for audiences that watch "Risen."
"I think that there's two takeaways that we want them to have. We want them to have thought about and explored the other side of the story that's in the Gospel in terms off … You know, one side of that story is exactly what's in Scripture. The other side is what could have been with the characters and the people involved and their response to this," Peluso said. "How did this impact other characters in the story? How did it impact Pilate? How did it impact the Roman military that was responsible for protecting that grave? How did it impact a lot of the characters? We don't really hear that told in Scripture."
He added, "I think for Christians active in their faith, when they see this film, I think there's a lot of excitement at how they're seeing the resurrection, Great Commission and the ascension told through film which they've never seen before at the quality I believe we're gonna show them. We want them to really be edified and encouraged in their faith.
"I think for those that are somewhat religious or not very religious, I want them to have walked away feeling like they watched a really great manhunt thriller movie with a wonderful and intriguing (beginning and end)."
Steven Mirkovich, best known for his editing work on Gibson's $612 million grossing "The Passion of the Christ," was also tapped to edit "Risen." Another "Passion" alumnus, Maurizio Millenotti, serves as costume designer. The screenplay was written by Kevin Reynolds and Paul Aiello, with the story credited to Aiello.
Starring alongside Fiennes ("American Horror Story" and "Hercules") is Tom Felton (as Lucius), most known for playing Draco Malfoy in the "Harry Potter" film series. Cliff Curtis ("Live Free or Die Hard" and "Training Day") stars as Jesus, while Peter Firth ("Pearl Harbor") portrays Pontius Pilate.
"Risen" premieres in theaters nationwide Jan. 22, 2016, with distribution by TriStar Pictures/AFFIRM Films.