Bible Found in OK Tornado Debris Opened to Isaiah 32:2, Providing Hope for Many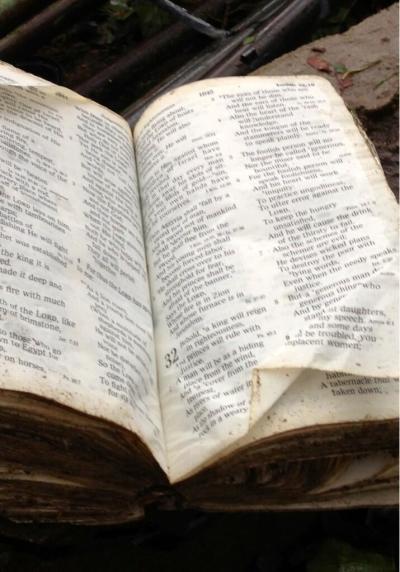 A Bible was found among the Oklahoma tornado debris and returned to its owner. Ironically, the Bible was opened to Isaiah, chapter 32, which reads, "A man will be as a hiding place from the wind, and a cover from the tempest."
The Bible, which belonged to Michael Alexander and his fiancé Sheila Spurlin, was found in nearby debris by a storm chaser named Brandon Heiden. He watched helplessly as the storm tore Lance Carter's home apart, then made sure the family was okay after it was all over. Heiden was the first one to notice the Bible and took a picture of it to help it find its way back home.
Gage Ross, a Carter family friend, stopped by to help begin cleaning up; he spotted the same Bible, which was open to a telling verse in Isaiah 32: "A man will be as a hiding place from the wind, and a cover from the tempest."
"The Lord must be with us, I guess," Ross told KFOR News.
Alexander and Spurlin lived in a trailer behind Carter's property but stayed safe during the storm at a local shelter. Unfortunately, their home did not survive the storm, which leveled an entire town and killed at least 51 people, including several children.
"I got here after it passed, and I just fell to my knees," Alexander said. "It's all I could do. Everything that I owned, everything we owned was in the trailer."
However, the Bible somehow managed to survive the storm, and Alexander is incredibly grateful to have it back in his possession.
Many across the nation see the Bible's recovery, and the particular passage it was opened to, as hope in the midst of the storm.
"Bible found after tornado actually opened to that scripture. Literal hope in a storm. So beautiful I could cry," tweeted Breeanne Howe.
"Real as it gets," added JuhBray. "This Bible was found in tornado debris. Opened to Isaiah 32:2."
Here is a related video about the tornado:
Breaking News*** Aerial of Oklahoma Four Tornado Destruction May 20, 2013