Bible Removed From Air Force Officer's Desk After Secular Group Calls It 'Abhorrent First Amendment Violation'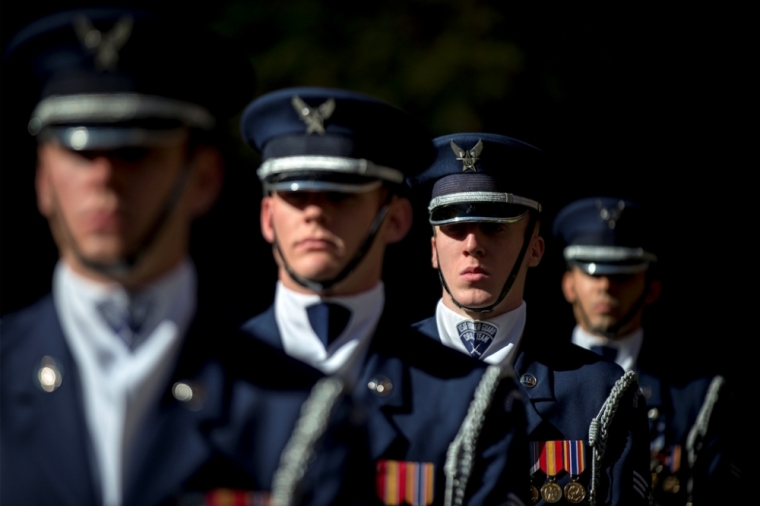 An American secular organization has demanded that an Air Force major be "aggressively punished" for placing an open Bible on his desk at the Peterson Air Force Base in Colorado Springs, Colo., arguing that it violates the separation of church and state.
Colorado Springs Independent reported Wednesday that the Bible was removed from the desk, and Peterson officials are investigating whether allowing the officer to place it there was a reasonable accommodation of his religious beliefs.
"The basic premise of the Air Force instruction [on religious freedom], grounded in Department of Defense policy, grounded in law is, people have an inherent right to free exercise of religion within boundaries," said Col. Damon Feltman, 310th Space Wing commander.
"At the same time, people have freedom to be left alone. It's finding that right balance. The challenge of the commander is to be sure both people are treated fairly."
The Military Religious Freedom Foundation, the secular group behind the demand, has said that Maj. Steve Lewis, a supervisor at the Reserve National Security Space Institute, should never have been allowed to place his Bible on the desk, as the desk belongs to the American people.
"It [the Bible] is very obviously a statement of Christian preference, Christian primacy," MRFF founder Mikey Weinstein told Fox News' Todd Starnes. "Had that been the Book of Satan or the Koran there would be blood in the freaking streets."
Weinstein further accused Lewis of "harboring and encouraging a truly abhorrent example of First Amendment civil rights violations."
He continued: "That desk belongs to the American people, to the U.S. military. If that desk was in his home or his car it would not be a problem."
Feltman revealed that Lewis voluntarily removed the Bible from the desk, as he did not wish for it "to cause attention or disruption to his unit."
Feltman added that he will have to wait for the unit commander to make a review of the situation before making a final assessment, but said that as long as religious belief does not distract from military service, officers and servicemembers should be free to follow their belief systems.
"As long as he's not doing something excessive, the existence of a Bible or the Koran or the Torah or some other religious article is not prohibited," he said. "It's what you do with it when you have it."
Weinstein said, however, that MRFF has received complaints from 33 unnamed Air Force personnel opposed to the Bible on the desk.
"We have 33 very scared Air Force families," the MRFF founder revealed.
"Major Lewis has created an around-the-clock Christian Bible Shrine on his official USAF workstation desk that has been in prominent static display for years," Weinstein added. "The pages in his open Bible on his USAF desk never change, ever."
A Peterson military member who chose to remain anonymous said that he is a Christian himself, but finds an open Bible to be a display of favoritism toward one religion.
"I don't think people should be promoted or given opportunities based on whatever [religion] they are. It should be about your performance," the member said.
The MRFF has made a number of complaints against religious displays in the American military, and earlier in August demanded that the Department of Defense investigate several Christian military chaplains for appearing in uniform while praying publicly at an event promoting religious freedom.
Chaplain Alliance executive director Ron Crews told The Christian Post in an interview, however, that Weinstein's complaint "had no legal basis."
"A military chaplain has every right to appear in uniform at an event to honor a member of Congress, not to mention a member of the House Armed Services Committee," Crews told CP.