Biblical Chastisement: Michael Pearl Defends Teachings on Child Discipline (VIDEO)
Pastor Debates Critic of Religious Authorities Who Demand That Parents Spank
Michael Pearl is an evangelical Christian pastor, author, and founder of No Greater Joy Ministries in Tennessee who became a point of controversy when his teachings about child training became linked by critics and the media to at least three fatal cases of child abuse. He spoke with The Christian Post recently and discussed what he sees as the difference between "disciplining" and "physical punishment" with one of his critics, Janet Heimlich, a journalist and author of Breaking Their Will: Shedding Light on Religious Child Maltreatment.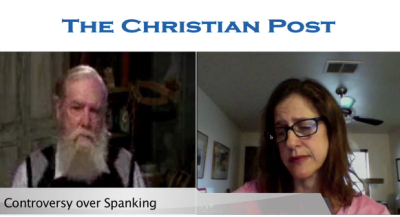 Pearl and his wife, Debi – both of whom are ministers and authors – penned several books about family life in accordance with Christian faith, based on the Scriptures and their own experiences and understanding of Christianity. One of these books, To Train Up a Child, which recommends strict "training" methods including such that can cause children pain, became the center of a controversy, especially after it was discovered that parents of three children who abused them to death were known to be familiar with the book and the Pearls' teachings. The book was self-published by the ministry in 1994 and sold an estimated 670,000 copies since.
The pastor's support for practicing spanking as a disciplining method, which Pearl claims is "natural" and coherent with the Christian faith, often causes an outcry, even though the Pearls are not the first authors to advocate spanking.
The Pearls also have many defenders, especially among other conservative Christians. Many Christians have been divided on the issue of corporal punishment as outlined in the Bible, with some strongly opposing spanking and other forms of child "discipline," while others having accepted it to be a method supported by the Scriptures. 
What made the Pearls famous was the exposure their book received in the media after it emerged that it was read by a few parents who ended up killing their children. The book was found to be owned by the parents of Hana Williams and Lydia Schatz, both of whom – as well as their siblings – were routinely spanked with a tool advocated by the Pearls (although Williams died of different causes, not directly related to spanking). Another parent reportedly practicing the Pearls' training methods was Lynn Paddock, mother of Sean Paddock, whom she later killed in 2006 (also not by a method recommended by the Pearls).
After these facts emerged, many media outlets announced Michael and Debi Pearl partially responsible for the children's deaths. Slate called the methods recommended in To Train Up a Child "disturbing." CNN's Anderson Cooper interviewed Pearl at least twice, including on his CNN show and his talk show, in both cases accusing the pastor of bearing partial responsibility for the deaths of the abused children.
Pearl denied in a conversation with The Christian Post that he holds any responsibility for the actions of these parents. He compared himself to a doctor prescribing two aspirins for a baby. If "the mother gives the baby a whole bottle of aspirin, and then Drano on top of that because she's angry and kills the child, you wouldn't blame the doctor who gave the prescription," he told CP. "The doctor was clear, two aspirin and no more. And if that mother becomes very angry and [doesn't apply] the doctor's prescription – In our book, To Train up a Child, we clearly point out that parents should not spank when it doesn't work; they should not spank when they're angry. We point out that they should spank five or ten licks, no more. And we point out that the spanking should be in accordance to the size of the child. We point out they should never leave marks."
"After 17 years [since the book was first published], and over four million parents reading our literature, our book, and additional several million reading other books that we've written, 20 books in all, only two children have been killed," the pastor (who does not acknowledge any relation between his book and the death of Sean Paddock) said. "Out of some eight or 10 thousands of children at that time when our book was present."
To Train Up a Child contains the methods of "traditional child training that parents have done for thousands of years in all cultures and all religions," Pearl argued. "And it's not information primarily derived from the Bible, not at all. My parents trained me up in the way that I trained my children, and my children are now training up their children the same way."
The pastor seemed upset that out of all his teachings, the element of spanking took the front row in public debates, even though, as he told CP, the subject of spanking only constitutes "less than 1 percent" of the materials he wrote.
"The majority of what I have to say in my book about spanking – which is a minority of the information in the book – is warning parents against spanking and anger. It's warning parents to not spank too hard. It's already a given that 90 percent of parents in America practice spanking. So I'm not telling parents to do something they're not already doing," Pearl argued in the interview.
"Spanking is only an option that we have, that we seldom use, but having that option gives authority to our words," he added. "Having that option means that if we have a rebellious child, or if we have a child that's otherwise compliant but one day has a rebellious streak, that child knowing that we have an option to spank gives authority to our words, and helps us to communicate our will to the child and to receive compliance."
Heimlich, Pearl's interlocutor, is one of the critics of spanking as well as some other training methods recommended by the Pearls. In her book, Heimlich questions whether children raised in conservative Protestant households are at risk of physical abuse due to what she claims is that population's proven reliance on spanking.