Biden facing criticism for 'joking' about possible anti-Christian motive behind Nashville shooting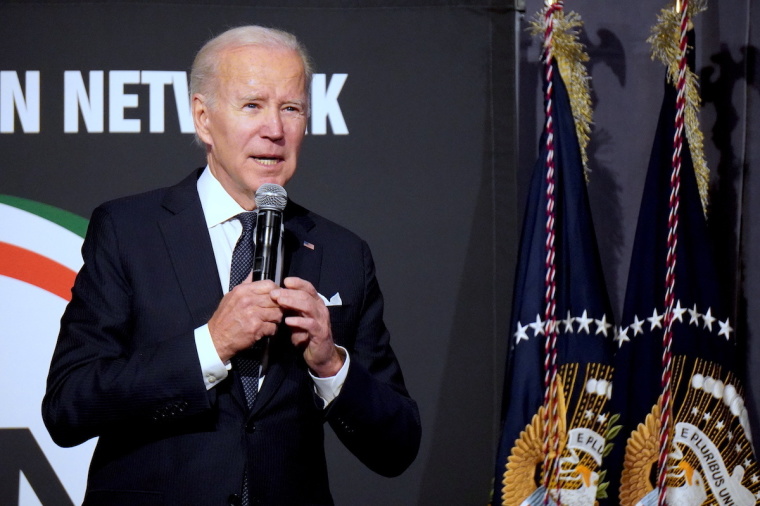 President Joe Biden is receiving criticism for seemingly "joking" that he would not consider Monday's Christian school shooting in Nashville, Tennessee, a hate crime against Christians if Republican Sen. Josh Hawley of Missouri believes it was. 
The president took questions from the media outside the White House Tuesday. One reporter asked him, "do you believe that Christians were targeted in the Nashville school shooting?" Biden responded by declaring, "I have no idea."
Joe Biden laughs when asked if he believes Christians were targeted in yesterday's horrifying Nashville school shooting pic.twitter.com/hsM6vVCNmn

— RNC Research (@RNCResearch) March 29, 2023
When the reporter noted that Hawley, a staunch conservative and prominent critic of the president, believes that Christians were targeted in the shooting, Biden replied, "Well, I probably don't then." After chuckling, he clarified that he was joking, reiterating, "I have no idea."
Earlier in the day, Hawley wrote a letter to FBI Director Christopher Wray and Secretary of Homeland Security Alejandro Mayorkas urging them to investigate the shooting at The Covenant School in Nashville that killed six people, including three children, as a federal hate crime.
In the letter, Hawley noted how police believe the attack was "targeted" against Christians and that the shooter had "some resentment for having to go to that school."
"Federal law explicitly criminalizes acts of violence against individuals based on religious affiliation as hate crimes," Hawley explained. "According to Nashville law enforcement, [Audrey] Hale's attack was both premeditated and 'targeted' against this Christian school, its students and employees. Nashville police chief John Drake announced yesterday that 'we have a manifesto, we have some writings that we're going over that pertain to this date, the actual incident.'"  
In an appearance on the Fox News program "The Ingraham Angle" Tuesday, Hawley described Biden's comment as "beneath the dignity of the President of the United States."
"This is the guy that has the responsibility of leading this country. Children are dead," Hawley said. 
School children were killed yesterday in a hate crime - but rather than pushing for answers, Joe Biden is trying to make jokes. It's beneath the office of the presidency pic.twitter.com/NS7mgLV0vJ

— Josh Hawley (@HawleyMO) March 29, 2023
"This is a terrible, terrible tragedy. Biden should be acknowledging the targeting of people of faith. He should be saluting the law enforcement officers who put their lives on the line and saved hundreds of kids. But he should be saying, 'we're going to get to the bottom of this, we're going to call it for what it is — a hate crime — and we're going to do a full investigation and make sure it doesn't happen again.'"
For his part, Biden issued a presidential proclamation ordering flags at the White House and all government facilities at home and abroad to fly at half-staff for the remainder of the workweek in honor of the shooting victims.
Police have identified the shooter as 28-year-old Audrey Hale, a trans-identified biological female who attended the Presbyterian church-affiliated school as a student. Two Nashville police officers, Michael Collazo and Rex Englebert, shot and killed Hale after confronting her on a second-floor common area at the school.
The Trans Resistance Network, an LGBT advocacy group, released a statement following the school shooting suggesting that Hale committed the act of violence because the killer saw "no other effective way to be seen than to lash out by taking the lives of others." The group called the murder spree a "double tragedy."
Radical trans group defending the Nashville shooter. Tell the truth. This was a hate crime against Christian children & teachers. There is no defending it. All activist groups should condemn this hate crime and all hate rhetoric that contributed to it pic.twitter.com/UWJIEgdgPv

— Josh Hawley (@HawleyMO) March 28, 2023
While expressing sympathy for the victims, the group implied that a "virtual avalanche of anti-trans legislation" may have played a role in deteriorating the shooter's mental health. The group criticized the "lack of acceptance" from certain religious institutions, warning that "hate has consequences." Hawley decried the group's statement as "defending the Nashville shooter."