Bill O'Reilly Explains Why He Cast a Muslim Actor for the Role of Jesus in 'Killing Jesus'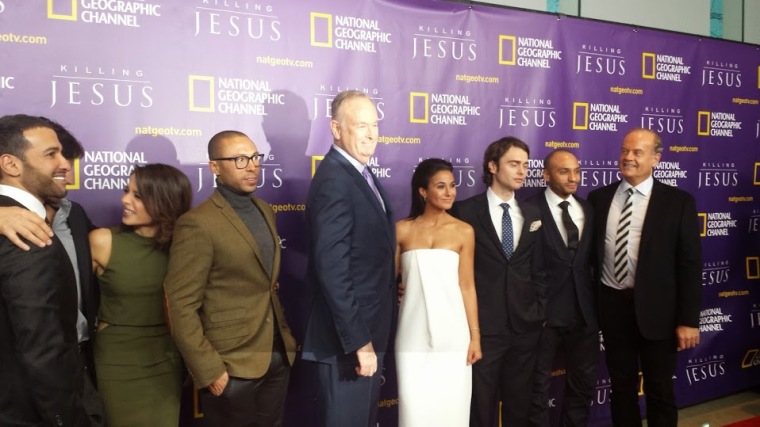 NEW YORK — Bill O'Reilly, host of the Fox News program "The O'Reilly Factor," spoke briefly at the premiere of the new National Geographic mini-series "Killing Jesus," which is based on his best-selling book, and talked about his controversial decision to cast a Muslim actor for role of Jesus in the film.
During his speech, which took place before the series was shown to the audience in its entirety, O'Reilly explained his decision to cast young Muslim actor Haaz Sleiman for the role of Jesus.
He admitted to being concerned about some of the backlash that might come, but said Sleiman "was the best person for the job" and that because of this "Jesus would hire him."
O'Reilly also boasted that the semi-biographical series "is what actually happened" with the story of Jesus, and that its portrayal of the Son of God is "very different" from anything that has been seen in other films. He further noted that it's not a "religious film" and is intended to be more of a historical narrative.
And even though the film tones down the power and miracles of Jesus, which can be read about in CP's previous reports, O'Reilly joked about Sleiman turning his water into Zinfandel wine.
Sleiman described his experience as a Muslim man playing Jesus during a red carpet event that took place shortly before the screening, and commented on a few of the reactions he's received from both Christians and Muslims.
"On both sides [there's been] so much support," Sleiman told reporters. "There's some from both sides here and there that are just not happy about it, and I love that because it means we're doing the right thing. Whenever you create some sort of disturbance in the air, there's an awakening that happens. There's an opportunity for conversation and to build bridges. There's an opportunity to connect with one another, especially for different groups that usually wouldn't connect with one another."
Sleiman also talked about how he dealt with conveying Jesus' manhood and His divinity while playing the role.
"It's really to find that balance between humanity and divinity," Sleiman added. "I think, ironically enough, that is something that we all deal with. Every one of us. Because God created us. He breathed life into us. Inherently we have divinity in us, but we're human. And it's that journey. And I feel like I wanted to show that journey through Jesus so that we could all somehow relate to that and feel good about ourselves."
"Killing Jesus" premiers on the National Geographic channel on Sunday, March 29.