Billy Graham: 10 Fascinating Facts About 'America's Pastor'
Billy Graham: 10 Fascinating Facts About 'America's Pastor'
5. Billy Graham pastored 13 presidents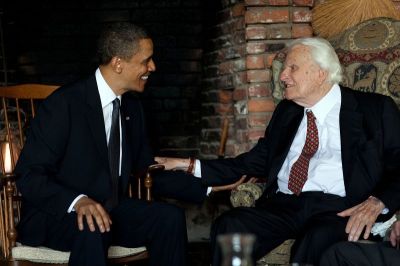 Graham is known as the "pastor to the presidents" for good reason. From Harry Truman to Barack Obama, he had a relationship with over a dozen presidents, attending the inaugurations of six presidents and delivering the invocations for both George H.W. Bush and Bill Clinton.
In his 2010 book Decision Points, George W. Bush said there were several factors that persuaded him to stop drinking, including a meeting with Graham.
Following Graham's death, President Donald Trump tweeted: "The GREAT Billy Graham is dead. There was nobody like him! He will be missed by Christians and all religions. A very special man."