Billy Graham: Don't Fall Prey to Sexual Advances From Your Boss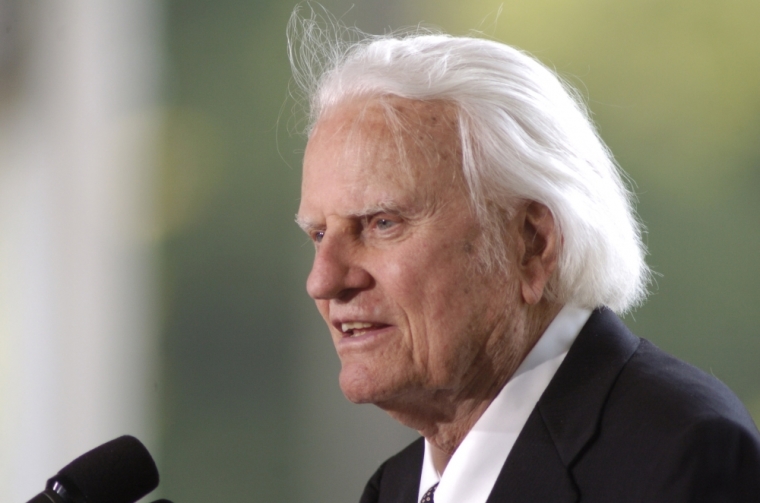 The Rev. Billy Graham warns Christians not to fall prey to their boss' inappropriate advances in a recent "My Answers" post on the Billy Graham Evangelistic Association's website.
Responding to a question regarding a married boss' "uncomfortable" advances in the workplace, Graham says employees must "firmly and clearly" let the employer know that their behavior is neither appropriate nor welcome.
"You should not do anything to encourage him or give him an excuse to break up his marriage. The Bible is clear: 'If sinful men entice you, do not give in to them. ... Do not set foot on their paths,' Proverbs 1:10, 15," Graham says.
The famed preacher goes on to say that while it might be tempting to comply with the demands of a superior, the only way to end the inappropriate behavior is to address it directly.
"I know it might be difficult for someone in your position to resist your boss — but the only way to deal with this is directly and without compromise. If you don't, he may only get more and more insistent — and it will become even harder to resist his advances," the Baptist minister explains. "Let him know — firmly and clearly — that while you value your job, his attitude toward you must stop."
Graham also encourages the employee to pursue all venues open to them at their job to put an end the boss' advances.
The preacher also warns not to give in to the employer's suggestions of marriage or a future life together.
"If he's willing to be unfaithful to his present wife, what reason would you have for thinking he'd be faithful to you?" Graham questions.
The well-known religious leader has spoken numerous times on the topic of marriage and infidelity.
In an August 2008 "My Answers" post, the preacher said that while lust and love are often confused, there are defining characteristics for both.
"Love between a man and a woman is more than a physical attraction or an emotional feeling — although those have their place. True love is an act of the will — a settled commitment to seek what is best for the other person," the preacher explained.
"True love doesn't demand; true love gives. True love doesn't ask, 'What can I get out of this person?' True love asks, 'What can I do to help this person?' To put it another way, true love isn't self-centered; true love is self-giving," Graham added.
Speaking on the topic of marriage in a June 2010 post, Graham explained that there are four methods for ensuring a strong and enduring marriage: "cherish, communicate, compromise, and Christ."
"God gave you to each other; you are God's gift to your spouse. Take time to express your love, both by your words and by little acts of thoughtfulness," Graham encouraged, adding that the "enemy of love is our selfishness, but in marriage you can't always have your own way, so learn to compromise with grace."
Additionally, Graham suggested Christians "Make Christ the center of your lives and your marriage every day, by committing yourself to Him and His will. He is the solid foundation we need — in our lives, and in our marriages."