Billy Graham Answers: Is God Hiding From Me?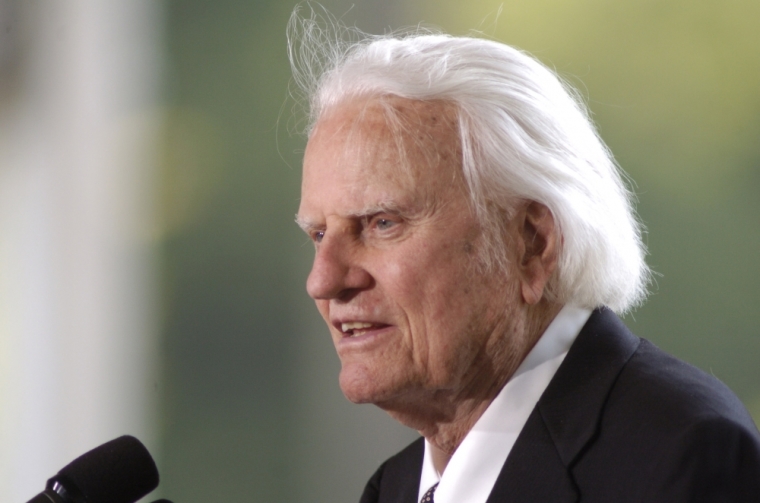 Renowned evangelist the Rev. Billy Graham addressed the feeling that many people struggle with: that God is hiding.
Despite naysayers who question God's existence and His dedication to us, the Rev. Graham wrote in a recent blog post for the "My Answers" portion of Billy Graham Evangelistic Association that God is eager to form relationships with all humans.
All that needs to be done is for each person to open their hearts to Him, Graham explains.
"God isn't hiding off in some distant corner of the universe, hoping we'll never discover Him or bother Him," Graham explains, suggesting that God's willingness to connect with us is evident through His decision to send His only son down to earth as a man.
"[God] came down from Heaven and became a man! That man was Jesus Christ, who was both fully God and fully man," the Baptist minister says, referencing Colossians 2:9 which reads: "For in Christ all the fullness of the Deity lives in bodily form."
God's decision to send Jesus down to earth proves His willingness to break down barriers and fully connect with all of His children.
God sent Jesus down from heaven "in order to erase the only barrier that separates us from God — the barrier of sin. God is perfect and holy — but we are imperfect and sinful. But by His death on the cross and His resurrection from the dead, Jesus Christ paid the penalty for our sins," the evangelical leader writes.
"Now the gap between God and us has been bridged — and all we need to do is cross it, by putting our faith and trust in Christ," Graham continues. "Don't spend the rest of your life wallowing in doubt or fear, but turn to Jesus Christ and commit your life to Him. When you do, you'll discover not only that God is real, but that He loves you and some day will welcome you into His presence forever."
In a previous blog post, Graham discusses God's desire to have a close relationship with all humans, pointing to John 15:14 which reads: "You are my friends if you do what I command."
Graham compares one's relationship to God with marriage, saying that while your initial encounter with your spouse may be superficial, it grows deeper over the years.
In the same way, your relationship with God takes time and work; believing God exists is only the "first step" in your relationship with Him, Graham explains.
 "[God] invites you to discover who He is and how much He loves you through the pages of His Word, the Bible. Then, He invites you to commit your life to Jesus Christ by asking Him to come into your life," the evangelical leader says. "But that isn't the end, either! Every day, you can turn to God in prayer and hear Him speaking to you through His Word. Your relationship can grow also with the help of other believers. Don't delay, but open your heart to Christ, and then learn to walk with Him every day."