Billy Graham: Be Thankful for Your Uniqueness
Billy Graham: Be Thankful for Your Uniqueness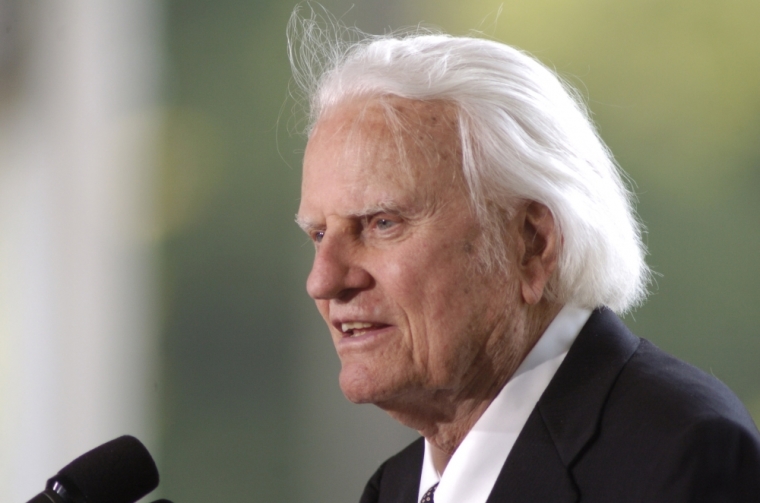 We as Christians should be thankful God made us in our own unique ways, the Rev. Billy Graham says.
Graham, a renowned evangelical pastor, wrote in a recent blog post for the Kansas City Star that God has made all of his children for a reason and a purpose.
"God knew what he was doing, and he made you exactly the way he wanted you to be," Graham writes, adding that he made all of his children uniquely: "[…] no one else in the world is exactly like you."
"Even before you were born, God knew all about you, and he has a specific plan for you," the evangelical leader continues, pointing to Jeremiah 1:5, which reads: "Before I formed you in the womb I knew you, before you were born I set you apart."
Graham adds that although you may consider yourself an average person compared to a celebrity or some other public figure, God has given you certain gifts that are unique only to you.
"[…] God gave you certain gifts and abilities, and the most fulfilling thing you can do is discover them and use them for his glory. Begin by discovering the most important truths you will ever know, that God loves you, and Christ gave his life for you," the Baptist minister says, encouraging Christians to ask God to help them become the person they were meant to be.
"Don't let envy or jealousy or anything else keep you from his plan for your life. Instead, keep your eyes on Christ," Graham adds, concluding with Hebrews 13:5: "Be content with what you have, because God has said, 'Never will I leave you.'"
Joyce Meyer, founder of Joyce Meyer Ministries, has also spoken on the topic accepting oneself, saying that feelings of insecurity can rob us of happiness.
"Insecurity is an epidemic in our society today. So many people don't really feel good about themselves or 'right.' Nothing in your life is ever right until you feel right about yourself, and one of the biggest problems people have is the way they feel about themselves. Sadly, some people spend their whole lives not liking themselves, which creates all kinds of issues they never overcome," Meyer wrote in a column posted in The Christian Post.
Meyer goes on to say that the best way for Christians to break out of an insecure mindset is to "believe you are who God says you are."
"The best way to break out of an ungodly mindset about yourself is to know who you are in Christ. Jesus shed His blood and died on the cross so you can be forgiven of your sin and have a personal relationship with God. His sacrifice makes you right with God and gives you access to everything He is so you can grow in your faith and develop the character of Christ in your thoughts, words, attitudes and behaviors," Meyer writes.
"Scripture says that we inherit the promises of God through faith and patience (Hebrews 6:12). Sometimes we have to believe God's Word for a while before we see it fulfilled in our lives. But if we will be determined not to give up and to trust that God will do everything He says He will do, then we will become what He has destined us to be!" the evangelical leader adds.