Billy Graham: Bible Tells Us the Truth About Ourselves and God That Will Never Change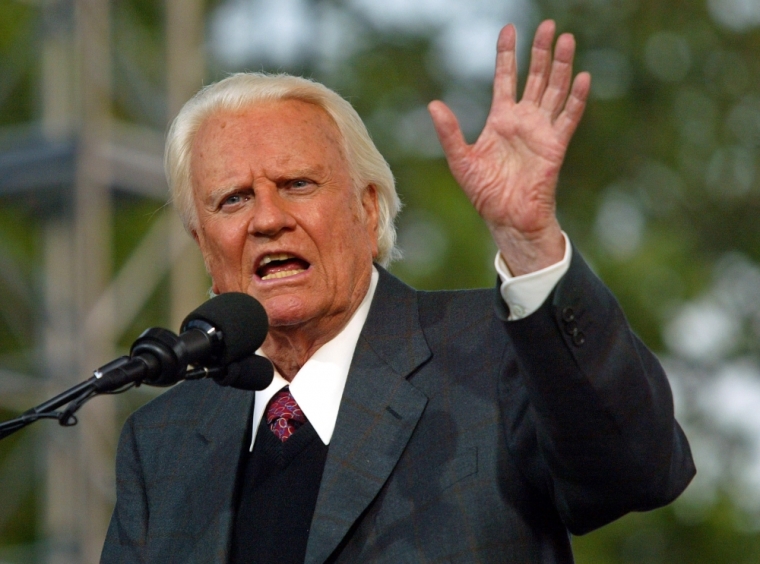 Christians must be aware that although times have changed, the Bible's message has not, the Rev. Billy Graham explains in response to a question on the Billy Graham Evangelistic Association's website.
Responding to a question posted by a follower on the website's "My Answers" section Monday, the 97-year-old religious leader explains that while the Bible may use some archaic language, such as "idolatry," its words can still be applied to modern-day living.
"The Bible doesn't need to be updated, and one reason is because it tells us truths about ourselves and about God that will never change," Graham says, pointing to Luke 21:33 which states: "Heaven and Earth will pass away, but My Words will never pass away."
The evangelical leader then references the Bible's use of the word idolatry. Although modern-day Christians are not faced with the same type of idol worship encountered by people who lived during biblical times, they do experience other versions of idolatry, including the worship of money, fame, sex and power.
"[W]e may not worship the same kind of gold or stone idols that God's people were warned against in the Old Testament (although some cultures still do)," Graham explains, adding that Christians have their own idols that they worship "zealously" instead of turning their attention to Christ, including "money, fame, power, sex, pleasure."
"These and countless other objects have become the 'idols' of our time. Not only are they false gods, but they take the place of the one true God in our lives," Graham adds.
Graham concludes his message by encouraging Christians to read the Bible with an "open heart and mind," adding that while the Holy Book will never need an "update," Christians may need to update their understanding of God's Word.
"I can't help but wonder if you've ever actually read the Bible for yourself, with an open heart and mind. When you do, you'll discover it tells us not only that God exists, but that He loves us and wants to come into our lives," the religious leader continues, adding, "Don't let your pride or anything else keep you from Christ, but by a simple prayer of faith open your life to his transforming power."
Graham has often spoken about the importance of looking to the Bible for answers. When asked in April 2014 why some Christians find the Bible to be riveting and others find it boring, Graham responded by suggesting that the reader change their perspective on their religious studies.
"The Bible should be the most exciting book you'll ever read! The reason is, this isn't just another book; it is God's Word, and through its pages God speaks to us. Think of it: The Creator of the universe wants to talk to you!" Graham exclaims, adding that Christians who have trouble connecting with the Bible should consider reading a more recent version.
By communicating through the Bible, God hopes to tell Christians about Himself and his plan, as well as His love for His children, Graham adds.
"As you open it, humbly ask God to make its meaning clear. Most of all, ask God to help you apply its truth to your life, because 'Your Word is a lamp for my feet, and a light on my path,' (Psalm 119:105)," the evangelical leader concludes.