Billy Graham: Why God Says 'No' to Our Prayers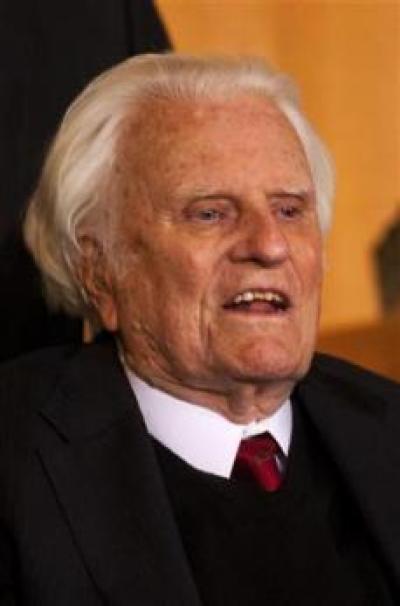 God knows when to answer prayers and when to say "no," the Rev. Billy Graham said in a recent message.
Responding to a question posted to the Billy Graham Evangelistic Association's website on Thursday, the 97-year-old evangelical leader said that "God knows what is best for us and, because he loves us, he sometimes tells us 'No' or 'Wait.'"
Graham compared this approach to raising a family, pointing out that parents do not always give their children what they ask for because they are "wiser and more experienced than [the children] are," adding that parents are able to differentiate between what their children want and need.
Just as parents love their kids and know what's best for them, so God knows what's best for his followers, as he is able to decipher what is truly necessary in their lives.
"More than once I've asked God to do something I was convinced must be right and was disappointed when it didn't happen. But later I realized it hadn't been God's will, and I was thankful he had said 'No,'" Graham writes, referencing 1 John 5:14 which states: "If we ask anything according to his will, he hears us."
This does not mean, however, that Christians should stop praying because they don't think all of their requests will be answered, Graham argues, adding that there is one prayer that God will always respond to with a "yes."
All people should say a prayer that "asks Jesus to come into our life," Graham writes, encouraging all people "turn to Christ and commit your life to him."
"By his death and resurrection he opened heaven's door for us, and 'through faith in him we may approach God with freedom and confidence (Ephesians 3:12),'" Graham adds.
The renowned preacher has spoken on the importance of understanding God's plan, especially when it comes to answered prayers, before,
In a June 2004 posting on the BGEA website, Graham suggests that the answer "no" to a prayer can be equally as loving and important as the answer "yes."
"'No' is certainly an answer of love on the part of our Heavenly Father when we ask Him for things which are not really for our good or for His glory. God does not always give us what we want; He gives us what we need," Graham wrote in 2004.
"America's pastor" added that because God "makes no mistakes," Christians may misinterpret how he answers their prayers, saying that "sometimes our prayers are answered in a way that we fail to recognize."
"We pray for prosperity, and sometimes financial stress is given. But our souls are made stronger for the test. We pray for health, and affliction is given, and we are better able to sympathize with those in affliction. God makes no mistakes, though at times we may question His wisdom," he explains.
Graham has also said that prayer is an integral part of evangelism, saying as part of his My Hope Project in 2014: "Prayer is crucial in evangelism: Only God can change the heart [...] No matter how logical our arguments or how fervent our appeals, our words will accomplish nothing unless God's Spirit prepares the way."