Billy Graham Remembered by Close Family: 7 Reactions Reveal Surprises, Passion, Question for World
2. Anne Graham Lotz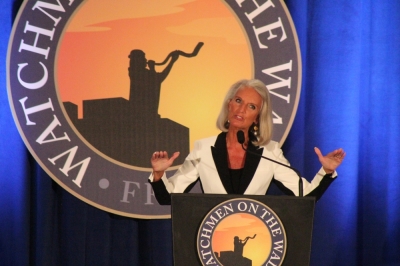 Evangelist Anne Graham Lotz, one of Billy Graham's daughters, said in an emotional Facebook post that both her father, and her husband, Daniel Lotz, who died in 2015, are now in Heaven.
"My two favorite, dearly beloved men are together again! Looking up with tears on my face," she wrote, sharing a photo of the two men together.
In a longer statement titled "Daddy Is Home," Lotz reflected that her father "was always a farmer at heart."
"Who loved his dogs and his cat. Who followed the weather patterns almost as closely as he did world events. Who wore old blue jeans, comfortable sweaters, and a baseball cap," she wrote about his down to earth lifestyle.
"But when I think of him I also think of his message because he was immersed in it. Saturated in it. He was his message ... a simple man who had responded to God's love by placing his faith in Jesus, receiving the assurance that his sins were forgiven, that he would not perish, but would have everlasting life. Simple faith. Faith that now matters more than anything else," she added.
Lotz shared her hopes that her father's death will be a "rallying cry."
"That tens of thousands of pastors, teachers, evangelists, and ordinary men and women will rise up to take his place. That they will take up his message like a baton being passed in a relay race and faithfully pass it on to those with whom they come in contact," she continued.
"Because Daddy's message is God's message. And it's a message of genuine hope for the future, of love for the present, of forgiveness for the past."