Billy Graham on Why Some People Have a Harder Time Accepting That God's Way Is Always Right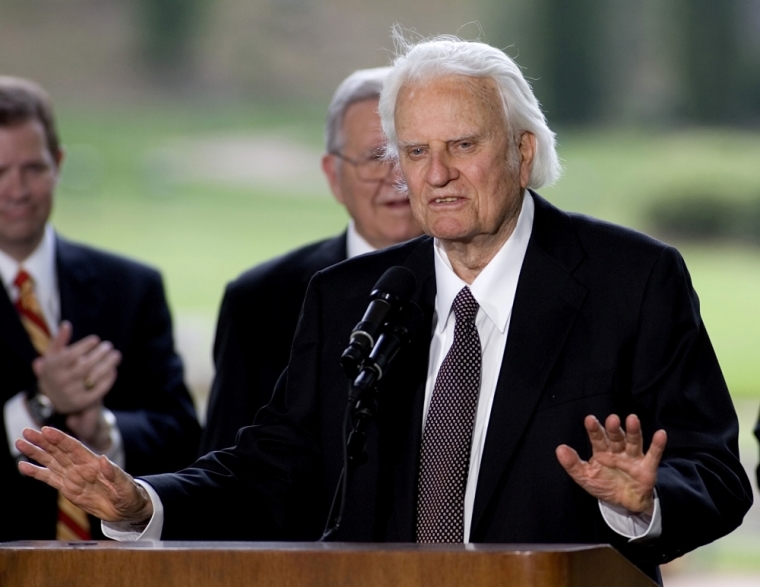 Some people have a more difficult time trusting in God than others, says the Rev. Billy Graham, citing examples in the Bible to illustrate what happens when people take their eyes off of God.
In the latest installment of his syndicated column published in the Kansas City Star, the famed evangelist says he believes that some individuals do seem to have a harder time trusting in God and believing that His way is always best.
"They may be sincere believers — and yet they still have a hard time taking their hands off their situation and living by faith," says Graham.
The Billy Graham Evangelistic Association founder uses the example of Peter who once stepped out of his boat and walked on water toward Jesus. When Peter takes his eyes off of Christ, however, and begins to focus on the conditions around him he becomes fearful and begins to sink, as chronicled in Mark 14: 29-31:
And when Peter was come down out of the ship, he walked on the water, to go to Jesus.
But when he saw the wind boisterous, he was afraid; and beginning to sink, he cried, saying, Lord, save me.
And immediately Jesus stretched forth His hand, and caught him, and said unto him, O thou of little faith, wherefore didst thou doubt?
Graham points out that although Peter's faith eventually faltered he did demonstrate more faith than his shipmates.
"We rightly criticize him [Peter] for not having more faith, but unlike the others, at least he got out of the boat! says Graham. "Peter wasn't perfect, but at that moment he found it easier than his fellow disciples to put his faith into action."
The evangelist then poses the question: How can your faith grow stronger? The answer, he says, is to "allow God's truth to overcome your doubts."
He asks more probing questions, "Is the Bible part of your life every day? Do you allow its truth to penetrate your soul?" Graham instructs his listeners to pattern their prayers after that of Psalm 119:33: "Teach me, Lord, the way of your decrees, that I may follow it to the end."
The beloved evangelist encourages his audience to ask God to help them to trust Him more and more, " ... following Him, doing what is right, and leaving the results in his hands."
"When you do, you'll soon realize that God's way is always best without exception. And the more you see Him work, the easier it will be to trust Him in everything."