Billy Graham: World Will End 'In God's Time, in God's Way'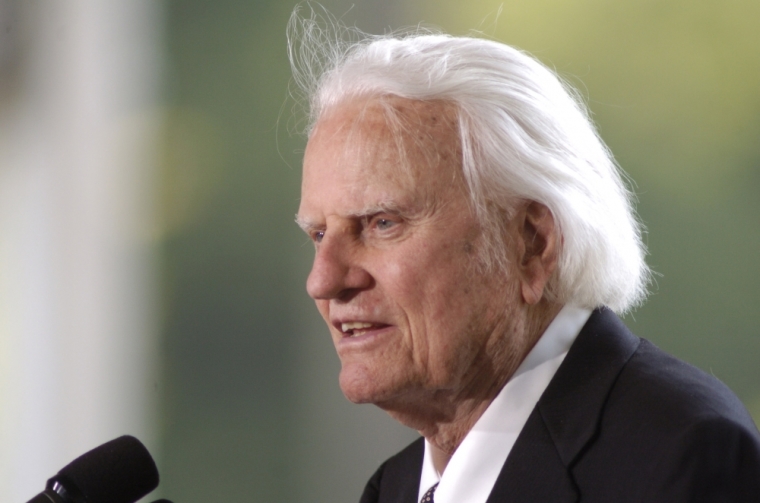 Non-believers and believers alike are increasingly concerned about how the world will end, but those who put their faith in Christ need not worry, says the Rev. Billy Graham.
While tracking world events and keeping watch for indications of Christ's return might help to offset growing anxieties, famed evangelist Billy Graham offers the best solution to be prepared for any End Times scenario.
In a recent advice column for the Kansas City Star, the founder of the Billy Graham Evangelistic Association urges people to simply commit their lives to Christ.
"The future is in God's hands, and that should give us great confidence and peace," writes Graham. "And it will, as we commit our lives to Christ and learn to trust Him in every situation. Then we can honestly say with the Psalmist, 'He is my refuge and my fortress, my God, in whom I trust,'" (Psalm 91:2).
Graham says the end of the world will unfold "in God's time and in God's way," but warns that one prominent sign of Christ's return will be renewed violence on Earth.
Perhaps he was referring to violence like the suicide bombings in Istanbul, Turkey, this week that left 42 dead and 239 injured at the Istanbul Ataturk Airport — one of Europe's busiest.
Or violence in the form of the deadliest mass shooting in U.S. modern history at a gay nightclub in Orlando, Florida, that captured the world's attention earlier this month in which 49 people were killed and 53 were injured. Franklin Graham called the terror attack a symptom of America's spiritual condition.
As wars and conflicts erupt all over the world, Billy Graham writes, "The Bible says, 'When you hear of wars and rumors of wars, do not be alarmed. … The end is still to come,'" (Mark 13:7).
"The world as we know it will only come to an end in God's time and in God's way — and only when He intervenes to usher in a perfect world of peace and righteousness," the theologian writes. "As the Bible says, 'In keeping with his promise we are looking forward to a new heaven and a new earth, where righteousness dwells,'"(2 Peter 3:13).