Billy Zane to Portray Barabbas, Murderer Chosen Over Jesus, in Easter Miniseries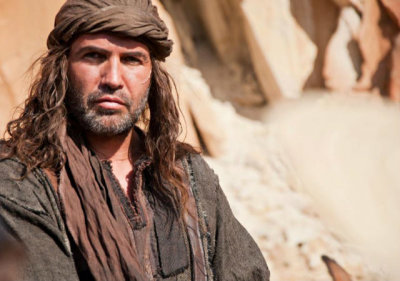 Actor Billy Zane, known for his villainous role in Hollywood blockbuster "Titanic," has taken on the biblical character of Barabbas, the murderer and robber who the New Testament says was freed from prison while Jesus Christ was sentenced to death.
The two-part program premiering on the ReelzChannel on March 25 is presented by creators as "a sweeping epic" about redemption "that picks up where the Bible left off."
Zane himself casts the accounts of Barabbas as "the greatest story never told."
"There's something for everyone in this piece. For atheists, for believers, for people who simply like a great gladiator epic. It takes all the boxes," he said in a behind-the-scenes interview. "It's just a great story."
Barabbas is mentioned in all four Gospel accounts as well as the Book of Acts, and is described as "a notorious prisoner," robber, murderer and insurgent against the occupying Roman government. In the narratives, Pilate, a Roman official over Judea, asks a crowd to choose who should be set free, Barabbas or Jesus. As the accounts go, the people choose Barabbas to be freed and demand that Jesus be crucified.
The Italian-produced "Barabbas" was filmed last year in Tunisia, with Zane leaving the set just two days before protests broke out at the U.S. embassy in the North African country, according to USA Today.
He described his character to the publication as a "bit of a brute and a thug on an existentialist journey to find reason and purpose and discover his divinity ultimately through being earthbound."
"This is good stuff," he added.
The story is explored in the 1950 novel Barabbas by Swede writer Pär Lagerkvist, whose work served as inspiration for the Reelz production. Actor Anthony Quinn is famously known for portraying the troubled character in the 1961 motion picture. In both accounts, Barabbas experiences a series of life-altering events after witnessing Christ's crucifixion, and eventually embraces Jesus as the messiah before he himself is crucified.
"I was drawn to this story because it revolves around a character who asks the questions that all of us ask. Who was Jesus? Was he really the son of God? Why did he die? Why should I believe? Why did he die in my place?" Emmy Award-winning director Roger Young said in a statement: "But Barabbas was able to ask the questions of the people who were closest to Jesus: Mary, Lazarus, Peter, Judas, Mark and Pilate. What answers did they give him? How did it change his life? This is the story of Barabbas. His doubts, his fears, his sins, his violence, his love."
Young has directed numerous Bible-themed films, including "Joseph" (1995) and "Jesus" in (1999), both of which were nominated for Outstanding Miniseries Emmy Awards. "Joseph," starring Ben Kingsley in the lead, won for Outstanding Miniseries.
"Barabbas" airs the week leading up to Easter just as the popular "The Bible" miniseries wraps up its broadcast on the History Channel. Both projects are among a long list of other similarly themed productions said to be headed for the big screen, such as "Noah" and "Goliath."
Viewers can tune into the ReelzChannel on Monday and Tuesday, March 25 and 26 at 9 p.m. ET for part one and part two of the "Barabbas" miniseries.
Watch a trailer for "Barabbas" below: